---
House Ethics Committee Concludes Probe Into Rep. Eric Swalwell's Associations With Alleged Chinese Spy
Authored by Katabella Roberts via The Epoch Times (emphasis ours),
A two-year investigation into Rep. Eric Swalwell's (D-Calif.) associations with a Chinese national and suspected spy has concluded, the bipartisan House Ethics Committee said on May 22.
The Committee announced the news in a private letter (pdf) to Swalwell in which chairman Michael Guest (R-Miss.) and ranking member Susan Wild (D-Pa.) explained that no further action will be taken against the California Democrat.
Swalwell published the letter on his official website.
"As you are aware, on April 9, 2021, the Committee on Ethics (Committee) informed you that it had determined to investigate allegations raised in the complaint that you may have violated House Rules, laws, or other standards of conduct in connection with your interactions with Ms. Christine Fang," the letter read.
"The Committee will take no further action in this matter," the letter continued.
Despite the Committee's conclusion, Guest and Wild urged Swalwell to remain cautious and conscious of the possibility of improper influence by foreign agents and governments who they said may attempt to secure improper influence through gifts and other interactions.
"We encourage you to contact the Office of House Security for any guidance on steps you can take to prevent or address such attempts," the letter concluded.
Political Intelligence, Influence Operations
Swalwell has been embroiled in the Chinese spy saga since 2020 when reports emerged that he had been targeted by a suspected Chinese intelligence operative known as Fang Fang or Christine Fang.
According to a December 2020 report by Axios, Fang, who enrolled as a student at California State University East Bay in 2011, had targeted Swalwell and other political figures between 2011 and 2015 after meeting him in Dublin City, California, when he was a council member.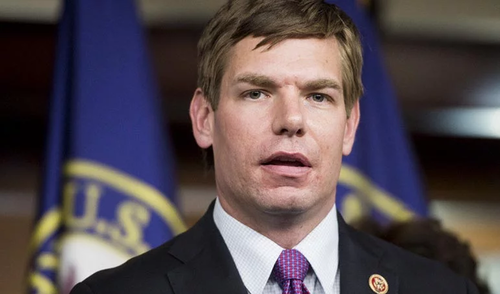 Fang also reportedly took part in a fundraising activity for Swalwell's 2014 reelection campaign.
A year later in 2015, Swalwell was appointed to the House Intelligence Committee, at which time federal investigators alerted him that they were concerned by Fang's suspicious activity and behavior and suspected she was gathering political intelligence and conducting influence operations in the Bay Area.
The Democrat immediately cut ties with Fang who promptly left the country, according to the report.
Swalwell has maintained that he did nothing wrong and fully cooperated with the FBI.
Swalwell Blames 'MAGA GOP'
However, House Speaker Kevin McCarthy (R-Calif.) removed Swalwell from the House Intelligence Committee in January amid the ongoing investigation, citing concerns over security.
Read more here...
Loading...