---
House GOP To Release Damning Allegations Against Biden DHS Chief
The House Homeland Security Committee is about to release a lengthy report detailing what Chairman Mark Green claims are several instances where Department of Homeland Security (DHS) Secretary Alejandro Mayorkas broke the law, the Daily Caller reports.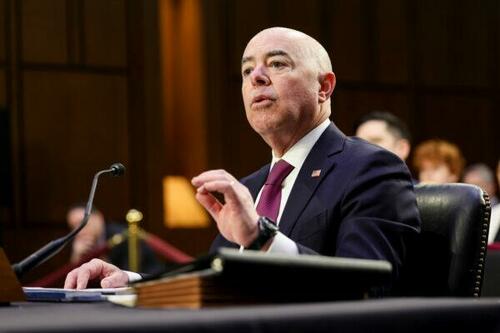 Green launched a probe into Mayorkas on June 14 with the initial phase focusing on the DHS secretary's alleged "dereliction of duty." Green says the more than 100 pages of findings from the first phase of his ongoing probe will be released within the next couple of weeks.

...

Green cited several instances where he believes Mayorkas has committed "intentional" and "willful dereliction of duty," he said, referring to DHS' use of the CBP One phone application to allow tens of thousands of migrants to enter the country each month through ports of entry at the southern border. He also believes Mayorkas lied to Congress when he asserted that DHS had "operational control" of the U.S.-Mexico border. -Daily Caller
"The list of everything that we've learned so far in phase one, the dereliction of duty phase will be published here very shortly. In fact, I'm proofing the final document, which is like 111 pages, but laws that have been violated. In some cases, we believe that Mayorkas has broken the law himself," Green told the Caller, adding "There's the lying to Congress, there's the CBP One app, which is just this big shell game to produce automatic mass parole in violation of the laws passed by Congress. It is a wanton disregard for the separation of powers and the Constitution of the United States."
"There's also sort of negligent dereliction of duty. He admitted in the Senate that he didn't understand the cartel strategy despite the fact that Merrick Garland very clearly understood it when he testified. If you're the guy who's in charge of homeland security and protecting the borders and going against the cartels, you probably ought to understand the major strategies of the drug cartels," Green continued, referring to Mayorkas' lack of knowledge regarding wristbands provided by the cartel to track migrants crossing the southern border.
Loading...