---
GOP Demands Biden Emails Using Pseudonym After Hunter CC'd On Ukraine Call
House Republican investigators have asked the National Archives to hand over any unredacted records in which then-VP Joe Biden used a pseudonym.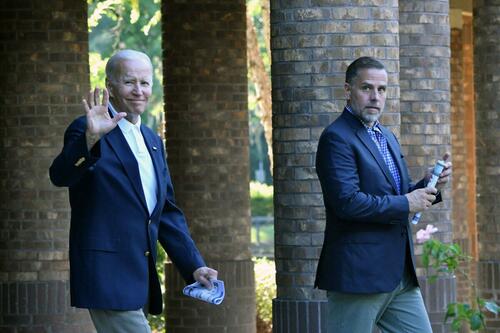 Previously released emails retrieved from Hunter's abandoned laptop reveal that Biden used a "Robert.L.Peters@pci.gov" email address while he was serving as Vice President of the United States. What's more, that Biden aide John Flynn cc'd Hunter on 10 emails which contained Joe's daily schedule between May 19 and June 15, 2016.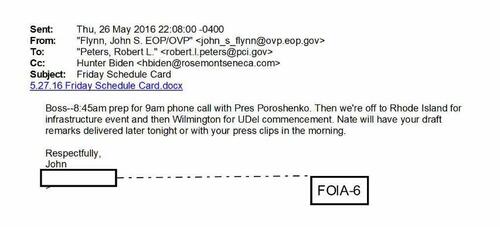 One of the emails details plans for a phone call with Ukraine's former president, Petro Poroshenko. Flynn copied Hunter at his email address at Rosemont Seneca Partners - while Hunter was serving on the board of Ukrainian energy giant, Burisma, which was deemed to be corrupt by the Obama-Biden State Department.
BREAKING🚨: President Biden used a pseudonym, Robert L. Peters, when emailing his son's business associates including using it to schedule secret calls with the president of Ukraine. The use of the name prevented discovery of the messages under FOIA. @RepJamesComer is demanding… pic.twitter.com/T2xIZkeXc7

— @amuse (@amuse) August 17, 2023
"Boss--8:45am prep for 9am phone call with Pres Poroshenko. Then we're off to Rhode Island for infrastructure event and then Wilmington for UDel commencement," Flynn wrote. "Nate will have your draft remarks delivered later tonight or with your press clips in the morning."
The House Oversight Committee request primarily is focused on Hunter's $1 million per year position on the board of Ukrainian gas company Burisma, which hired the then-second son in early 2014 as his dad assumed control of the Obama administration's Ukraine policy.

But the broad request for records involving the president's pseudonyms could turn up a variety of content, including about other Biden family ventures in countries such as China. -NY Post
According to a letter from House Oversight Committee Chairman James Comer, "The Committee's need for these Vice-Presidential records is specific and well- documented," adding "The Committee seeks to craft legislative solutions aimed at deficiencies it has identified in the current legal framework regarding ethics laws and disclosure of financial interests related to the immediate family members of Vice Presidents and Presidents— deficiencies that may place American national security and interests at risk."
"The Committee seeks unrestricted special access/ ... These records have been redacted for public release pursuant to the PRA and FOIA. For example, an email bearing the subject "Friday Schedule Card," is withheld in part under a "P6" and "b(6)" restrictions, denoting personal information regarding the subject under the PRA and FOIA respectively," Comer wrote.
"Attached to this email, and made available on the NARA website, is a document that indicates at 9:00 a.m. on May 27, 2016, Vice President Biden took a call with the president of Ukraine, Petro Poroshenko," he added. "It is concerning to the Committee, however, that this document was sent to "Robert L. Peters"—a pseudonym the Committee has identified as then Vice- President Biden. Additionally, the Committee questions why the then-Vice President's son, Hunter Biden—and only Hunter Biden—was copied on this email to then-Vice President Biden."
As Just the News further notes, The letter requested special access to specific documents, including any:
"Document or communication in which a pseudonym for Vice President Joe Biden was included either as a sender, recipient, copied or was included in the contents of the document or communication, including but not limited to Robert Peters, Robin Ware, and JRB Ware;
"Document or communication in which Hunter Biden, Eric Schwerin, or Devon Archer was included either as a sender, recipient, copied, or was included in the contents of the document or communication; and
"Drafts from November 1, 2015 to December 9, 2015 of then-Vice President Biden's speech delivered to the Ukrainian Rada on December 9, 2015."
Democrats probably need another Trump indictment at this point. 
Loading...