---
Hunter Biden Expected To Face Up To 10 Criminal Referrals, Here Are The Top Bombshells From Last Week
The Chairman of the House Oversight and Accountability Committee, James Comer (R-KY), says he plans to file "between six and 10 criminal referrals" against Hunter Biden once his committee finishes its investigation into the Biden family's business dealings.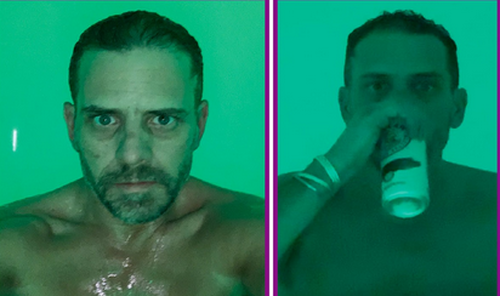 According to the NY Post, the charges would include sex trafficking a woman across state lines for prostitution.
"The Democrats kept saying, 'Oh, we don't have any evidence. You don't have any evidence.' Well, [Rep. Marjorie Taylor Greene] showed them evidence," Comer told Fox Business in an interview, referring to a sexually graphic image printed on a poster from Hunter Biden's laptop, in which he's stuffing his manhood into a prostitute's mouth who was allegedly paid for with company funds.
"She showed them evidence of the president's son committing a crime, violating the Mann Act," said Comer, adding "She showed the plane tickets, she showed the pictures, she showed the evidence. You know, there's no question he violated it. That's another thing that he could have been charged with."
Comer also said that the referrals could include violations of the Foreign Agents Registration Act (FARA).
"He was money laundering," said Comer. "He was racketeering. He committed wire fraud. He violated the Mann Act. The list goes on and on and on."
Meanwhile, Sen. Chuck Grassley (R-IA) on Thursday released an unclassified FBI document in which a confidential human source lays out an alleged bribery scheme involving Joe and Hunter Biden, in which a Ukrainian gas giant, Burisma, hired Hunter to gain access to his then-VP father.
The House Oversight Committee previously issued a subpoena to obtain the document, with which FBI Director Christopher Wray did not comply. Though he ultimately permitted the committee members to view the FD-1023 in a secure location, the contents remained unpublished until Grassley's Thursday release.

The document shows that the bureau had a trusted source privy to Burisma's efforts to quash a probe from then-Ukrainian Prosecutor General Viktor Shokin and its plans to expand to the U.S. and secure a company for IPO purposes. -Just the News
To that end, Just the News has compiled major bombshells from the FD-1023 document, as compiled by journalist KanekoaTheGreat:
1. In 2014, Burisma Holdings hired Hunter Biden to influence his father, VP Joe Biden, in handling Ukraine's chief prosecutor investigating the company for corruption. Joe Biden successfully had the prosecutor fired by threatening to withhold $1 billion in loan guarantees.

2. Burisma informed the FBI informant that the Biden bribe money had illicit intentions or was part of a criminal scheme.

3. Burisma's CEO believed he was "coerced" to hire Hunter Biden and considered it a package deal involving VP Joe Biden's assistance. The total payment required was $10 million.

JOHN SOLOMON:

"Back in 2019, I got to interview Victor Shokin. And he was completely unaware of what the FBI was saying, but here's what he told me. When President Poroshenko came to him, he said Joe Biden wants me to fire you. I don't really have a reason, but I'm going to have to do it.

He's upset that you won't stop investigating Burisma. Just think about that. That was mocked at the time, but now the FBI was being told something exactly the same and it wasn't getting it from Shokin, but it was getting it from the owner of Burisma, Mykola Zlochevsky, and his top lieutenant.

This was in the Fall of 2019 before the impeachment of Donald Trump. Keep in mind Donald Trump got impeached for asking Ukraine to investigate the things that the FBI now should have investigated. It's pretty remarkable."  

4. The FBI informant confirmed that Burisma officials referred to Joe Biden as the "Big Guy," supporting claims later made by Tony Bobulinski in 2020.

5. Burisma was concerned that the corruption probe into the company by Prosecutor Shokin would jeopardize their plans to acquire a US oil and gas firm and go public in America.

6. Burisma's CEO and top official, Vadym Pozharskyi, acknowledged Hunter Biden's lack of experience in the energy sector and were not impressed by his work, saying that he "was not smart."

7. Burisma's CEO boasted that tracking the $10 million payment to the Bidens would be extremely difficult and could take up to ten years to find the records.

JOHN SOLOMON:

"Finally, the FBI started receiving concerning information from this source about the Bidens and Burisma back on March 1, 2017, less than two months after Donald Trump had taken the presidency. Think about that.

We were all kept in the dark and when 2019 came around and people who reported on this were called conspiracy theorists, the FBI knew all along they had this sitting in their files. I think the most troubling thing even the agents who were supposed to investigate this case at the IRS weren't told about this.

Just think about that. Even the people who were investigating this were kept in the dark and if it weren't for Chuck Grassley, we wouldn't have known about it even today."

QUESTIONS:

Has the FBI investigated the Biden corruption allegations since March 2017?

Why wasn't the FBI source document given to the IRS agents investigating the Bidens?

What actions did the FBI take during Donald Trump's impeachment proceedings, considering the relevance of this information to the case?

Why did Burisma pay Hunter millions if they thought he was inexperienced, not smart, and unimpressive in his work?

Were the millions paid to Hunter by Burisma part of the bribe?
John Solomon and Amanda Head break down the top 7 Biden-Burisma bombshells from the FBI source document:

1. In 2014, Burisma Holdings hired Hunter Biden to influence his father, VP Joe Biden, in handling Ukraine's chief prosecutor investigating the company for corruption. Joe… pic.twitter.com/V0eBe693DI

— KanekoaTheGreat (@KanekoaTheGreat) July 21, 2023
The last word goes to Comer:
House Oversight Chair James Comer (R-KY): "I think that Joe Biden has been selling access to our enemies for decades."

Sen. Ted Cruz (R-TX): "What's your basis for that?"

Comer: "If you study Joe Biden like I have, he's always been cash-strapped." pic.twitter.com/Lhq6WRTX9E

— The Recount (@therecount) July 21, 2023
Loading...