---
Hunter Biden's Daughter Was Living In White House While Representing Peruvian Government
The Biden family may have some more explaining to do over their international affairs, after the NY Post reports that Naomi Biden (Hunter's eldest daughter, not the grandchild Joe Biden mouth-kissed during the 2020 election), was living in the White House while representing the government of Peru in a legal case.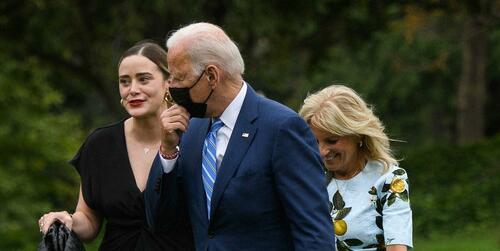 According to a review of public records, the 29-year-old has been working for DC-based law firm Arnold & Porter since January 2021, the same month her grandfather was sworn in as the 46th US president, after interning for the firm in 2019.
In September 2021, Naomi appeared in a legal filing disclosing her involvement in a case brought by Worth Capital Holdings 27, LLC, a Delaware firm which claimed that the country was interfering in the operation of their oil refinery located in the southern Amazon. Worth has sought $590 million in damages.
Of note, Arnold & Porter specializes in foreign litigation, and has defended dozens of sovereign states - including Venezuela, Bulgaria and Hungary. Interestingly, the Post notes that Naomi doesn't have a public page on the firm's website, unlike other firm attorneys.
Which begs the question, particularly in light of questions over the entire Biden family's foreign dealings, should Naomi have registered under FARA (Foreign Agents Registration Act)? That would of course depend on the circumstances and extent of her work.
"Everywhere we look it seems there are major conflicts of interest in which the Biden family leveraged their name, access, and patriarch's power to benefit personal business dealings. All of this must continue to be investigated and exposed – perhaps Biden's granddaughter should be the next person to come before the Oversight Committee,"
In November 2022, Naomi Biden married another up-and-coming attorney, Peter Neal, at a ceremony at the White House.

The Biden granddaughter lived at the first residence from August 2022 to March 2023. A rep for Naomi Biden insisted she only worked on the case for "three weeks" in September 2021 — and not while living at the White House.  -NY Post
"Naomi Biden's international arbitration work doesn't include matters involving the United States government — she is a junior lawyer and a member of international arbitration teams involving private sector plaintiffs. She doesn't discuss confidential client work with anyone inside or outside the White House," a spokesman for Arnold & Porter told The Post, while the law firm wouldn't say if Naomi had represented any other foreign nations since joining.
The Post also notes that Naomi had quite the nice ride to the elite law firm - having attended the capital's elite Sidwell Friends School in the summer of 2011 while Joe Biden was Vice President. She then worked as an aide for then-Majority Leader Sen. Harry Reid (D-NV).
More recently, Naomi was pictured and videotaped posing with Burisma CEO Mykola Zlochevsky, and having a conversation with his daughter, Karina Zlochevsky.
"She is very excited to join us. Maybe we can find her a job now that she's graduating college," Hunter Biden wrote to Burisma CFO, Vadym Pozharsky, according to emails from his abandoned laptop, the Post further reports.
What a small world!
Loading...