---
Hunter Biden's Plea Reveals DOJ Has Double Standard On Gun Charges
Submitted by Gun Owners of America,
The Hunter Biden laptop story has finally resulted in criminal charges for the President's son. Hunter Biden made a deal with federal prosecutors, pleading guilty to two tax-related misdemeanors and resolved his felony gun charge. 
Hunter's gun charge being resolved is a fancy legalese word for that charge being subject to a pre-trial diversion. This is a plea agreement that not only allows for a criminal defendant to maintain a clean record but avoid jail time as well, provided that they complete pre-trial probation requirements set by the judge. 
This means that Hunter Biden can still legally own a gun. 
Hunter Biden just skirted 10+ years of federal prison with a cozy plea deal of two years probation for his "gun crimes" from his father's Justice Department. 🤯⁰⁰Meanwhile, @DonaldJTrumpJr was FORCED to register his firearms to avoid Biden's tyrannical pistol ban.

This is the… pic.twitter.com/IWZcRLladj

— Gun Owners of America (@GunOwners) June 20, 2023
The firearms charge that Hunter Biden faced resulted from a 2018 incident in which Hunter's girlfriend tossed his revolver into the trash. This incident corresponded to later interviews in which Hunter detailed being addicted to drugs around the same time. This caused speculation that he broke federal law when buying the firearm.
For those unfamiliar with complex federal firearms law, when buying a firearm from an FFL or firearms dealer, you must complete Form 4473, also known as a firearms transaction record. This record is then used to file a NICS check, also known as a background check, with the FBI. 
On Form 4473, there is a question about whether the purchaser of the firearm is addicted to any drugs. Answering yes on the form automatically denies the firearm purchase, so for Hunter Biden to have been able to purchase his gun, he would have had to lie on the form.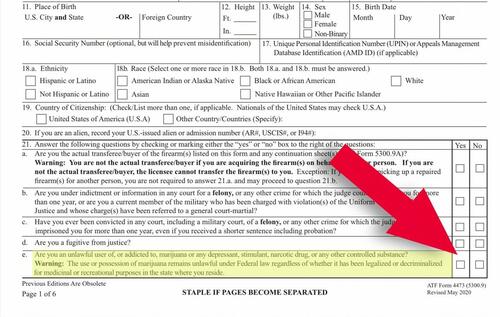 Now you might be thinking that this isn't a serious crime and that surely other people have been let off the hook as well. 
Exhibit A: Hunter Biden lied on this Form 4473, there's literally video evidence that he lied on this Form 4473 and nothing has happened to him. pic.twitter.com/EqVL6rMggN

— Arthur Schwartz (@ArthurSchwartz) July 11, 2022
That's where you'd be wrong. Rapper Kodak Black was charged with the same crime of falsifying information on federal forms to buy four firearms at a Miami gun shop in May of 2019. He was sentenced to more than three years in prison stemming from that charge. 
And Kodak Black isn't the only one being convicted. In April 2023, a woman in Iowa was sentenced to a year in prison for lying about her address and drug use on Form 4473. 
Even more egregious is that just last week, a woman in Virginia was charged with making a false statement on her 4473 because she had previously used marijuana. Important to note Virginia legalized recreational marijuana use two years ago. The Biden DOJ is sending the American people a clear message: "Rules for thee, not for me."  
In addition, Form 4473 has been weaponized by the Biden DOJ & ATF through regulatory policy to create an illegal backdoor firearms registry. We at Gun Owners of America have covered this at length, and you can read our in-depth report here.
All of this serves as a reminder that Form 4473s and background checks on firearms are unconstitutional in the first place. 
Loading...