---
'I Will Never Vote Biden': Michigan Muslims 'Betrayed' By Blank-Check Backing Of Israel
President Biden's overwhelmingly pro-Israel response to this month's major escalation of violence between Palestinians and Israel has the approval of many Americans, but it could well cost him 15 electoral votes in the crucial swing state of Michigan -- and by extension, his presidency. 
Muslim Democratic Party leaders in the state tell NBC News that their demographic, which may have put Biden over the top in 2020, may well abandon him in 2024.
"Joe Biden has single-handedly alienated almost every Arab-American and Muslim American voter in Michigan," says Democratic state Rep. Alabas Farhat, who represents Dearborn -- and one of the largest Muslim populations in America. Among Farhat's constituents are people with relatives trapped in Gaza as Israel rains bombs on the territory and deprives its inhabitants of food, water, electricity and medicine. The Palestinian Health Ministry says more than 4,000 have died in Gaza under the Israeli bombardment. Hamas is said to have killed upwards of 1,400 in Israel in its Oct. 7 attack. 
A beautiful silent March in Dearborn MI tonight, commemorating the deaths of our brothers and sisters in PALESTINE ❤️🇵🇸#FREEPALESTINE pic.twitter.com/6kakYiTXJA

— Hassan Chami (@Hasschami) October 18, 2023
Farhat's constituents condemn Biden for failing to call for a cease-fire while also seeking billions of dollars in weapons for Israel as it devastates Gaza City and prepares for a ground attack. When a UN resolution was advanced calling for a pause in hostilities, Biden's UN ambassador killed it. They're also disappointed in Biden's failure to do anything to secure the exit of American citizens stuck in Gaza. 
"Our family members trapped in Gaza have been ignored, our calls for a ceasefire drowned out by the drums of war and racist media coverage that dismisses the massacre of entire Palestinian families as collateral damage," tweeted Dearborn's Democratic mayor, Abdullah Hammoud. 
"What I'm hearing now is people feeling completely betrayed by Joe Biden," said Amer Zahr, president of Dearborn-based New Generation for Palestine. "People are feeling that the Democratic Party is unequivocally, with a few exceptions, supporting Israel and not humanizing Palestinians." 
A 2020 exit poll sponsored by the Council on American-Islamic Relations (CAIR) found Muslims turned out at a remarkable 84% clip, with 69% voting for Biden against just 17% for Trump. According to the official tally, Biden won the state by 154,000 votes. While the NBC News report spotlights Michigan, there are also major Muslim-American concentrations in the swing states of Wisconsin and Pennsylvania. 
Oxfam and United Nations agencies have warned that the collapse of water and sanitation services will spark bouts of cholera and other deadly infectious diseases if urgent humanitarian aid is not delivered to Gaza.https://t.co/Sj42BCW8pb

— Al Jazeera English (@AJEnglish) October 22, 2023
"President Biden won with historic numbers in 2020. And I was proud to represent that, but the last two weeks have really shifted things," said Ahmad Ramadan, a former Biden advisor and current Michigan Democratic Party organizer. "I've also been getting calls from people saying, 'I have blood on my hands because I got people out to support him during that campaign'."
Efforts are already underway to advocate that Michigan Muslims vote for Democrats except at the top of the ticket -- which would be left blank.  "That's the plan right now," Farhat tells NBC News. "I think there's going to be a lot of people that remember when you won Michigan years ago by a razor-thin margin, when you won Georgia with a razor-thin margin, when you won Arizona by a razor-thin margin — do not be surprised if there are consequences for your actions."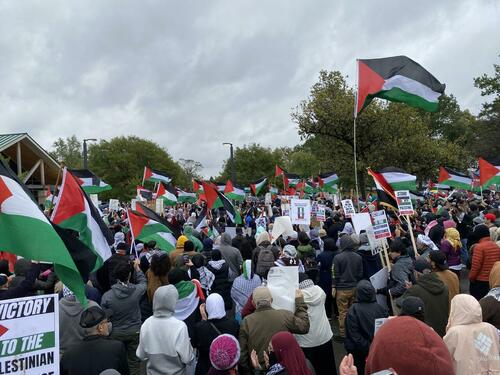 Some angered Michigan Muslims are telling party leaders they'll vote Republican -- not because the GOP demonstrates any empathy for the Palestinian cause, but instead because Republican politicians are at least honest about their overwhelming pro-Israel bias, where Biden and other Democrats are now perceived as having lied to Muslims. It's worth noting that Trump's share of the Muslim vote grew between 2016 and 2020, due in part to the demographic's social conservatism.   
"I will never vote Biden again, if he stands on his head," says Osama Siblani, who publishes Dearborn's Arab American News. "We will not meet with anyone who represents the Biden or Kamala Harris campaign because they lied to us. They lied to us. When they came in 2020, they said, 'You will have a seat at the table'."
Last week, Biden sent Muslim Small Business Administration official Dilawar Syed to represent the administration at the vigil of a 6-year-old Illinois boy stabbed to death in what police say was an attack motivated by the Hamas-Israel war. When Syed began speaking, the crowd booed him to express their anger over Biden's approach to the conflict. 
Biden sent his token Muslim, Dilawar Syed to the vigil of the Palestinian Muslim child in Illinois and was loudly booed. https://t.co/sJF4dI8tOE

— Imran Muneer (SIM) (@ImranMuneerTMM) October 21, 2023
Muslim anger against Biden could have presented an opportunity for the independent presidential campaign of Robert F. Kennedy, Jr. -- had he not (even before Oct. 7) staked out a lopsided, pro-Israel position indistinguishable from that of any typical Neocon. 
Loading...