---
Iowa Governor Deploys Troops To Mexico Border Using COVID-19 Funds
Authored by Samantha Flom via The Epoch Times (emphasis ours),
Iowa Gov. Kim Reynolds has deployed 109 Iowa National Guard troops to the U.S.–Mexico border to assist Texas in stemming the flow of illegal immigrants into the United States.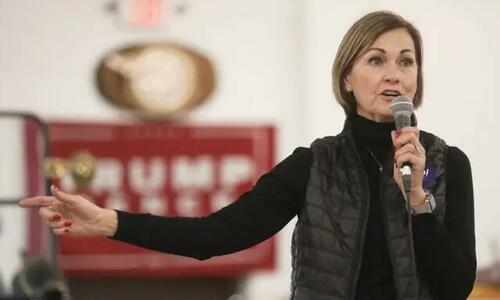 The operation, the Republican governor said on Aug. 2, will be paid for with funds allocated to the state under the American Rescue Plan Act, also known as the COVID-19 stimulus package, which she said offers flexibility in how the funds are spent.
"The Biden administration has failed to respond to the crisis at the border and, in doing so, has failed the American people—Iowans included," Ms. Reynolds said in a statement.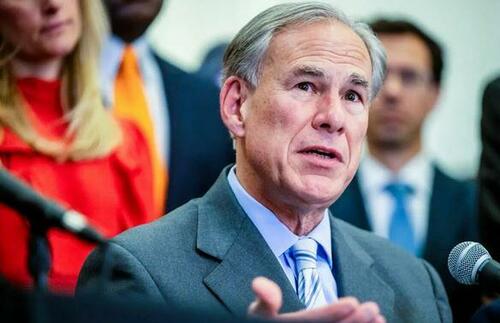 "They have created one of the most significant national security and humanitarian crises of our generation and are blatantly ignoring the impact it's having on our states, cities, and our people.
"Since the administration refuses to invest in securing the border and protecting its citizens, Texas has asked other states to help, and Iowa is ready and willing to assist."
Texas Gov. Greg Abbott (R), another vocal critic of the Biden administration, launched Operation Lone Star in March 2021 amid the mounting flood of illegal immigrants and drugs across the border into his state.
Since then, other Republican governors have sent troops to help hold the line.
According to U.S. Customs and Border Protection, U.S. Border Patrol has encountered nearly 6 million illegal immigrants at the southern border since President Joe Biden took office—a fact that Ms. Reynolds attributes to his policies.
"On his first day in office, President Biden reversed commonsense policies that protected the U.S. southern border and American citizens," she noted.
"Since that time, our country has experienced a historic rise in illegal immigrants and illicit drugs entering our country.
"Two years later, every state is a border state and Iowa's unique location at the intersection of two major interstates makes it a target for human traffickers and drug cartels."
According to the governor's office, the National Guard soldiers began their journey south on Aug. 2. Their deployment will last through Sept. 1, during which time they will aim to deter illegal border crossings and prevent the trafficking of illegal substances through Texas.
On Aug. 31, the troops will be joined by a group of Iowa State Patrol officers from the Iowa Department of Public Safety.
That deployment, ending on Oct. 2, will support Texas State Troopers with criminal interdiction, crime prevention, traffic enforcement, and law enforcement assistance.
Operation Lone Star
According to Mr. Abbott's office, Operation Lone Star has led to more than 397,900 illegal immigrant apprehensions and more than 31,800 criminal arrests at the border.
Additionally, Texas law enforcement has seized more than 422 million lethal doses of fentanyl in the operation.
Yet even so, the crisis continues.
Following the end of Title 42 expulsions in May, Mr. Abbott called upon his fellow governors for help addressing the anticipated influx of illegal border-crossers.
"The flood of illegal border activity invited by the Biden administration flows directly across the southern border into Texas communities, but this crisis does not stop in our state.
"In the federal government's absence, we, as governors, must band together to combat President Biden's ongoing border crisis and ensure the safety and security that all Americans deserve," he wrote in a May 16 letter to all of the nation's governors.
"Join us in the mission to defend our national sovereignty and territorial integrity and send all available law enforcement personnel and resources to the Texas-Mexico border to serve alongside our thousands of Texas National Guard soldiers and Texas Department of Public Safety troopers," he entreated.
In response, Ms. Reynolds led 23 other Republican governors in pledging their support for Texas's efforts.
"The federal government's response handling the expiration of Title 42 has represented a complete failure of the Biden administration," they said in a statement.
"While the federal government has abdicated its duties, Republican governors stand ready to protect the U.S.–Mexico border and keep families safe."
Answering the Call
The latest deployment marks the third time since 2020 that Ms. Reynolds has sent troops to the border, but she isn't the only Republican governor to do so this week.
On July 31, Nebraska Gov. Jim Pillen announced his intention to send 60 National Guard personnel to Texas.
Those troops also deployed on Aug. 2 and will assist with observation and reporting along the border for about a month.
"This mission is critical to the security of Nebraska as well as other states," Mr. Pillen said in a statement.
"We need to maintain the safety of our citizenry and stem the ongoing influx of illegal drugs, weapons, and criminals into our borders."
The governor added that federal funds would cover the cost of the deployment.
Other states that have recently dispatched troops to the border include Florida, Virginia, and South Carolina, among others.
Homeland Security Secretary Alejandro Mayorkas has rejected criticism of his handling of the border, maintaining that the Biden administration's policies are "working."
The Associated Press contributed to this report.
Loading...