---
IRS Ends Most Unannounced Agent Visits To Taxpayers' Homes
Authored by Tom Ozimek via The Epoch Times (emphasis ours),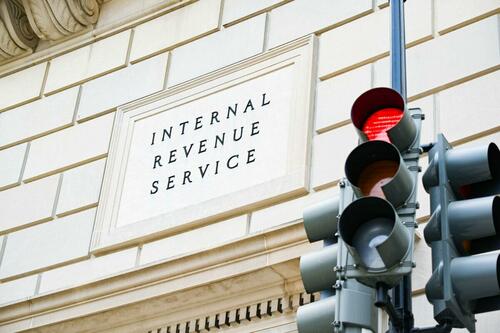 The IRS has announced a major yet "common-sense" policy change that will put an end to most unannounced agent visits to taxpayers' homes, mostly because of security concerns.
The move, effective immediately, reverses decades of policy that saw IRS revenue officers knock on the doors of taxpayers' homes without forewarning in attempts to resolve delinquent tax matters.
The reason for the change, according to a statement by the agency, is to lower the risk that anxiety-provoking surprise home visits by tax enforcement agents could spiral out of control, posing a hazard to both taxpayers and agency field officers.
Experience shows that unannounced door knocks at homes and businesses were high-risk encounters, with agents routinely facing "hazards and uncertainty" when making surprise visits, according to the IRS.
Unannounced visits also created what the IRS called "public confusion" and posed risks to taxpayer safety.
"These visits created extra anxiety for taxpayers already wary of potential scam artists," IRS Commissioner Danny Werfel said in a statement. "At the same time, the uncertainty around what IRS employees faced when visiting these homes created stress for them as well. This is the right thing to do and the right time to end it."
'Common-Sense Step'
Part of the problem, according to the IRS, is that there has been a rise in recent years of scam artists posing as IRS agents, creating confusion for both taxpayers and local law enforcement.
The change comes amid the IRS's recent rollout of a new Strategic Operating Plan, which seeks, in part, to put a kinder face on the tax enforcement agency.
"We are taking a fresh look at how the IRS operates to better serve taxpayers and the nation, and making this change is a common-sense step," Mr. Werfel said. "Changing this long-standing procedure will increase confidence in our tax administration work and improve overall safety for taxpayers and IRS employees."
The union for tax agents, the National Treasury Employees Union (NTEU), praised the decision to shift policy regarding unannounced door knocks.
"We applaud Commissioner Werfel's quick action after hearing the safety concerns raised by NTEU leaders and IRS Field Collection employees who faced dangerous situations that put their safety at risk," Tony Reardon, president of the NTEU, said in a statement.
He blamed "false, inflammatory rhetoric about the agency and its workforce" for adding to the danger facing field agents.
Read more here...
Loading...