---
Jan. 6 Capitol Hill Security Footage Challenges Key Narratives
Authored by Joseph M. Hanneman via The Epoch Times (emphasis ours),
A three-month investigation by The Epoch Times of 41,000 hours of U.S. Capitol Police surveillance video has uncovered dramatic footage that in many cases challenges longstanding narratives about what took place on Jan. 6, 2021.
Since late April, the newspaper has analyzed hundreds of hours of video that was previously hidden from public view.
The first results of this ongoing investigation are presented in an Epoch TV Special Report with host Joshua Philipp and senior investigative reporter Joe Hanneman.
The Epoch Times has so far obtained 65 video clips from the U.S. Capitol Police CCTV database. Another 64 clips are pending. A few clips were withheld due to security concerns. Together, these videos cover a wide range of Jan. 6 topics.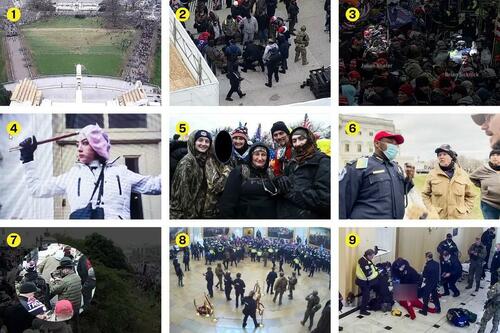 Who is Pink Beret?
Bystanders in the huge crowds at the U.S. Capitol on Jan. 6 couldn't help but notice the young woman with the stylish clothes, high heels, Dolce & Gabbana handbag, and a pink beret perched on her head. She became known on social media by the hashtag #PinkBeret.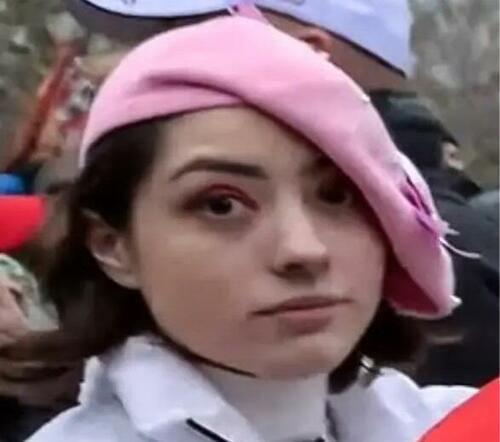 Pink Beret was in the crowd that watched the first breach of police lines near the Peace Fountain on the Capitol's west front at about 12:50 p.m. Jan. 6 defendant Darrell Neely told a federal court in his criminal trial that Pink Beret lured him into the Capitol Visitor Center and tried to saddle him with a bag full of police gear she picked up off the floor.
"It is clear Pink Beret was on a mission to get to the Capitol as quickly as possible and to be one of the first to get there," Neely's attorney, Kira West, wrote in a court filing. "We know this because she ran across grass—in heels."
The Epoch Times researched and requested a collection of video clips that document the actions of the woman.
After more than two years, the FBI put her on its Jan. 6 most-wanted page in late April. More than two months after she was named in Neely's court filings as a potential defense witness, the FBI identified Pink Beret as Jennifer Inzunza Vargas Geller.
Ms. Geller was seen in the Capitol Visitor Center with Neely. At one point, surveillance video shows, she removed her beret, ducked down to hide herself, and ran up the escalator. Neely kept looking for her, not realizing she had ditched him. A short time later, CCTV video shows her with another male protester in a different part of the Capitol.
Ms. Geller was observed outside the Senate parliamentarian's entrance, directing people into the building with a stick. Ms. West wrote in a court filing that the sight reminded her of Italian conductor Arturo Toscanini.
On May 9, the Department of Justice charged Ms. Geller with four Jan. 6 misdemeanor counts. Her case was unusual because the DOJ almost never announces charges against defendants before they are arrested and in custody.
Her husband, Spencer Sidney Geller, was charged in July with a felony obstruction count and four misdemeanors. As in his wife's case, Mr. Geller's charges were announced when he was not in custody.
The Gellers are living in Thailand with their 10-month-old daughter. So far, the FBI has not made moves to arrest the pair and extradite them back to the United States to face trial.
Officer Brian Sicknick
Some of the most dramatic CCTV footage acquired by The Epoch Times showed the disabling of Capitol Police Officer Brian Sicknick, who died the day after the Capitol protest and riots of Jan. 6.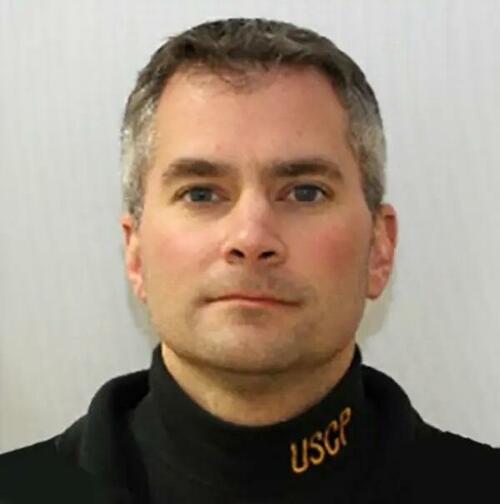 Mr. Sicknick, 42, of Springfield, Va.—a 13-year U.S. Capitol Police veteran and central New Jersey native—died late on Jan. 7, 2021. His cause of death was two strokes. It was ruled a natural death by the D.C. Office of the Chief Medical Examiner. Mr. Sicknick was buried at Arlington National Cemetery in Virginia after lying in state in the Capitol Rotunda in February 2021.
Federal prosecutors charged two men with assaulting Mr. Sicknick with pepper spray: Julian Elie Khater, 34, of Somerset, New Jersey, and George P. Tanios, 41, of Morgantown, West Virginia.
The video shows that just after 2:20 p.m., Mr. Sicknick and two MPD officers charged out into the crowd of rioters, who had been pulling over security barriers with a thick freight strap.
In the center, however, an MPD commander fired numerous bursts of pepper spray from a high-velocity tank that snaked 20 feet or more into the crowd, the video shows. Both the stream of pepper spray and a plume of cast-off caused by stiff winds passed near the left side of Sicknick's face, the video shows.
Mr. Sicknick quickly retreated from the scene, just ahead of a rioter who charged at him and an MPD officer. He rinsed out his eyes near the inauguration scaffolding, then climbed the southwest steps to the upper terrace. He remained on duty but collapsed at about 10 p.m. after officers noticed him slurring his speech.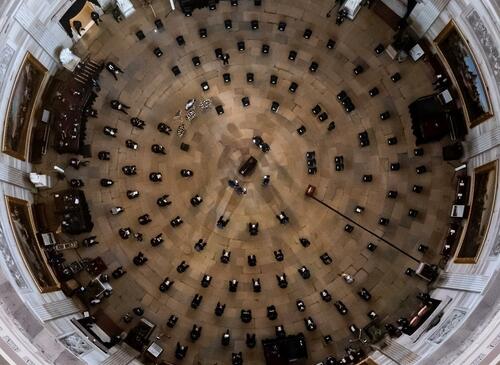 Mr. Khater was sentenced to 6 years and 8 months in prison on a plea deal for assault with a deadly weapon and other charges. Although he was initially charged with 12 criminal counts, Mr. Tanios pleaded guilty to two misdemeanors and was sentenced to time served, one year of probation, and a $1,800 fine.
Mr. Khater's father and Mr. Tanios said they never saw the video before being shown the footage by The Epoch Times.
"They [expletive] withheld this. Big time. Oh, my God. My God," Mr. Tanios told The Epoch Times while watching the footage.
Mr. Tanios said he believes the video should have been disclosed to his and Mr. Khater's defense teams as exculpatory evidence.
Elie Khater, Julian Khater's father, said the video is another example of the system being tipped against defendants.
"Since it is in Washington D.C., everything is stacked against the January sixers," Mr. Khater told The Epoch Times. "From the very beginning, they took this story and they just exaggerated, messed with the facts, lied about a lot of other things. We figured everything is stacked against us."
Mr. Khater estimated he has amassed nearly $450,000 in legal fees defending his son in criminal and civil court. He said he is nearly out of resources to pay a civil attorney to represent his son in a $30 million wrongful-death lawsuit filed by Sandra Garza, Mr. Sicknick's former girlfriend, against President Trump, Mr. Tanios, and Mr. Khater.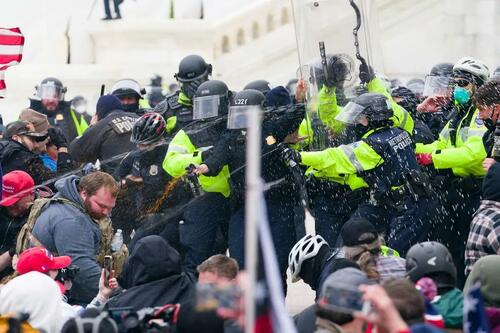 The New York Times published a 2021 story claiming Mr. Trump's supporters smashed Mr. Sicknick's head with a fire extinguisher, causing his death. That claim was eventually retracted but is still repeated 30 months after Mr. Sicknick's death.
The next claim was that his death was caused by a potent bear spray wielded by Mr. Khater and Mr. Tanios. While Mr. Tanios said he had bear spray canisters in his backpack in the event the men were attacked by Antifa, the spray was never used.
Mr. Khater had a Mace Brand KeyGuard pepper spray canister he received from Mr. Tanios on the evening of Jan. 5. The pocket-size flip-top device was used to spray the officers, according to prosecutors. The manufacturer says the canister emits a thin stream of pepper spray up to 10 feet.
Mr. Tanios said he did not realize that Mr. Khater had used the Mace canister until months after Jan. 6.
Jesse Binnall, an attorney representing Mr. Trump in the $30 million civil suit, said he could not comment on what impact the video might have on the lawsuit.
Oath Keepers
When five Oath Keepers defendants went on trial in September 2022 for alleged seditious conspiracy to attack the Capitol on Jan. 6, a key piece of prosecution evidence was an alleged three-way phone call initiated by Oath Keepers founder Elmer Stewart Rhodes III.
Prosecutors alleged Mr. Rhodes spoke with Florida Oath Keepers leader Kelly Meggs and Jan. 6 operations director Michael "Whip" Greene with instructions to attack the Capitol.
Defense attorneys argued the call never happened, and the communications Mr. Rhodes attempted that afternoon were meant to tell the Oath Keepers to get away from the Capitol, not attack it.
Video discovered by The Epoch Times shows one of the exterior terrace-level cameras was trained on Mr. Rhodes while he stood on the Upper Northwest Terrace at the Capitol between 2:51 p.m. and nearly 3:00 p.m.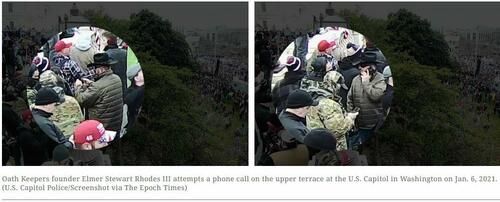 In the video, Mr. Rhodes appeared to be attempting cell phone calls but was not having success. It appeared that he was interviewed briefly by a podcaster, then continued trying to make calls, the video shows.
Standing with Mr. Rhodes during the video were former Oath Keepers general counsel Kellye SoRelle and an unidentified Oath Keeper in a camouflage jacket with an Oath Keepers cap turned backward.
At one point, Mr. Rhodes walked just out of camera view. The footage shows a hand reaching in to give the camera a nudge, which kept Mr. Rhodes in view. It appears someone was at the camera location during at least part of the nine minutes Mr. Rhodes stood on that portion of the terrace.
"I never saw it," Mr. Rhodes told The Epoch Times in a June phone interview from jail, referring to the nine minutes of CCTV video. Mr. Rhodes said the idea that he was being surveilled is "really creepy."
Mr. Rhodes and Ms. SoRelle appeared on the left side of the camera view at 2:51:36 p.m., the CCTV video shows.
The unidentified Oath Keeper followed Mr. Rhodes into the camera view shortly after. The man was likely providing security for Ms. SoRelle, one of Mr. Rhodes's attorneys told The Epoch Times.
"I don't remember seeing this video," one of Mr. Rhodes' defense attorneys, Edward Tarpley, told The Epoch Times. "It may have been in discovery, but I certainly didn't see it. We were given thousands of videos to review. It seems pretty clear to me that someone actually was following Stewart on the ground with the video camera."
At 2:57:30, a hand appeared on the left side of the video frame and forcibly tilted the camera down and then to the left. Mr. Rhodes was then back within the camera's field of view. The other Oath Keeper was visible at times on the left edge of the frame.
The video is significant because it could back up testimony given by Mr. Rhodes in FBI interviews and in court testimony that he was attempting to get Oath Keepers away from the Capitol, not to attack it.
"I was trying to call them, to get them to come to us, to get them to come to me and Whip," Mr. Rhodes told the FBI in May 2021. "That's all it was. I couldn't get any [expletive] comms."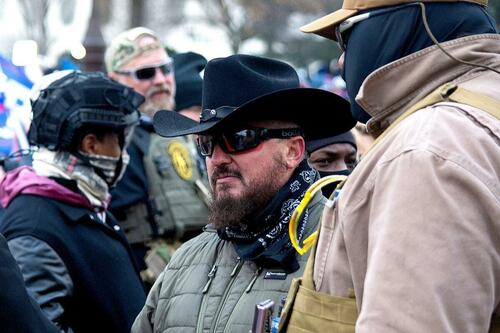 Mr. Tarpley said he considers the newly revealed security video to be exculpatory evidence that should have been turned over by prosecutors.
"The government argued that Stewart's messages to everyone to come to the Capitol were his call to action for them to come and attack the Capitol," Mr. Tarpley said. "Of course, we know that is totally false."
Defense attorney Brad Geyer, who represented Oath Keeper Kenneth Harrelson in the same trial as Mr. Rhodes, said the defense presented evidence that the call never happened.
"The defense maintains that no communication occurred between Meggs and Rhodes," Mr. Geyer said. "This video confirms that Rhodes was having operability issues with his phone and it also may suggest that Rhodes was being monitored on January 6 by law enforcement."
Rosanne Boyland
The death of Rosanne Boyland, 34, of Kennesaw, Georgia, remains one of the biggest tragedies of Jan. 6. Ms. Boyland came to Washington to hear President Donald Trump speak at the Ellipse. She made her way to the Capitol and wandered into the Lower West Terrace tunnel just before an unknown gas was released in the crowed tunnel.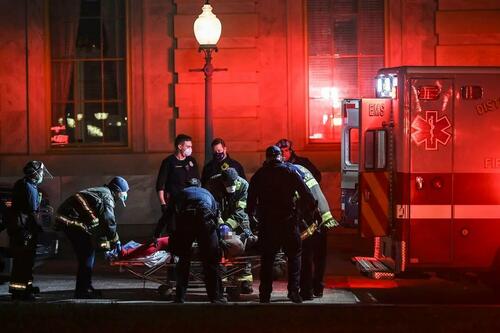 Information uncovered in this video investigation filled in a lot of details on what happened to Ms. Boyland after her lifeless body was pulled into the Capitol just after 4:30 p.m. on Jan. 6.
The CCTV footage shows that after medics in the Capitol basement tried to resuscitate her, Ms. Boyland was moved up one level and carted through the Crypt to meet D.C. Fire and EMS Department paramedics near the House Wing Door.
Despite early Capitol Police reports that she collapsed in the Rotunda at 5:00 p.m., the video shows that was impossible, as was the notion paramedics came upon two unnamed Capitol Police officers doing CPR on Ms. Boyland.
Dramatic resuscitation efforts continued near the House Wing Door for another 40 minutes before Ms. Boyland was placed in an ambulance for transport to George Washington University Hospital, where she was pronounced dead.
The Epoch Times learned from Ms. Boyland's family that she was shot in the chest by a pepper ball fired by a police officer at the rear of the Lower West Terrace tunnel. The Boyland family was told by witnesses that the pepper ball shot is what caused Ms. Boyland to fall and become trapped by the stampeding crowd.
One of Ms. Boyland's sisters noticed a large, dark bruise on her left shoulder in a Getty Images photograph run with a July 24 Epoch Times article on Ms. Boyland's case. No shoulder injuries were documented in the emergency room notes or in the autopsy done by the Office of the Chief Medical Examiner.
Nor was the head wound above Ms. Boyland's right eye documented. That injury was possibly sustained when a Metropolitan Police Department Officer beat an unresponsive Ms. Boyland with a wooden walking stick as previously reported by The Epoch Times based on police bodycam footage.
Death of Benjamin Philips
Security video challenged the longstanding narrative that Benjamin James Philips—the first of four Trump supporters to die on Jan. 6—was struck by a police munition before he collapsed from a fatal cardiac event.
Video from a far-away west dome camera seems to show someone stumbling and collapsing behind the inauguration scaffolding on the Capitol's west front at 12:59:17 p.m. That area of the grounds was breached by protesters at 12:58:52 p.m., shortly after a much larger crowd breached the low iron fence protecting the west plaza.
Overhead security video shows the first munitions used on the huge crowd were deployed at 1:10 p.m. on the south end of the west plaza.
"I got a crowd fighting with officers, pushing, throwing projectiles," Deputy Chief Eric Waldow broadcast at 1:06 p.m. "I have given warnings about chemical munitions. I need the less-than-lethal team positioned above me to identify the agitators and start deploying. Launch, launch, launch!" The first munitions were not deployed until 1:10 p.m.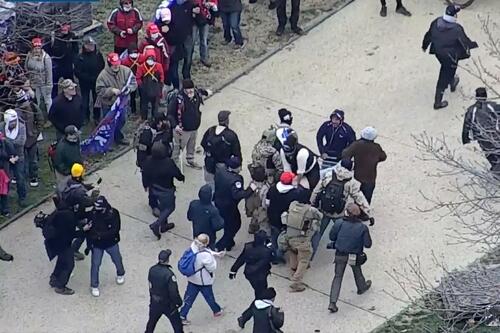 The first closeup video of Mr. Philips begins at 1:02:51 p.m. when the U.S. Capitol Police Command Center trained one of its security cameras on the area where he fell. Bystanders and a Capitol Police officer took turns doing chest compressions. The first call for help went out over the USCP radio at 1:04 p.m., according to Jan. 6 audio recordings obtained by The Epoch Times.
"Can you please have someone respond to my location with an AED [automated external defibrillator]? The bottom of the west front with an individual that's down here, unconscious and not breathing," a female officer broadcast on the main U.S. Capitol Police (USCP) radio channel.
At about 1:15 p.m., an out-of-breath officer announced that the D.C. Fire and EMS Department rescue squad wouldn't come down to the scaffolding where Mr. Philips lay on the sidewalk.
"They are bringing the patient up to the ambulance right now," he shouted on the radio. "They are refusing to come down."
Bystanders and police placed Mr. Philips on a section of a bike rack and carried it like a battlefield stretcher to the ambulance some 100 yards away. He was turned over to paramedics at 1:19 p.m. He was later pronounced dead.
The Office of the Chief Medical Examiner determined that Mr. Philips died from hypertensive atherosclerotic cardiovascular disease. His manner of death was listed by the pathologist, Dr. Fernando Diaz, as "natural."
Sweeping the Capitol
After U.S. Air Force veteran Ashli Babbitt, 35, was shot by Capitol Police near the House Chamber at 2:45 p.m., police made aggressive efforts to push all of the protesters out of the Capitol. The Epoch Times obtained CCTV security video showing SWAT teams clearing the Capitol.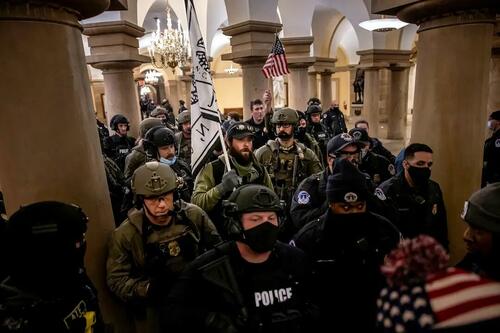 Officers from Capitol Police and the Metropolitan Police Department formed skirmish lines and pushed groups of protesters toward the exits while chanting, "Move back! Move back! Move back!" A large contingent of police pushed protesters across the Great Rotunda and forced them out through the exits.
At the same time, tactical teams from the Bureau of Alcohol, Tobacco, Firearms and Explosives (ATF) and other federal agencies began sweeping the upper floors of the Capitol to ensure no protesters were left.
With rifles raised and SureFire tactical lights illuminating their paths, the tactical teams moved methodically through the building.
At one point, an ATF tactical team came around the corner near House Speaker Nancy Pelosi's office. A stunned Capitol Police officer in the otherwise empty hallway threw his hands in the air as if to surrender.
Loading...