---
Jason Aldean's "Try That In A Small Town" Becomes No. 2 Hit
Authored by Bryan Jung via The Epoch Times (emphasis ours),
Country star Jason Aldean's single "Try That in a Small Town" has become a No. 2 hit, after controversy over the music video last week.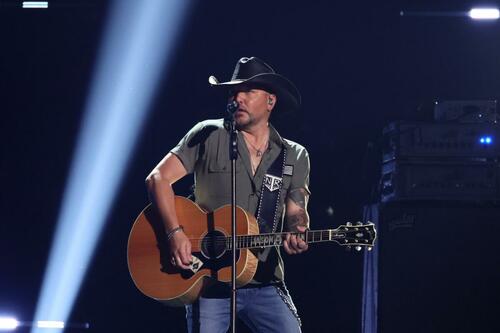 Mr. Aldean's song sported lyrics that criticized the 2020 Black Lives Matter (BLM) riots.
The singer said that small towns would never put up with such riots and lawlessness.
The single initially received little attention after its release in May, landing at No. 35 on Billboard's Hot Country Songs chart.
All of that changed on July 14, when the premier of the music video version triggered accusations of racism at Mr. Aldean.
Some criticized the video as a thinly veiled attack on the BLM movement.
Country Music Television (CMT) pulled his video from the air without explanation, after it had already aired for three days.
The controversy caused a backlash among music fans, who then rushed to hear Mr. Aldean's song, as streams and downloads of his hit exploded last week.
Country Music Fans Rally to Defense
Audio and video streams from Mr. Aldean's song have since risen from 987,000 to 11.7 million, a 999 percent increase, a week after the music video was released, Luminate told FOX Business.
Before Mr. Aldean released the music video, the song had sold only 1,000 downloads, but it has since sold 228,000, according to Luminate.
By July 24, "Try That in a Small Town" came in second on Billboard's Hot 100 list, becoming the country music singer's first number two spot on the chart, after "Dirt Road Anthem" reached the seventh spot in July 2011.
The video opens with Mr. Aldean performing before an old courthouse with an American flag, followed by real footage of violent riots, robberies, and attacks on police officers in riot gear, from the BLM riots in 2020.
The scenes are then contrasted with images of American flags, children playing, and images from a TV news segment about local farmers helping out a neighbor.
One lyric says, "Sucker punch somebody on a sidewalk/Carjack an old lady at a red light," followed by, "You think you're tough."
"Well, try that in a small town," sings Mr. Aldean.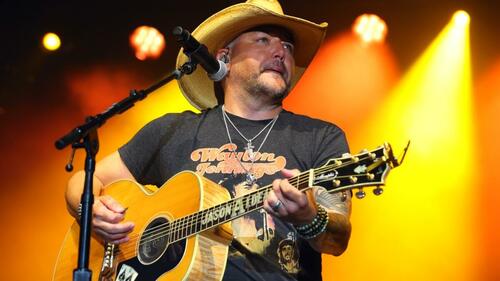 'Get Back to a Sense of Normalcy'
Mr. Aldean addressed the criticism following the release of the video and said on social media that, "It's been a long week, and I've seen a lot of stuff."
Tennessee state Rep. Justin Jones, a Democrat, wrote on Twitter that lawmakers "have an obligation to condemn Jason Aldean's heinous song calling for racist violence. What a shameful vision of gun extremism and vigilantism."
Mr. Aldean denied that race had any part in the lyrics, or that his hit was a "pro-lynching song."
"In the past 24 hours I have been accused of releasing a pro-lynching song (a song that has been out since May) and was subject to the comparison that I (direct quote) was not too pleased with the nationwide BLM protests," Mr. Aldean wrote on Twitter.
He added that "these references are not only meritless, but dangerous."
"'Try That In A Small Town', for me, refers to the feeling of a community that I had growing up, where we took care of our neighbors, regardless of differences of background or belief," Mr. Aldean wrote.
"Because they were our neighbors, and that was above any differences."
"My political views have never been something I've hidden from, and I know that a lot of us in this Country don't agree on how we get back to a sense of normalcy where we go at least a day without a headline that keeps us up at night. But the desire for it to- that's what this song is about," he concluded.
On Instagram this week, Mr. Aldean again rejected the accusation that his song referenced "race or points to it."
Mr. Aldean Stands Defiant Against Cancel Culture
At a July 21 concert at the Riverbend Music Center in Cincinnati, Mr. Aldean told the crowd that "cancel culture is a thing," according to Rolling Stone.
"It's something where if people don't like what you say, they try and make sure they can cancel you, which means try to ruin your life, ruin everything."
The crowd then erupted into boos before he added: "Here's the thing, I feel like everybody is entitled to their opinion. You can think something all you want to; it doesn't mean it's true—right?"
"What I am is a proud American," he said.
"I love our country, I want to see it restored to what it once was before all this [expletive] started happening to us."
"I love my country, I love my family, and I will do anything to protect that—I can tell you that right now," he continued.
Chants of "USA" immediately rang out in the theater.
Country Music Veterans, Conservatives Back Song
Meanwhile, some country music fans and public figures have called for a boycott of CMT for pulling the song.
Rep. Ronnie Jackson (R-Texas) wrote on Twitter: "CMT has gone WOKE! Do they know who their viewers are? Guess not!! I'll tell you this … I'll NEVER watch CMT ever again. BOYCOTT CMT!!"
A few Republican presidential candidates have also have jumped to the defense of Mr. Aldean, including former President Donald Trump, former Vice President Mike Pence, and Florida Gov. Ron DeSantis.
"Jason Aldean is a fantastic guy who just came out with a great new song. Support Jason all the way. MAGA!!!" wrote Mr. Trump on Truth Social.
Several country music veterans and entertainers came to Mr. Aldean's defense, including the singer Cody Johnson, who said at a concert, "If being patriotic makes you an outlaw, then by God, I'll be an outlaw."
Famed guitarist Ted Nugent told Fox News, "The idiots hate this Jason Aldean song because they hate when we push back against violence."
Former "Mumford & Sons" guitarist Winston Marshall also attacked the attempts to cancel Mr. Aldean, telling Fox News that "cherry picking" the music video was "insane."
However, other artists like Sheryl Crow, Jason Isbell, Margo Price, were against Mr. Aldean's hit.
Ms. Crow attacked the song as "not American or small town-like," in a Twitter post.
Loading...