---
Joe Rogan Says Tucker Carlson Could Win 2028 Presidential Race
Authored by Frank Fang via The Epoch Times,
Podcaster Joe Rogan has predicted that conservative political commentator Tucker Carlson could become the U.S. president in 2028 if the former Fox News host were to join the White House race.
During the Aug. 3 episode of "The Joe Rogan Experience," Mr. Rogan said that Mr. Carlson could succeed Donald Trump, if the former president wins back the White House in 2024, to secure eight years of consistent policies.
"Let's just make a scenario, Trump wins in 2024. He has four years. If Tucker went to run in 2028, he could win, because it would be kind of carrying those policies," Mr. Rogan told Patrick Bet-David, CEO of online content company Valuetainment.
Mr. Rogan added, "But also, he's sort of a no-nonsense guy who exposes [expletive], you know in a pretty humorous way and a very insightful and biting way," he added.
Tucker Carlson could become The President of the United States of America as soon as 2028 according to Joe Rogan and Patrick Bet-David.#Carlson2028 🇺🇸 pic.twitter.com/V5HeW1ytRA

— Ole Murica (@OleMurica) August 11, 2023
Before being fired by Fox News in April, Mr. Carlson was the host of "Tucker Carlson Tonight," one of cable's most popular programs. It was the second most-watched cable news program in 2022, drawing an average of 3.3 million viewers per night.
Reacting to Mr. Carlson's departure, Mr. Trump said he was "shocked" and "surprised." At the time, Mr. David said he had tried to court the former Fox News host with a $100 million deal over five years, plus a seat on his company's board.
On June 6, Mr. Carlson released the first episode of his new show on Twitter, now known as X. The first show, which drew more than 85 million views in less than 24 hours, has now been seen over 120 million times.
Last month, the former Fox News anchor declared his fondness for the former president, during an interview with liberal podcaster Russell Brand.
"I love Trump, personally," Mr. Carlson said.

"I think looking back on this 10 years from now, assuming we're still around, I think we're going see Trump's emergence as the most significant thing to happen in American politics in 100 years, because he reoriented the Republican Party against the wishes of Republican leaders."
Mr. Carlson applauded the former president's stance on the war in Ukraine. The GOP's leading 2024 candidate has said that he could end Russia's invasion within "24 hours" if he gets reelected in 2024.
"Trump is the only person with stature in the Republican Party, really, who's saying, wait a second, you know, why are we supporting an endless war in Ukraine?" Mr. Carlson said.
He added, "Leaving aside whether Trump's gonna get the nomination or get elected or would be a good president … All I can say at this point is I'm so grateful that he has that position. He's right and everyone in Washington is wrong."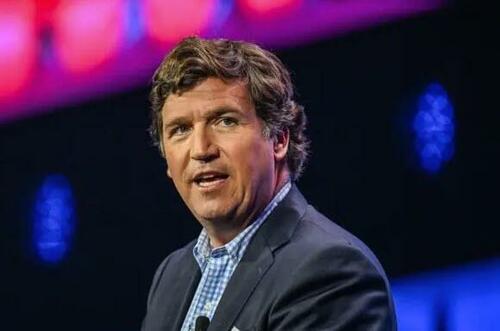 Former Fox News host Tucker Carlson speaks at the Turning Point Action Conference in West Palm Beach, Fla., on July 15, 2023. (Giorgio Viera/AFP via Getty Images)
In response, Mr. Trump reposted a short clip of Mr. Carlson's comments on his Truth Social account and wrote, "Thank you Tucker. So many lives wasted, so many lives to be saved!"
As for the 2024 presential race, Mr. Rogan did not envision a Republican candidate running against the former president and winning the general election.
"I think no one is going to run against Trump in the Republican side and win, because you're not going to get the Trump supporters," Mr. Rogan said.

"You can't beat that guy. You just can't."
According to the latest national survey (pdf) by Cygnal conducted from Aug. 1 to Aug. 3, Trump leads the GOP field with 53 percent support, followed by Vivek Ramaswamy with 11 percent support.
Florida Gov. Ron DeSantis, widely seen as the biggest challenger to Mr. Trump, is estimated to be in third place with 10 percent support. The poll noted that Mr. DeSantis "has plummeted from having 29 percent of the vote in March."
Loading...