---
Judge Denies Request, Orders Hunter Biden To Appear In Court
Authored by Catherine Yang via The Epoch Times (emphasis ours),
A judge ruled that Hunter Biden will need to be arraigned in person, denying his request this week to attend his hearing virtually.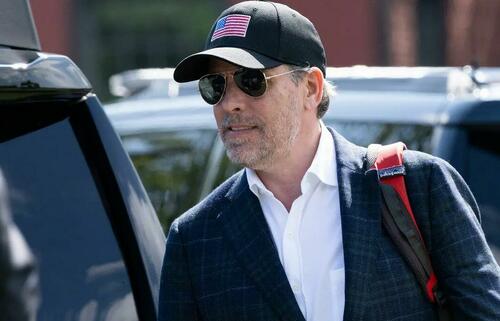 Special counsel David Weiss had argued that Hunter Biden should be required to make in-person court appearances, opposing Mr. Biden's request.
"Hunter Biden does not contend he is injured or indigent," Mr. Weiss wrote in a response to Mr. Biden's request.
Mr. Biden has been indicted in federal court on felony gun charges, including two counts that he allegedly made false and deceptive statements when he purchased a gun and submitted a statement that he wasn't an unlawful user of drugs, and one count related to his possession of the gun while addicted to drugs.
"An in-person hearing is important to promote the public's confidence that the defendant is being treated consistently with other defendants," Mr. Weiss wrote.
Hours later, the court sided with Mr. Weiss, denying Mr. Biden's request to attend through video conference.
United States Magistrate Judge Christopher Burke wrote that he understood Mr. Biden's arguments that the hearing would likely be short and the travel and logistics a burden, but the event was significant.
"Although initial appearances in criminal matters are often short in duration, our Court has always considered them to be important," he wrote.
"The hearing is one of the few occasions in a criminal case when a defendant physically appears in our Court, before a judge—in a setting that helps to emphasize the 'integrity and solemnity of a federal criminal proceeding.'"
Judge Burke pointed out that the matters to be discussed in this arraignment were not discussed in Mr. Biden's previous arraignment in July, during which his plea bargain fell apart. He is expecting to address Mr. Biden's pre-trial release conditions as well.
Mr. Biden's arraignment is scheduled for Oct. 3 at 10 a.m.
'Not Seeking Special Treatment'
On Tuesday, Mr. Biden had filed a motion to appear in court by video conference. His attorney, Abbe David Lowell, had argued that his client "is not seeking any special treatment in making this request."
He argued that making his client "travel across the country for what should be a rather short proceeding" would put a financial burden on the government, which provides Mr. Hunter with secret service protection, and put a logistical burden on downtown Wilmington, Delaware, where the court is.
"No matter whether in person or virtual, he will waive reading of the indictment, which is merely a few pages and could easily be read at a video conference," he wrote, adding that Mr. Biden would be entering a plea of not guilty. "There is no reason why he cannot utter those two words by video conference."
'Unforeseen Issues'
Mr. Weiss argued in his response that outside of the pandemic, the federal court in Delaware has almost always held in-person hearings for initial appearances and arraignments, and that Mr. Biden should not be treated differently. He noted that the two cases cited in Mr. Biden's argument had allowed for virtual appearances because the defendant was wounded and could not travel.
"If 'convenience' was a legitimate basis to warrant virtual proceedings, every defendant would ask for them in every case," Mr. Weiss wrote.
He argued that much could be "lost" with a virtual hearing, such as an opportunity for the judge to "accurately assess the physical, emotional, and mental condition of a defendant—a factor that may weigh on pretrial decisions, such as release from detention."
He noted that the previous arraignment with Mr. Biden already resulted in "anything but routine" outcomes, and that an in-person arraignment should occur again this time in case the court needs to address "any unforeseen issues that arise."
On July 26, Mr. Biden appeared in federal court in Delaware, reportedly ready to plead guilty to two tax misdemeanor charges in a deal that would allow him to avoid a felony gun charge. During the hearing, the plea bargain appeared to fall apart when the judge asked additional questions about the rationale for details of the agreement.
"The defendant and his previous attorney were not prepared to answer the Court's questions," Mr. Weiss wrote in his new response.
"The defendant provided contradictory testimony and his previous attorney apologized to the court for the way the defendant and his counsel chose to answer the Court's questions. The confusion they caused resulted in the Court twice recessing the proceedings only to ultimately defer a decision."
Mr. Biden's previous attorney, Christopher Clark, had stepped down from his case with the reason that he may need to appear as a witness in Mr. Biden's trial should the plea bargain itself be part of the case. Later, three more attorneys on the team stepped down without citing a reason, with Mr. Lowell remaining as lead counsel.
Mr. Weiss wrote in his letter that he will be asking the court to order certain conditions for pretrial release of Mr. Biden, and thus he should be present.
"Given the serious felony gun charges at issue in this case, this Court should have an opportunity to assess the defendant in a live setting when discharging ... recommendations for conditions of release," he wrote.
Mr. Lowell said on "Good Morning America" that he believes the charges against Mr. Biden will be "dismissed before trial."
"First as to the political pressure, I want to make sure that everybody understands that after five years of investigation that the prosecutors knew all the facts, and the only change as to when they investigated and today is that the law changed. But the law didn't change in favor of a prosecution, the law changed against it," Mr. Lowell said. "A couple of federal courts have found this gun charge unconstitutional."
House Oversight Committee Chairman James Comer (R-Ky.) has alleged that political pressure is why the charges weren't brought earlier, having heard from IRS whistleblowers who allege the Biden administration "slow-walked" the investigation against Mr. Biden.
Mr. Lowell maintains that the government entered into a plea bargain with his client which meant the charges should never have been brought, while Mr. Weiss argues the plea bargain never took effect.
Mr. Lowell is also arguing that the gun form in question is unconstitutional and has already successfully been challenged, and that "on the facts," he has a successful defense.
Loading...