---
Judge Rules Kari Lake Lawsuit Seeking Mail-In Ballot Signatures Will Go To Trial
Authored by Jack Phillips via The Epoch Times,
Arizona Republican candidate Kari Lake announced an upcoming trial date in a lawsuit to acquire mail-in ballot signatures nearly a year after the November 2022 midterm election.
"We are scheduled for a 2-day trial set for September 21 & 25th," Mrs. Lake wrote on X, the platform formerly known as Twitter, over the weekend.

"I will never stop fighting for Honest & Transparent Elections."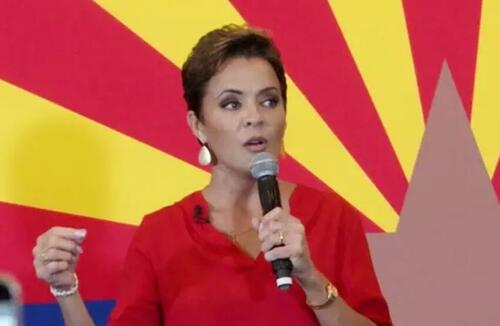 In a separate statement to The Gateway Pundit, Mrs. Lake also said that the recent court order "is a huge victory for election transparency."
"We're moving forward," she said.
Superior Court Judge John R. Hannah Jr. wrote (pdf) on Aug. 24 that a two-day trial will start on Sept. 21 at 9 a.m., with exhibits that will be submitted during the trial due by Sept. 14.
Earlier in the year, a Maricopa County Superior Court judge ruled that Mrs. Lake's request to access affidavit envelopes shouldn't be dismissed. Mr. Hannah wrote in June that county recorders generally include ballot affidavit envelopes in voter registration records, saying that the court is "not required to defer to the elections officials in how they have historically interpreted" the law.
He refuted arguments that were submitted by Maricopa County lawyers, who had argued that ballot affidavit signatures are a portion of the voter registration record. They're also considered confidential under state law, the lawyers said.
"I am not convinced that the ballot affidavit is a voter registration record," Mr. Hannah told the Arizona Capitol Times two months ago.

"It is a record from which the election officials derive information that becomes part of the voter registration record, but that doesn't mean the ballot affidavit itself is a voter registration record."
Starting last year, Mrs. Lake has attempted to contest the results of the 2022 election in court, while her Democrat opponent, Katie Hobbs, was sworn in as governor in early January. Multiple courts in Arizona have dismissed her lawsuits, although Mrs. Lake has said that she'll take her challenge to the U.S. Supreme Court if need be.
Mrs. Lake, a former local television anchor, argued that thousands of Republican voters were disenfranchised on Election Day due in part to voting machine problems that were confirmed by Maricopa County officials on that day. The GOP candidate has also pointed to what she called problems with Maricopa's signature verification process for mail-in ballots.
Maricopa County Recorder Stephen Richer had announced in June that he was suing Mrs. Lake for defamation and alleged that she falsely accused him of misdeeds during the 2022 election. Last week, Mrs. Lake filed a motion and asked Maricopa County Superior Court Judge Jay Adleman to dismiss Mr. Richer's defamation lawsuit because it violates state law.
Her lawyers said in the court filing that Mr. Richer's lawsuit should be thrown out because he brought the suit to "deter, retaliate against, and prevent Defendants' lawful exercise of their free speech rights on the core public issue of election integrity."
Senate Race?
Mrs. Lake has signaled that she may run for Arizona's Senate seat in 2024, potentially setting up a three-way battle between her, former Democratic Sen. Kyrsten Sinema (I-Ariz.), and Democratic Senate candidate Ruben Gallego, currently a House representative.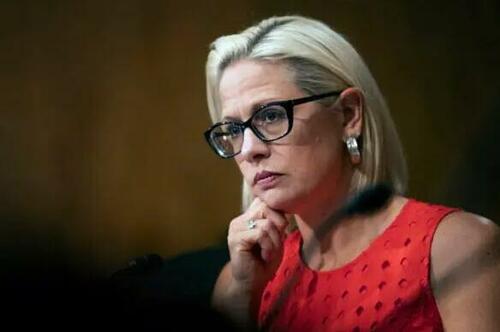 Arizona Sen. Kyrsten Sinema, here in 2019 when she was a Democrat before becoming an independent, could be embroiled in a three-way race in 2024 in seeking a second term. (Manuel Balce Ceneta/AP Photo)
"I'm contemplating it," Mrs. Lake said when asked in a recent Fox News interview.

"I mean, I could go off and go back into media and make a fortune, but this is not the season for that, this is the season for saving our country."
Mrs. Lake said that any decision about running for Senate would come in the coming months.
"We have an opportunity to pick up a seat and prevent it from falling into the hands of somebody who is a socialist or worse and taking and getting an America First senator in D.C.," she stated.

"I'm contemplating it and I'll make a decision here in the next couple of months."
If she enters the race, Mrs. Lake, a vocal proponent of former President Donald Trump, would have competition from the GOP side.
Pinal County Sheriff Mark Lamb, a Republican, announced earlier this year that he's running for the seat. Other Republicans could also enter the primary. However, some analysts say that because of her name recognition and support for former President Trump, she'll likely be the Republican nominee.
"We're seeing with Donald Trump that, even though he's a very divisive candidate with independents, he's loved by Republicans. Same with Kari Lake. I don't think there's any chance she loses the nomination if she runs," Brian Darling, a Republican strategist, told The Hill.
Loading...