---
Judge In Trump J6 Trial Worked At Law Firm that Repped Russia Hoax's Fusion GPS, Tied To Hillary's Emails
Authored by Mark Pellin via Headline USA,
U.S. District Judge Tanya S. Chutkan, who is overseeing the Trump J6 trial being prosecuted by the Biden Justice Department, previously worked at a law firm that represented Fusion GPS, the company that helped orchestrate the Russia collusion hoax targeting former President Donald Trump.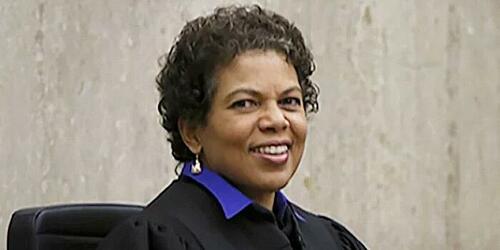 During Chutkan's stint with Boies Schiller Flexner, the Democrat-friendly law firm also reportedly represented Clinton Cabal foot soldier Huma Abedin, the former wife of disgraced Democrat Anthony Weiner.
🔥 Breaking! Trump Judge, Tanya Chutkan's, past law firm, where she was a partner, represented Huma Abedin in the Hillary Clinton private email server case!

"Partner Karen Dunn said her client Huma Abedin is willing to work with intelligence agencies regarding the investigation… pic.twitter.com/22R17FMB5r

— Bad Kitty Unleashed 🦁💪🏻 (@pepesgrandma) August 10, 2023
The stunning revelations came in the wake of reports that the Obama-appointed judge worked at the same Boies Schiller Flexner law firm with President Joe Biden's embattled son, Hunter. The same law firm that employed Chutkan also reportedly represented Burisma.
Trump blasted the apparently gross conflicts of interest and bias saddling Chutkan, writing on Truth Social that, "The Obama appointed Judge in  the FREE SPEECH Indictment of me by my political opponent, Crooked Joe Biden's Department of InJustice, shared professional ties at the law firm that worked for Energy Company Burisma, based in Ukraine, of which Hunter Biden and his associate were "proud" MEMBERS OF THE BOARD, and were paid Millions of Dollars, even though Hunter knew almost NOTHING about Energy. How much was the law firm paid? So Horrible. This is a CLASSIC Conflict of Interest!"
The J6 free speech trial won't be the first time Chutkan has been entangled by court conflicts stemming from her legal workings with outfits targeting Trump.
Chutkan was forced to recuse herself from the bench when she was overseeing Fusion GPS's attempt to block former congressman Devin Nunes and Kash Patel from outing the source of payments that funded the infamous Steele dossier.
"Fusion GPS, the DNC, and the Hillary Clinton campaign paid Christopher Steele millions of dollars and they laundered it through the FBI and the FISA court to unlawfully surveil Donald Trump. That's big-time stuff," Patel, who served in the Trump administration, noted during an interview with America First's Sebastian Gorka.
After months of litigation before Chutkan, when it became apparent that Nunes and Patel would be successful, "she recused -on her own- from that case. Why?" Patel asked rhetorically.
"We found out her law firm, Boies Schiller, represented Fusion GPS," Patel answered. "The very client that was in front of her in federal court was one of her former clients. That is rule #1 for disqualification."
It also sets a sterling precedent for Chutkan's removal from the Trump J6 trial, Patel said.
"She set the precedent. She cannot neutrally and arbitrarily preside over Donald Trump's criminal trial when she recused herself from the very representation of the Democratic entrenchment: the DNC, the Hillary Clinton campaign, Fusion GPS, because she was so biased because of her prior representation from Boies Schiller," he argued.
Loading...