---
Just The Tip: AP Gave Dem Porn-Wife Heads-Up Before WaPo Scoop, Allowing Her To Delete Videos
Democratic Virginia political candidate Susanna Gibson, who was outed by the Washington Post for performing sex acts online for cash - and instead of owning up to it cried 'sex crime!', was actually tipped off a week earlier by the Associated Press, which didn't run the story - allowing her to delete videos before the WaPo piece hit, according to the Daily Wire's Luke Rosiak.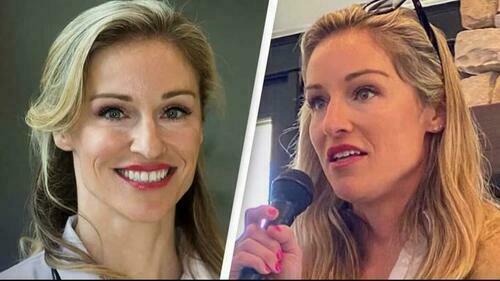 Finally, @realdailywire can report that the AP newswire had the Susanna Gibson porn candidate story a week before the Washington Post did, tipped off Gibson about it-leading her to get the videos removed-and decided not to run the story, despite seeming obviously newsworthy.

— Luke Rosiak (@lukerosiak) September 15, 2023
Gibson, a 40-year-old nurse practitioner and mother of two, streamed various sex acts on 'Chaturbate,' where more than a dozen videos of she and her husband were archived on a publicly available site, Recurbate, in September 2022 after she entered the race. The most recent were two videos archived Sept. 30, 2022, however it's unclear when the live stream occurred.
Rosiak also reports that Gibson's online sex acts could have exposed her to prostitution charges, lawyers say.
Virginia law states that "any person who, for money or its equivalent … engages in sexual intercourse" or other sexual acts with another person "is guilty of prostitution, which is punishable as a Class 1 misdemeanor."

Shawn M. Cline, a former prosecutor and defense attorney in Virginia Beach who represents people charged with sex crimes, said in his view it's a "chargeable offense."

"The statute is very clear, you cannot for money or its equivalent perform sex acts," Cline told The Daily Wire. "It doesn't matter who's paying for the act, if it's an observer or the recipient. You can't receive money."

"It would definitely be a chargeable offense," Cline said. -Daily Wire
What's more, she could be busted for deliberately causing hotel workers to see her performing sex acts.
"Tell him I want a bottle and have them bring it into the room and we'll be naked and they can all watch. It's gonna be great. I'm definitely a slut," she told her audience in one video, adding "In order to leave the door cracked I need 500 tokens from 10 of y'all. 10. Otherwise not worth it. Don't get me kicked out from my favorite hotel y'all."
She could also potentially be charged with a crime for deliberately causing hotel workers to see her in action against their will in order to get a thrill. She said if people paid enough, she'd trick room service into walking in on her.

— Luke Rosiak (@lukerosiak) September 15, 2023
 According to former Virginia public defender, Gretchen Tayllor Pousson, tricking hotel workers into seeing her acts could violate statutes such as indecent exposure, which applies to anyone who "intentionally makes an obscene display of her person in any public place or place where others are present."
"I think it would be. It would all depend on how the court determines a 'place where others are present,' but given that she caused them to come in, I think that could easily be argued by the Commonwealth," Pousson told the Daily Wire.
Speaking of tip-offs, after the Daily Wire contacted Henrico County Commonwealth's Attorney Shannon L. Taylor, a Democrat, Gibson's attorney contacted the Daily Wire to say that he learned that they were working on a story through a source he wouldn't disclose. Taylor didn't respond when asked if she had alerted Gibson.
The videos she streamed to Chaturbate took place throughout September 2022, shortly after she launched her Senate campaign. The last one on that platform was posted on September 30, meaning the statute of limitations would expire in two weeks.

Gibson has not dropped out of the race since her video exploits were exposed by The Washington Post, The Daily Wire, and other media on Monday. The leader of the Virginia Senate, Democrat L. Louis Lucas, said the behavior by Gibson was all the more reason to give her money — and without evidence, accused Gov. Glenn Youngkin (R-VA) of somehow being involved.
Gibson notably cried 'sex crime' after the Post article - accusing her opponents for "the worst gutter politics."
Maybe don't have sex for money over the internet if you plan to run for public office?
Democrats in 2003: "Stay out of our bedroom!"

Democrats in 2023: pic.twitter.com/IkGdnugpxt

— Oilfield Rando (@Oilfield_Rando) September 12, 2023
Me looking for your expectation of privacy as a public figure posting your sex acts on the Internet for money. pic.twitter.com/eaA7jFHbTT

— Mary Katharine Ham (@mkhammer) September 12, 2023
Loading...