---
Kamala Harris 'Ready To Take Over' As President If Biden Can't Do Job
Vice President Kamala Harris is ready to serve word salad to the world as POTUS, should Joe Biden - the oldest president in US history at 80, croak or is otherwise unable to effectively govern (so, now?).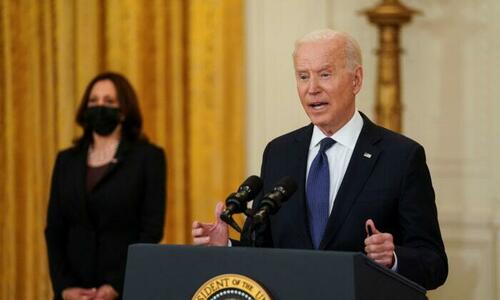 "Joe Biden is going to be fine, so that is not going to come to fruition," Harris told AP in an interview published Wednesday. "But let us also understand that every vice president — every vice president — understands that when they take the oath they must be very clear about the responsibility they may have to take over the job of being president."
"I'm not different," Harris added.
According to a Monday Wall Street Journal poll, 60% of registered voters don't think Biden is "mentally up for the job" of being president, while 73% say Biden is just too old to be president. Meanwhile, a Harvard Caps/Harris poll from May found that 61% of voters don't think Biden would even make it through another term in office.
If Biden wins reelection, he will be 82 at the time of his second inauguration and 86 at the conclusion of his term. The current oldest president at the end of his term was Ronald Reagan, who left office in 1989 at the age of 77.
In the AP interview, Harris argued that Biden "delivers" when he's in the Oval Office.
"I see him every day. A substantial amount of time we spend together is in the Oval Office, where I see how his ability to understand issues and weave through complex issues in a way that no one else can to make smart and important decisions on behalf of the American people have played out, she said. "And so I will say to you that I think the American people ultimately want to know that their president delivers. And Joe Biden delivers."
According to Boston University professor emeritus Tobe Berkovitz, "The problem with Biden being 80 is that he is acting more and more like a senior citizen without all of his faculties," who added that Biden's general demeanor "reinforces that he is an old 80-year-old, not a spry, competent 80-year-old."
[T]he age issue will be eagerly amplified by political opponents and their media allies if Biden makes any slip-ups during a taxing election campaign.

The template has already been established in the extensive coverage given to Biden's fall at a U.S. Air Force Academy graduation event in Colorado in early June.

Verbal misfires — as when he twice in 24 hours referred to the war "in Iraq," when he meant "in Ukraine" earlier this year — deepen the perception problem. -The Hill
That said, Biden biographer Franklin Foer has stirred controversy over Biden's age, depicting Biden complaining about his staff scrambling to do damage control after the president suggested regime change in Moscow, a comment his aides quickly walked back.
"Rather than owning his failure, he fumed to his friends about how he was treated like a toddler. Was John Kennedy ever babied like that?" wrote Foer.
Biden also lied in 2022 when confronted about it.
Doocy: "The big things you say on the world stage keep getting walked back."

Biden: "What's getting walked backed?"

Biden: You told troops they are going to Ukraine, the U.S. would use a chemical weapon, and called for regime change in Russia.

Biden: "None of the 3 occurred." pic.twitter.com/cwZPzANIoC

— Greg Price (@greg_price11) March 28, 2022
On Tuesday in the White House media briefing, Fox News' Peter Doocy asked White House spox Karine Jean-Pierre, "Why does White House staff treat him like a baby?"
To which Jean-Pierre responded, "No one treats the president of the United States, the commander in chief, like a baby. That's a ridiculous claim."
DOOCY: "President Biden is the oldest President in American history. Why does White House Staff treat him like a baby?" 🤣

pic.twitter.com/xBu9AOR7Op

— Benny Johnson (@bennyjohnson) September 5, 2023
On Monday, Biden defended his age, telling a Labor Day crowed in Philadelphia;
"Someone said, 'You know, that Biden, he's getting old," he said. "Well guess what, guess what … the only thing that comes with age is a little bit of wisdom. I've been doing this longer than anybody, and guess what, I'm going to continue to do it, with your help."
Loading...