---
Lawmakers Pass Key Part Of Netanyahu's Sweeping Judicial Overhaul As Protesters Seek To Blockade Knesset
Following almost 30 weeks of some of the largest protests Israel has seen in its history, Israeli lawmakers on Monday passed a key part of the Netanyahu government's ultra-controversial overhaul plan which will see the independent judiciary severely weakened. 
It is being widely called the biggest and most far-reaching shake-up to the Israeli system, and the judiciary in particular, since 1948. The 'Reasonableness bill' passed with 64 votes in favor and 0 against, given that opposition members of the Knesset boycotted the final vote in protest, as raging demonstrators took over streets, in many cases blocking roadways and city centers across the country. Protesters tried to blockade the Knesset building itself. Amid Monday's unrest, the shekel extended its decline to 1.5% against the dollar.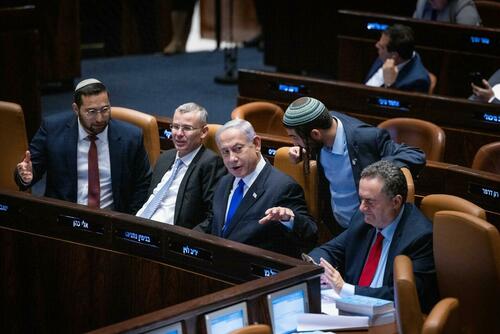 The Reasonableness bill gets its name from the legislation in effect stripping the Israeli Supreme Court's ability to declare government decisions unreasonable, which critics say so severely erodes checks and balances that it will lead to a Netanyahu coalition "dictatorship". 
As we reviewed earlier, those protesting the reform are largely secular, and according to the New York Times, fear that the legislation will make it easier for the government to enforce ultra-Orthodox Jewish practice in public life and for government leaders to get away with corruption, including Netanyahu, who is currently on trial for bribery and fraud. Netanyahu also spent the weekend in the hospital for an emergency heart procedure which resulted in him receiving a pacemaker. He left the hospital and was present for the vote's passage in Knesset Monday.
An estimated hundreds of thousands of angry demonstrators swarmed the streets in Jerusalem (where Knesset is located) and Tel Aviv.
#Israel | Israel's parliament has voted into law a contested curb on some Supreme Court powers submitted by Prime Minister Benjamin Netanyahu's government.

The bill passed by a 64-0 vote, the Knesset speaker said, after opposition politicians abandoned the plenum in protest. pic.twitter.com/lLj29t3XTi

— DD India (@DDIndialive) July 24, 2023
According to details of the final debate and vote which stretched on for more than 24 hours, given the various last-ditch opposition efforts at compromise:
Within the Knesset, multiple last-minute attempts to amend the bill or to come to a broader procedural compromise with the opposition failed, and two compromise frameworks floated by a union leader and the president were rejected. A series of ideas for unilaterally softening the legislation, discussed by Prime Minister Benjamin Netanyahu and key coalition leaders even as the Knesset was preparing to vote, also led nowhere.

The vote followed almost 30 hours of continuous floor debate that began on Sunday morning. During that period, hundreds of thousands of protesters took to the streets, both for and against curbing judicial checks on political power.

According to the law's text, courts are prohibited from exercising any scrutiny over the "reasonableness" of cabinet and minister decisions, including appointments and the choice to not exercise vested authorities.
Outside Knesset while floor debate and voting was underway Sunday into Monday...
Wow. Aerial video of massive demonstration outside #Israel's Knesset in Jerusalem. Nearly 100,000 out protesting Netanyahu's Judicial overhaul plan amid historic split/crisis pic.twitter.com/5OvEBlKVCD

— Joyce Karam (@Joyce_Karam) July 23, 2023
Other controversial aspects to the judicial overhaul package will give Netanyahu's hard-right coalition much greater power in the appointment of judges, and legal advisers from the judiciary would be ejected from various government ministries, no longer having direct input in legal matters.
There were sporadic clashes between police and protesters Monday, but things across the country remained largely peaceful, with the exception of efforts of protesters to block the Knesset building. At least 19 demonstrators reportedly were arrested outside the Knesset. Security forces unleashed water cannons several times in order for officials to gain access to the complex.
"Thousands of Israelis rallied outside the Knesset building, with some chaining themselves to the gates and blocking roads in an attempt to prevent lawmakers from reaching the compound," Axios noted. And according to a description in local media:
Hours of violent clashes erupted around the Knesset in Jerusalem Monday morning as protesters against the government's planned drastic overhaul of the judiciary blocked access roads to the building and skirmished with police in what coalition members decried as "a siege" of parliament.
Israelis protest outside of parliament as the country's president led a last-minute bid for a compromise on Prime Minister Benjamin Netanyahu's contentious judicial overhaul ahead of a crucial vote in the Knesset https://t.co/4RDaWcBD5k pic.twitter.com/dM5FV8MtH9

— Reuters (@Reuters) July 24, 2023
Opposition leader Yair Lapid meanwhile accused the prime minister and his allies of seeking to "dismantle" Israeli democracy. "It is impossible to reach any understanding that will preserve Israeli democracy with this government," he told a press briefing. "They want to dismantle the state. We have no way of continuing the dialogue with them. This is the most irresponsible government in the history of Israel."
Loading...