---
London Has The World's Slowest Traffic
London was the slowest city center to drive through last year, according to TomTom Traffic Index 2022.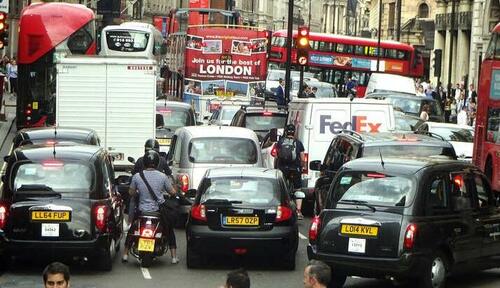 As Statista's Anna Fleck reports, on average, Londoners could expect to take 36 minutes and 20 seconds to travel just 10 kilometers, and to sit in traffic for an estimated 325 hours per year.
You will find more infographics at Statista
Two Indian cities also feature in the top eight roundup: Bengaluru with an average travel time of 29 minutes and 10 seconds per 10 km and Pune with an average of 27 minutes and 20 seconds.
In ninth and tenth position were Lima, Peru with 27 minutes and 10 seconds as well as Manila, the Philippines with 27 minutes per 10km.
TomTom reports that the rise in workers heading back to the office in 2022 was met with an increase in travel times across nearly two thirds of the analyzed cities.
With the year's energy price hikes, the company also looked at how much drivers were paying throughout the year, finding that with congestion, fuel consumption increased too. Hong Kong was particularly hard hit, becoming the costliest city to drive in, with more than US$1000 ($1,023) calculated to be spent by a driver commuting every day at rush hour.
This year's traffic index is based on trip data from anonymous drivers within the larger metropolitan area or a 5 km radius from the city center of 390 cities across 56 countries, throughout 2022.
September 18-22 marks National Pollution Prevention week, initiated by the U.S. Environmental Protection Agency.
Loading...