---
Maher Slams 'Arrogant' Press Over RFK Jr. Coverage As 80% Of Dems Want Biden To Debate
Bill Maher slammed the mainstream media over their biased coverage of Democratic presidential candidate Robert F. Kennedy, Jr.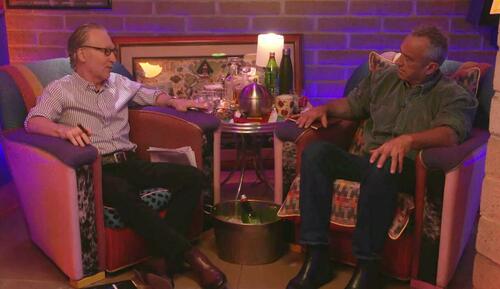 "I want to take issue with the media because it incenses me how they write about you," Maher told Kennedy on an episode of Maher's podcast, "Club Random," released Sunday.
"In Chat With Musk, Kennedy Pushes Right-Wing Ideas and Misinformation," Maher said, citing a NY Times headline from June 5.
"Right away I'm pissed off," Maher said in reaction. "Because, misinformation? How about you're the newspaper. Just tell me what was said and I'll decide what's misinformation. This arrogance of 'we know what the misinformation is about science.'"
Maher then read from the Times piece; "'Mr. Kennedy is a long time amplifier and propagator of baseless theories.' Again," he stopped to qualify, "not the editorial page, this is like the regular newspaper."
The HBO host then cited a fact check within the Times piece claiming Kennedy was wrong when he said that Democrats earned more money from the pharmaceutical industry than Republicans.
"Because the Obama administration made a deal with the pharmaceutical industry to support the bill … today I believe the Democrats are getting more money from pharma than Republicans," argued Kennedy.
"Even if that's not exactly the case, the spirit of the answer is correct," Maher opined. "Fuck them," he added. "I'm doing this for a reason because I believe they deserve richly to be mocked for that attitude."
Watch:
Meanwhile, while the press is doing it's best to marginalize Kennedy, 80% of Democratic voters want President Joe Biden to debate during the 2024 primaries, including an overwhelming 72% of Biden supporters, according to a USA Today/Suffolk University poll.
That said, 'the odds of that actually happening are as close to zero as you can get in politics," according to the report.
"As you know, no incumbent R [Republican] or D [Democrat] have done debates," said Kevin Munoz, a Biden campaign spokesman.
Biden's claim to the nomination hasn't been seriously threatened, but the findings underscore his need to consolidate and energize the Democratic base. In the poll, 58% of Democrats support Biden for the nomination while 15% back Kennedy and 6% back Marianne Williamson; 21% are undecided.

There could be at least a bit of a political downside to ducking debates. -USA Today
"The decision not to debate is ignoring the 82% of women, 84% of union households, 86% of independents, and 90% of young voters who are not only planning to vote in their state's Democratic primary or caucus next year but also would like to see a series of Democratic primary debates," said Suffolk Political Research Center director, David Paleologos.
RFK Jr. calls it "unfortunate" that no debates appear to be on the horizon.
Loading...