---
Majority Of Americans Support Israel, But New Poll Reveals Generational Divide
The week-long conflict between Israel and Hamas escalated on Saturday as the Israeli military prepares for a potential ground offensive in the Gaza Strip, a move that many anticipate. As of Friday, the death toll reached 3,000 on both sides. While Israel gears up for a ground invasion, most Americans stand behind Jerusalem. 
A new poll commissioned by NPR/PBS NewsHour/Marist poll finds that 65% of US adults support Israel in the war. This was true for most Republicans (77%) and Democrats (69%).
As for Independents, only 54% support Israel, while 32% say the US should 'say or do nothing'. 
The data reveals huge generational gaps.
There's an incremental decline in support for Israel from the silent generation of 86% to Baby boomers 83% to Gen X 63% to Gen Z/millenials of 48%.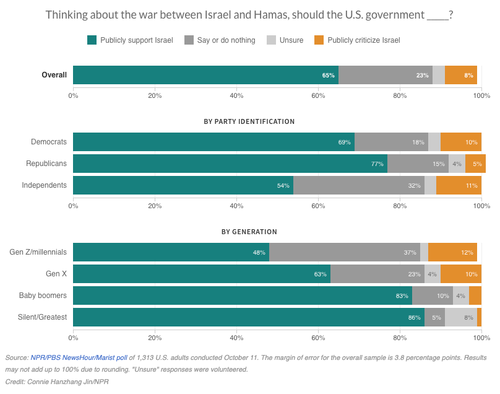 Young Americans not supporting Israel en masse is not surprising. Dozens of student organizations at top universities across the US denounced Israel last week and pledged support for Palestine. Some organizations at Harvard even justified the actions of Hamas in its war against Israel. 
NEW: A Stanford instructor reportedly told Jewish students to "identify themselves" and stand in the corner for a public shaming in response to the Hamas terror attacks on Israel.

Hamas Harvard has competition.

The instructor reportedly defended Hamas' actions saying they were… pic.twitter.com/4HSqglU4Ay

— Collin Rugg (@CollinRugg) October 14, 2023
I have been asked by a number of CEOs if @harvard would release a list of the members of each of the Harvard organizations that have issued the letter assigning sole responsibility for Hamas' heinous acts to Israel, so as to insure that none of us inadvertently hire any of their… https://t.co/7kzGOAGwp9

— Bill Ackman (@BillAckman) October 10, 2023
At University of North Carolina: "Hamas are Palestinians. WE are Hamas! F*ck your mother" [in Arabic]

Wearing an N95 mask. This is fine with the university. But if a student skips their 5th Covid booster, they will be expelled immediately...pic.twitter.com/Lh4yaZpO3M

— Dr. Eli David (@DrEliDavid) October 14, 2023
Hamas celebration at The University of Michigan… pic.twitter.com/mKU3J0SjNS

— @amuse (@amuse) October 14, 2023
Regarding racial demographics, about 51% of non-white respondents believe that the US should take such a public stance supporting Israel, whereas 72% of white respondents share this perspective. 
Again, this polling data comes as no surprise, considering Black Lives Matter Chicago celebrated the Hamas paraglider massacre at a rave in Israel with this post: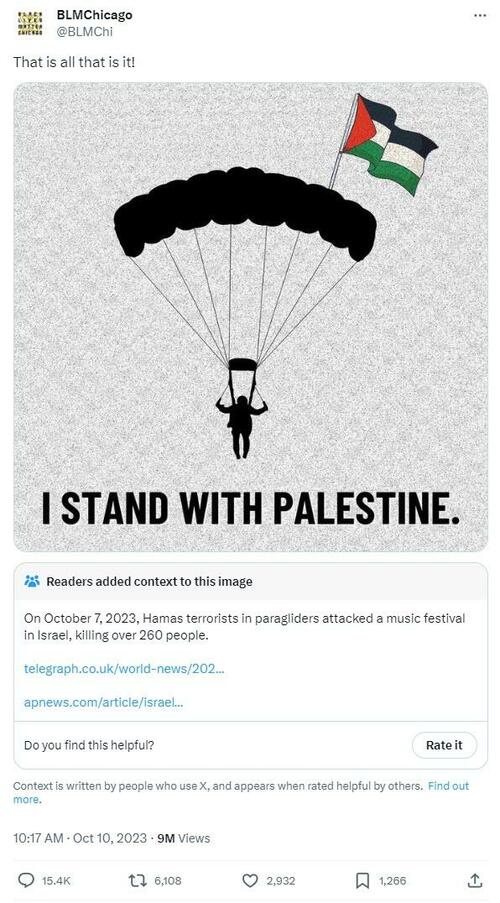 And we almost forgot Rep. Alexandria Ocasio-Cortez's (D) Democratic Socialists of America have held pro-Palestinian rallies, with some folks holding up Nazi signs in Times Square. 
I really really hate political posting, but the absolute irony and hypocrisy of hard left Dem groups like NY DSA flashing swastikas today, after years of casually throwing out terms like racist and nazi at all critics, is too much not call out pic.twitter.com/LT8H6QzPR1

— Ben Grossman (@BenGrossmanOG) October 9, 2023
One thing that stood out among all respondents is that 80% of them were concerned the conflict could erupt into a regional war. And they might be correct about that, as Rabobank's Michael Every warned last week: "The Global Security Order Is Crumbling": From Ukraine War To Middle East War To... 
Loading...