---
Manslaughter Arrest Made In Horrific On-Ice Death Of Professional Hockey Player
On Tuesday the South Yorkshire Police in England announced an arrest related to the death of Minnesota native Adam Johnson, the American professional ice hockey forward whose throat was slashed in a horrifying mid-game incident on Oct. 28, when his Nottingham Panthers played the Sheffield Steelers in a game which was part of the Elite Ice Hockey League. 
Sheffield hockey player Matt Petgrave had been filmed careening into Johnson at a high rate of speed with his leg lifted high in the air just at the moment of impact, delivering a sharp skate directly to the neck of Johnson. Johnson was soon pronounced dead after he held his hand to his neck, which was gushing blood onto the ice in a rare horrifying injury which shocked the hockey world and gained worldwide media attention. Some fans were left wondering why Petgrave wasn't arrested on the spot given many speculated it was an intentional, heinous attack. Others have said it was a freak accident.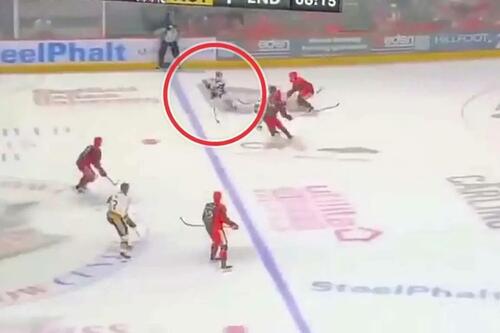 But now, 17 days after the incident, a South Yorkshire police statement said detectives "arrested a man on suspicion of manslaughter" — but without naming Petgrave.
"Our investigation launched immediately following this tragedy and we have been carrying out extensive enquiries ever since to piece together the events which led to the loss of Adam in these unprecedented circumstances," department Detective Chief Superintendent Becs Horsfall said in a press release.
"We have been speaking to highly specialized experts in their field to assist in our enquiries and continue to work closely with the health and safety department at Sheffield City Council, which is supporting our ongoing investigation." The police statement sought to calm outraged fans and family members alike:
"Adam's death has sent shockwaves through many communities, from our local residents here in Sheffield to ice hockey fans across the world. We know these communities will expect us to handle this investigation with the same professionalism, fairness and sensitivity as any other and request that members of the public refrain from comment and speculation which could hinder this process. Our thoughts remain with all affected by this devastating incident as enquiries continue."
Sports Illustrated was among the first media outlets to announce the major development, coming after two weeks of controversy during which Petgrave's family members have demanded "justice for Adam" after Petgrave's "reckless" maneuver. 
The 29-year old deceased player's aunt, Kari Johnson, days ago urged a complete investigation:
"It was very reckless. I just want them [authorities investigating] to get it right. We are looking for justice for Adam," she said.

Kari is said to have watched the "horrific tragedy" unfold while viewing the game at home with Johnson's parents. She has seen the video hundreds of times in the days since, concluding that the action was "totally unnecessary." Now she's said the family is calling for a complete investigation.
BREAKING: British police have arrested Matt Petgrave & charged him with manslaughter

He killed NHL player Adam Johnson on live TV with his skate. He received a standing ovation at a game last night.

pic.twitter.com/dXW6iuuThP

— End Wokeness (@EndWokeness) November 14, 2023
A number of hockey and sports analysts have commented that it's very unusual for an experienced hockey player to lift his leg that high into the air in any context on the ice, given it's also a very awkward move to perform at high speeds.
"You don't take your leg and kick somebody and cut their throat. I'm sorry," Johnson's aunt argued. "We were watching the game in real time and we did witness what happened. Horrific is the word to describe."
Video of the incident went viral almost immediately after it happened. Petgrave has had few supporters, but some have called it a freak accident and have condemned the avalanche of social media hate directed towards him. One of Johnson's own teammates has urged caution, decrying the rush to judgement 
2/2 The unintentional clip of the Panther player's leg by the Sheffield player caused the somersault. It's clear to me his actions were unintentional and anyone suggesting otherwise is mistaken. Let's come together and not spread unwarranted hate to someone who needs are support

— Westin Michaud (@WestinMichaud) October 30, 2023
According to news agencies, "The English Ice Hockey Association, which governs the sport below the Elite League, reacted to Johnson's death by requiring all players in England to wear neck guards from the start of 2024."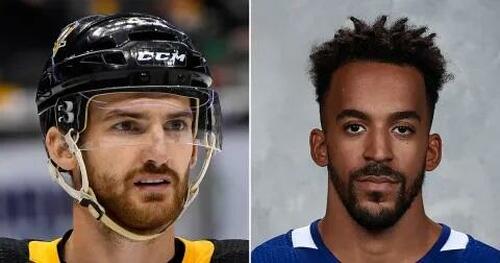 While brawls and even bench-clearing fights are commonplace at this level of play, a death on the ice from a collision is incredibly rare, but not unprecedented as there have been head injuries leading to death in the past.
Loading...