---
Mark Meadows Wants To Move Georgia Indictment To Federal Court - And Legal Experts Say He'll Succeed
Former Trump chief of staff Mark Meadows has asked to move charges against him to federal court, after he was charged this week in Georgia alongside the former president and 17 other individuals.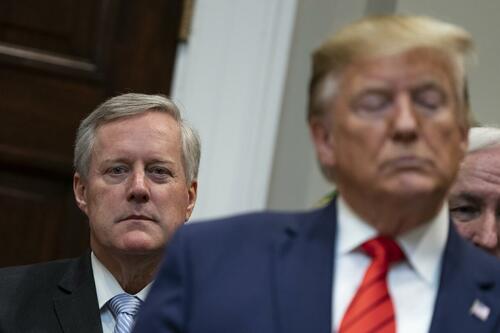 "Mr. Meadows is entitled to remove this action to federal court because the charges against him plausibly give rise to a federal defense based on his role at all relevant times as the White House Chief of Staff to the President of the United States," said attorney Timothy Parlatore in a Tuesday filing.
Meadows was charged by a grand jury on Monday with violating the state's Racketeer Influenced and Corrupt Organizations (RICO) Act.
"Mr. Meadows has the right to remove this matter. The conduct giving rise to the charges in the indictment all occurred during his tenure and as part of his service as Chief of Staff," his lawyers wrote.
Trump was also charged with "unlawfully soliciting, requesting, and importuning" Georgia Secretary of State Brad Raffensperger by asking him to 'find' votes for him - a comment construed by the left to suggest Trump was asking him to break the law, however Trump's attorneys will likely argue that the former president, in context, was referring to the general ballot-counting malarkey and other oddities surrounding the 2020 US election (covering up windows, kicking out observers, overnight ballot drops, major cities stopping their counts at 9pm for the first time in anyone's lifetime, broken water pipe, suitcases under desk, that chart showing the overnight jump, etc.).
Meadows likely to succeed?
As Just the News notes
Although Trump's New York case was not upgraded to federal court, Parlatore said that the decision from federal Judge Alvin Hellerstein of New York's Southern District "perfectly laid the groundwork" for moving the Georgia case.

What distinguishes the Georgia from the New York case is the nature of the alleged criminal acts. The New York case involved payments made by then-Trump attorney Michael Cohen to adult film actress Stormy Daniels. Judge Hellerstein said that "Hush money paid to an adult film star is not related to a President's official acts. It does not reflect in any way the color of the President's official duties."
"I think that it's going to be almost impossible to avoid removal. Removal is important because when you have a federal official that is being charged by a state in violation of state law, that's something that you want to have removed to the federal courts so the federal judge can decide, you know, do the federal authorities have some type of ability to do this?" Parlatore told JTN Tuesday evening.
"It's going to significantly expand the jury pool so you're not just going to have Fulton County jurors, but more importantly, when they go on to the next round, where they're going to be fighting about the sufficiency of this indictment, I've read it, and the RICO count is completely legally incompetent, in my opinion," he added - suggesting that the RICO charge should be heard before a federal judge.
"I think it's important to get that in front of a federal judge so they can apply the standards set by the Supreme Court on these types of RICO cases, even though it's a state statute, as opposed to the federal statute," he said, adding "One of the things that really jumped out at me is something they call continuity, where the enterprise has to have some continuous purpose as opposed to just being an isolated incident. And here it is an isolated incident because it all centers around the election and so it's the type of thing that in federal court, RICO gets dismissed."
Parlatore, who has previously represented NY Police Commissioner Bernie Kerik, slammed the Fulton County court for leaking the indictment early, calling it "emblematic of the larger sloppiness" of the case, and said that the indictment contained spelling errors.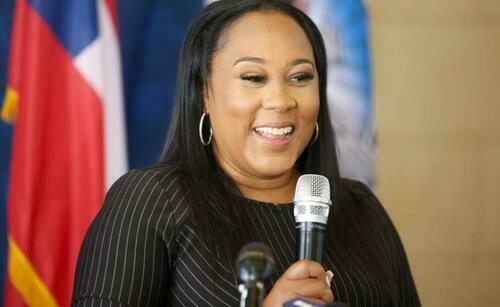 "It's clearly something that was rushed. They didn't do it carefully," he said, adding "As much as they are not careful with the simple administrative aspects of it, to a lawyer like me that's tried RICO cases before, it is really emblematic of, you know, they were careless with the law. They were careless with the entire structure of this thing."
Another attorney, Buddy Parker of Maloy Jenkins Parker - a RICO expert, told Straight Arrow News that the case will likely be moved to federal court.
"As an officer of the United States being charged with a violation of the law of the state of Georgia, under concepts of federalism, a officer of the United States can, on motion, require the case to be transferred to the United States District Court," he said (via JTN).
More on Acts of Racketeering via the Epoch Times.
"Nothing Mr. Meadows is alleged in the indictment to have done is criminal per se: arranging Oval Office meetings, contacting state officials on the President's behalf, visiting a state government building, and setting up a phone call for the President," Mr. Meadows's attorney wrote in the filing. "One would expect a Chief of Staff to the President of the United States to do these sorts of things."
The indictment lists (pdf) several of Mr. Meadows's actions as chief of staff as acts of racketeering, including a Nov. 20, 2020, meeting with Michigan state legislators in the White House during which President Trump "made false statements concerning fraud in the November 3, 2020, presidential election in Michigan," and sending a text to Rep. Scott Perry (R-Penn.) the next day asking for the contact information of state legislators.
"Can you send me the number for the speaker and the leader of PA Legislature. POTUS wants to chat with them," the text read.
The indictment claims, "This was an overt act in futherance of the conspiracy."
It lists the following Nov. 25, 2020, meeting with Pennsylvania state legislators as a continuance of the alleged conspiracy, as well as Mr. Meadows's participation in meetings with political adviser John McEntee in December 2020, when Mr. McEntee was asked to draw up plans to delay Congress's joint session on Jan. 6, 2021.
In relation to Georgia, it cites Mr. Meadows's trip to Cobb County Civic Center on Dec. 22, 2020, in order to try to observe the signature match audit, but was prevented from entering. The following day, the president made a call to Georgia Secretary of State Chief Investigator Frances Watson, and the indictment notes that Mr. Meadows had arranged the call. Days later, Mr. Meadows sent a text to Ms. Watson asking if there was any way the signature verification could be sped up, offering financial assistance.
Loading...