---
"Idealism Collides With Realism" - Mayor Eric Adams Says Migrant Crisis Will 'Destroy New York City'
How it started...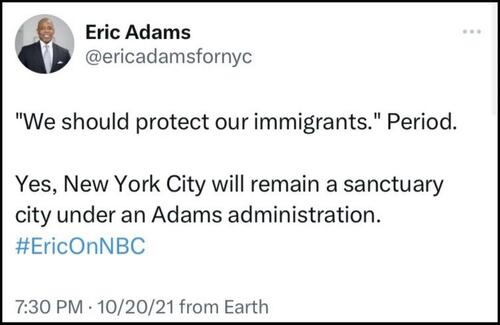 How it's going...

New York Mayor Eric Adams warned the crowd at a Wednesday night town hall that the migrant crisis will 'destroy New York City,' and slammed the Biden administration for doing nothing about the problem they created.
"I'm gonna tell you something, New Yorkers, never in my life have I had a problem that I didn't see an ending to. I don't see an ending to this," he said.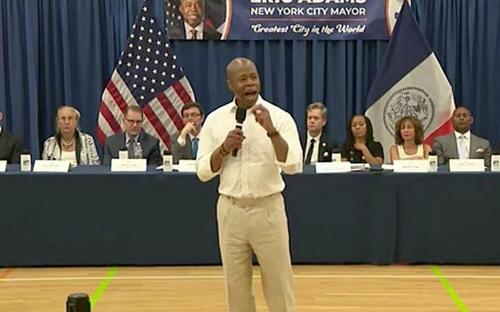 "We turned this city around in 20 months," Adams said, "and then what happened started with a madman down in Texas decided he wanted to bust people up to New York City—110,000 migrants." The city, already under the pressure of multiple issues, from crime to infrastructure to a $12 billion deficit, is now scrambling to manage an overwhelming influx of migrants. With resources already stretched thin, Adams paints a grim picture: "We have to feed, clothe, house, educate the children, wash their laundry sheets, give them everything they need, healthcare."
Crippling Deficit
According to Adams, "Every community in this city is going to be impacted" by the financial blow from the migrant crisis. "We got a $12 billion deficit that we're going to have to cut. Every service in this city is going to be impacted," Adams continued, noting "we're getting no support on this national crisis and we're receiving no support" from the Biden administration.
Adams joins the ranks of those who have criticized Biden for an apparent lack of strategy on immigration, especially as the problem evolves to include not just those coming from Central or South America, but from "Venezuela, Ecuador, Russia, and western Africa."
"Idealism collides with realism when you have to deal with all the populations," said Adams, who at the beginning of his term was welcoming migrants with open arms.
Watch:
The locals aren't having it either...
XENOPHOBIC NATIVISTSpic.twitter.com/4G84hwjJsu

— The_Real_Fly (@The_Real_Fly) September 7, 2023
Reactions abound - but one underlying theme is that Democrats are getting what they voted for, once again.
New Yorkers:

"WE DIDN'T VOTE FOR THIS!!"

Trump Voters: pic.twitter.com/9itPMz4btm

— Rosie's Space Lasers (@DarnelSugarfoo) September 7, 2023
The public still doesn't understand the magnitude of the problem.

The mayor correctly points out that people from the entire world are using our southern border to enter illegally.

The number entering per year is about 2 million and rising. If he thinks the problem is bad…

— Elon Musk (@elonmusk) September 7, 2023
Hey, Mr Mayor @ericadamsfornyc …
Tell your buddy Biden to shut down the freaking border

It's not just destroying NYC

It's destroying America

And you are right…

We are all in this together, so it's time to stand up for our nation#securetheborder

— Amy Kremer (@AmyKremer) September 7, 2023
Sanctuary city to Escape from New York! pic.twitter.com/9xAqyKjM4k

— BISHOP🇺🇸 (@Gabishop2Gb) September 7, 2023
And of course, progressives are screeching.
Drama queen. (Nothing destroys New York.) https://t.co/BQQikGl6Dg

— Phil Wahba (@philwahba) September 7, 2023
Loading...