---
McCarthy Throws Fit, Accuses GOP Hardliners Of Wanting To "Burn The Whole Place Down" As Shutdown Looms
House Speaker Kevin McCarthy has sent the House home for the week without a resolution on the looming government shutdown, after members of the Freedom Caucus refused to play ball, scuttling plans to pass a Continuing Resolution (a 30-day band-aid to avoid government shutdown), and putting 11 appropriations bills in jeopardy which McCarthy is hoping to pass in the next nine days.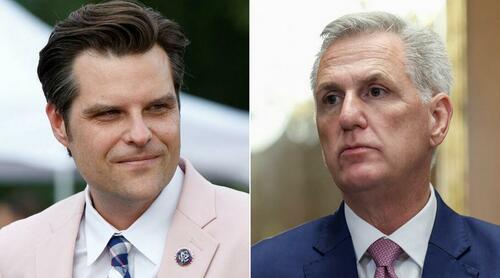 McCarthy on Thursday accused the (actual) conservatives of wanting to "burn the whole place down."
"This is a whole new concept of individuals that just want to burn the whole place down."

— After House Republicans once again failed to pass a basic procedural rule to fund the Pentagon, Speaker Kevin McCarthy (R-CA) hits some members of his own conference pic.twitter.com/Qt4AR71jP3

— The Recount (@therecount) September 21, 2023
 But wait, there's more!
Senate Majority Leader Chuck Schumer (D-NY), meanwhile, has a bill lined up that could form the framework for the Continuing Resolution designed to keep the government operating beyond Sept. 30, according to Punchbowl News.
While House Republicans are pointlessly grinding through their version of FY2024 spending bills next week, Schumer and Senate Minority Leader Mitch McConnell will likely send the House a bipartisan CR. And yes, it'll probably include billions of dollars in Ukraine aid as well as disaster relief funding and plenty of provisions that conservatives abhor.

At that point, McCarthy will have a choice to make. Will he bring up the Senate-approved CR and pass it with a mix of Democratic and Republican votes? Will he try to amend it and see if the Senate will bite? (They probably won't.) Or will he ignore it and shut the government down?

This is a decision that could define McCarthy's speakership.
On Friday, the House Rules Committee is slated to mark up four spending bills, Homeland Security, State-Foreign Operations, Defense and Agriculture, as part of the GOP leadership's plan to get the 11 appropriations bills through the chamber. The four amount to $1.52 trillion in total spending - tens of billions less than what the Senate will accept.
After that, House members will return on Tuesday evening according to GOP leadership aides.
Punchbowl suggests that a Senate-led CR may have always been in the cards - as any bill to fund the government must be bipartisan, and McCarthy has been unwilling to put a bipartisan solution on the floor out of fear of an open war with his hardline conservatives.
When lawmakers return Tuesday, they'll have just five days left to avoid a shutdown.
Loading...