---
Michigan Charges 16 Elderly 'Fake Electors' With Felonies
The state of Michigan has charged 16 Trump supporters with an average age of 69 in a so-called 'fake electors' scheme following the 2020 US presidential election.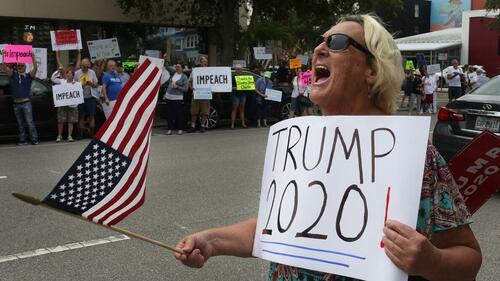 The defendants allegedly met on Dec 14, 2020 in order to sign several official documents certifying that they were the "duly elected and qualified electors for President and Vice President of the United States of America for the State of Michigan," per Michigan officials.
Those false documents were then "transmitted to the United States Senate and National Archives in a coordinated effort to award the state's electoral votes to the candidate of their choosing, in place of the candidates actually elected by the people of Michigan," according to a statement from officials.
In total, Trump allies pushed to organize slates of fake electors in seven swing states, whose votes would supplant the original electors', before members of Congress and then-VP Mike Pence would certify their slates.
The defendants are each charged with;
One count of Conspiracy to Commit Forgery, a 14-year felony,
Two counts of Forgery, a 14-year felony,
One count of Conspiracy to Commit Uttering and Publishing, a 14-year felony,
One count of Uttering and Publishing, a 14-year felony,
One count of Conspiracy to Commit Election Law Forgery, a 5-year felony, and,
Two counts of Election Law Forgery, a 5-year felony.
Among those charged was Meshawn Maddock, a Trump ally and former co-chair of the Michigan Republican Party.
Michigan Attorney General Dana Nessel says she's "prosecuted numerous cases of election law violations throughout my tenure, and it would be malfeasance of the greatest magnitude if my department failed to act here in the face of overwhelming evidence of an organized effort to circumvent the lawfully cast ballots of millions of Michigan voters in a presidential election."
"The evidence will demonstrate there was no legal authority for the false electors to purport to act as 'duly elected presidential electors' and execute the false electoral documents," her statement continues. "Every serious challenge to the election had been denied, dismissed, or otherwise rejected by the time the false electors convened. There was no legitimate legal avenue or plausible use of such a document or an alternative slate of electors. There was only the desperate effort of these defendants, who we have charged with deliberately attempting to interfere with and overturn our free and fair election process, and along with it, the will of millions of Michigan voters. That the effort failed and democracy prevailed does not erase the crimes of those who enacted the false electors plot."
🚨BREAKING: Michigan AG charges 16 Trump electors w/felonies for sending alternate electors

Here's video of a van dropping off 100s of thousands of ballots around 3 AM in Detroit w/o any GOP monitors

Where are the felonies for these election stealers?
pic.twitter.com/H4I7eHkIGl

— DC_Draino (@DC_Draino) July 18, 2023
And what's this?
John Podesta, role playing Joe Biden in Transition Integrity Project's summer 2020 simulation to ensure a Biden presidency even if Trump won the election, openly plotted sending a separate elector slate

-- the same thing DOJ just indicted Trump electors for considering doing pic.twitter.com/idF1CuV9YC

— Mike Benz (@MikeBenzCyber) July 19, 2023
I have video evidence that the Special Counsel might be interested in. It shows a group of people conspiring to overturn the results of our Presidential election by using faithless electors.

H/T: @almostjingo pic.twitter.com/CnTyYADkbs

— Shem Horne (@Shem_Infinite) July 18, 2023
Loading...