---
Mike Lindell Says MyPillow 'Crippled' By Major Credit Card Company
Authored by Jack Phillips via The Epoch Times (emphasis ours),
MyPillow CEO Mike Lindell said Monday that his company has been "crippled" by American Express after it allegedly cut MyPillow's credit line by about 90 percent.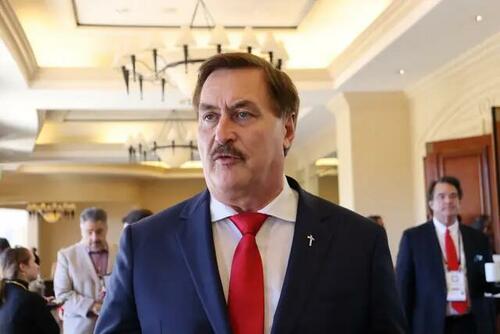 Mr. Lindell, a vocal supporter of former President Donald Trump, has long said that extensive campaign is being waged by retailers and financial institutions to cancel him and his business ventures following his claims after the 2020 election.
"We really need everybody's help right now. We have things going on I'm going to let you all know this week," he told Steve Bannon on his "War Room" Rumble show. "American Express, I wasn't going to say this, we've been with them 15 years and we do all of our online marketing, all our shipping with them, out of the blue they took our credit line from a million dollars down to $100,000, just cripples MyPillow."
He added that the credit card firm lowered the line for "no reason" and "no explanation was given, adding it "just dropped it down last Tuesday." The Epoch Times has contacted American Express, which hasn't released a public statement on Mr. Lindell's statement, for comment on the matter.
The move, he said, is part of an "all-out attack on MyPillow," saying his company was also targeted by another company that he did not disclose in recent days.
Over the summer, Mr. Lindell announced he would be auctioning off 700 pieces of equipment, including forklifts, desks, and cubicle units. Speaking to a local newspaper in Minneapolis, he said the auction comes after he said MyPillow lost $100 million in revenue due to retailers and other companies halting sales of his products.
"It was a massive, massive cancellation," he told the Minneapolis Star Tribune in July. "We lost $100 million from attacks by the box stores, the shopping networks, the shopping channels, all of them did cancel culture on us."
According to a search of Walmart's website, the big box retailer doesn't sell MyPillow products. The company said last year it would stop selling MyPillow items at brick-and-mortar locations. In January 2022, one of his banks, the Minnesota Bank & Trust, described the MyPillow CEO as a "reputation risk" and cut ties with him weeks later.
Other retailers like Bed Bath & Beyond, Wayfair, H-E-B, and Kohl's also stopped selling Mr. Lindell's products, he has previously said. As one of the first companies to cut ties with MyPillow—days after the Jan. 6 Capitol breach—Bed Bath said it would discontinue sales due to a "number of underperforming items and brands."
And earlier this year, Mr. Lindell told Business Insider that he had to sell a "building I had in Savage, in Minnesota, in October. And I had to borrow 2 million too. I've spent it all on fighting for this country." In March, he told a left-wing news outlet that his business is doing fine after launching what he described as "MyPillow 2.0."
About a year ago, the pillow magnate also said that agents with the FBI seized his cellphone at a fast-food restaurant, also posting a grand jury subpoena from a federal prosecutor in Colorado and what appeared to be a search warrant. The Denver FBI field office told news outlets at the time that "without commenting on this specific matter, I can confirm that the FBI was at that location executing a search warrant authorized by a federal judge."
"The FBI came after me and took my phone," Mr. Lindell wrote on Facebook. "They surrounded me in a Hardee's and took my phone that I run all my business, everything with. What they've done is weaponize—the FBI, it's disgusting. I don't have a computer. Everything I do [is] off that phone. Everything was on there. And they told me not to tell anybody. Here's an order: 'Don't tell anybody!' 'OK, I won't!' Well, I am."
Loading...