---
Minnesota Supreme Court Dismisses Case To Keep Trump Off The Ballot
Authored by Catherine Yang via The Epoch Times (emphasis ours),
The Minnesota Supreme Court rejected a lawsuit that sought to keep former President Donald Trump off the state's Republican primary ballot on Wednesday, after having heard arguments on whether they should take the case.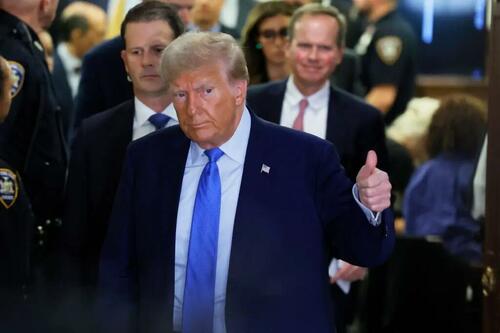 In a brief opinion and order written by Minnesota Supreme Court Chief Justice Natalie Hudson, the justices said the petition was dismissed without prejudice.
Free Speech for People, a liberal group, had sued on behalf of eight local voters, arguing that the secretary of state putting President Trump on the ballot would be an "error."
In the opinion, Chief Justice Hudson wrote, "there is no 'error' to correct here as to the presidential primary election if former President Trump's name is included on the presidential primary ballot after the Chair of the Republican Party of Minnesota provides his name to the Secretary of State."
"Because there is no error to correct here as to the presidential nomination primary, and petitioners' other claims regarding the general election are not ripe, the petition must be dismissed," she wrote.
She added that this dismissal would not prevent the petitioners from bringing forth the claim again regarding the general election ballot.
President Trump commented on the decision in a Truth Social post.
"Ridiculous 14th Amendment lawsuit just thrown out by Minnesota Supreme Court. Without Merit, Unconstitutional. Congratulations to all who fought this HOAX!" he wrote.
State Secretary Powers
During a hearing on Nov. 2, the justices had seemed skeptical of the petitioner's arguments, noting that it would give the secretary of state a great amount of power if, as petitioners argued, they had the power to decide who to put on election ballots.
The secretary of state, Steve Simon, had declined to make arguments on merit, saying only that he disagreed it was his authority to determine eligibility and would defer to the court's decision.
In the opinion, Chief Justice Hudson wrote that allowing President Trump to appear on the ballot if the state's Republican party deems he meets their requirements is the correct procedure under state law.
"There is no state statute that prohibits a major political party from placing on the presidential nomination primary ballot, or sending delegates to the national convention supporting, a candidate who is ineligible to hold office," she wrote.
14th Amendment Challenges
The 14th Amendment grants citizenship and equal rights to all persons born or naturalized in the United States. Ratified after the Civil War, it also included a section that prohibited those who had participated in "rebellions" or "insurrections" against the nation from holding office.
The Minnesota petition argued that, under section three of the 14th Amendment, President Trump is disqualified from holding elected office again because he engaged in an "insurrection."
Similar challenges have been brought in several other states, with most courts having ruled similar to Minnesota in dismissing the cases. Some note they don't have jurisdiction over the matter, while in Minnesota justices also brought up the question of whether it was prudent for them to take on the case even if they did have jurisdiction, as it could potentially create "chaos" with ballots varying from state to state.
Likewise, secretaries of state have across the board said they don't have the authority to determine the eligibility of a candidate under state laws, sometimes leading to petitions against them.
On Thursday, a hearing will take place in Michigan, where petitioners have sued Michigan Secretary of State Jocelyn Benson, arguing she needs to keep President Trump off the ballot. President Trump and the Trump Campaign are intervenors in this case, as they have been with other 14th Amendment challenges.
To date, only Colorado has brought such a case to trial, and a state court spent two weeks hearing substantive testimony from witnesses and experts on whether Jan. 6, 2021, constituted an "insurrection" and whether President Trump "engaged" in that.
Colorado District Court Judge Sarah Wallace will rule on the case next week.
"This is an internal party election to serve internal party purposes."
Loading...