---
"More To Come": Abbott Announces Installation Of Floating Border Barrier Along Rio Grande
Authored by Aldgra Fredly via The Epoch Times,
Texas has started installing a water-based border barrier along the Rio Grande, Texas Gov. Gregg Abbott said on Saturday, as part of efforts to hinder illegal immigrants from crossing the southern border.
"New marine barrier installation on the Rio Grande begins today," Mr. Abbott stated on Twitter, along with a 15-second video showing dozens of large spherical buoys being loaded into tractor-trailers.
New marine barrier installation on the Rio Grande begins today.

Texas DPS is overseeing the project in Eagle Pass.

More to come. pic.twitter.com/nHrTqUG7Fi

— Greg Abbott (@GregAbbott_TX) July 7, 2023
The Texas Department of Public Safety (DPS) will oversee the deployment of a 1,000-foot floating barrier in Eagle Pass, which is known as a major point for migrant crossings.
"More to come," the governor remarked, suggesting that this might only be the first deployment.
Mr. Abbott unveiled the plan last month to use floating barriers to deter illegal entry into the country. He described it as a man-made wall floating in the water, which would cost the state about $1 million.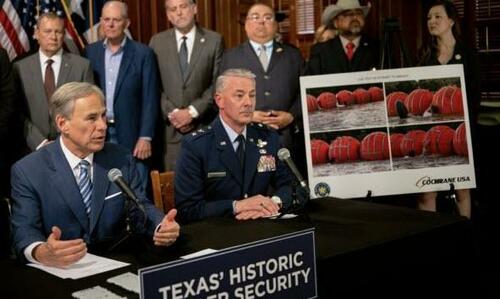 Texas Gov. Greg Abbott speaks about an illustration of new border security implementation during a news conference at the Texas State Capitol in Austin, Texas, on June 8, 2023. (Brandon Bell/Getty Images)
DPS chief Steve McCraw, who called Mexican cartels as the "number one public enemy," said the barrier will dissuade people from making dangerous river crossing at the ports.
"It's dangerous to cross between ports of entry, and securing the border between them is ideal to fight Mexican cartels," Mr. McCraw said in a statement on June 8.
Concerns Over Impacts of Floating Barrier
Meanwhile, the federal International Boundary and Water Commission (IBWC) said they were not notified about the proposed floating barrier. The IBWC is an international body that oversees the boundary and water treaties between the United States and Mexico.
IBWC spokesperson Frank Fisher said the commission seeks to determine "whether and how this impacts our mission to carry out treaties between the U.S. and Mexico regarding border delineation, flood control, and water distribution, which includes the Rio Grande."
Adriana Martinez, a professor at Southern Illinois University, expressed concerns about the potential effects of the webbing attached to the barrier, which could cause things floating down the river to become entangled in these buoys.
"A lot of things float down the river, even when it's not flooding; things that you can't see like large branches, large rocks," she told the Associated Press.

"And so anything like that could get caught up in these buoys and change the way that water is flowing around them."
The Center for Immigration Studies said that the water barrier comes with some political risk, as it will likely draw criticism from hostile media should anyone die attempting to overcome the barrier.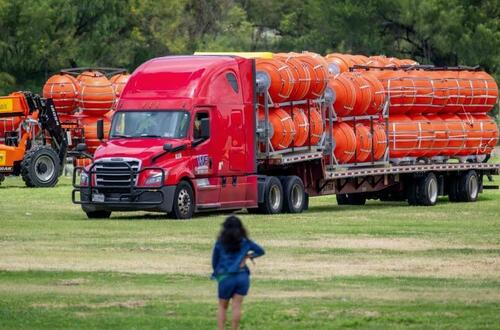 State officials have reportedly said the barrier is designed as a deterrence for the masses, not necessarily the few who might try to get past it, the organization reported.
"When we're dealing with 100 or 1,000 people, one of the goals is to slow down and deter as many of them as possible," Abbott told reporters last month.
In addition to the barriers, Abbott signed six bills related to border security. These measures include designating Mexican cartels as terrorist organizations, allocating funding for law enforcement training, expanding the use of National Guard surveillance drones, and granting increased powers to Border Patrol agents under Texas law.
Earlier iterations of Abbott's border mission have included installing miles of razor wire at popular crossing points on the river and creating state checkpoints beyond federal stops to inspect incoming commercial traffic.
However, the state has not disclosed any specific tests or studies conducted to assess the potential risks for individuals attempting to circumvent the barrier or the environmental impacts associated with its implementation.
Loading...