---
New J6 Video Suggests Capitol Police Officer Lied 'Repeatedly' About Injuries: Julie Kelly
New video from January 6, 2021 suggests that Capitol Police Officer Aquilino Gonnell 'has lied about his injuries' sustained on that day, journalist Julie Kelly notes on Twitter.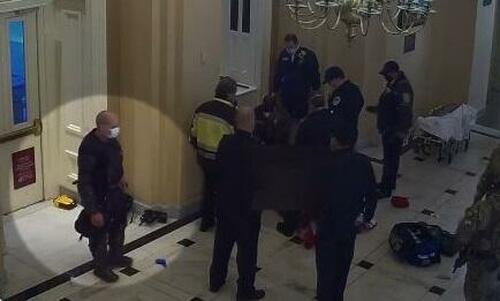 Gonnell notably retired last December, citing the 'trauma' of the riot in his resignation letter.
"It is with immense sadness that I announce my formal separation from the Department effective December 17, 2022 to continue to focus on healing, both physically and mentally, from injuries I sustained in the line of duty on January 6, 2021," he wrote, adding "After speaking with my orthopedic doctor, my mental health providers, and my family, I think it's in my best interest to take time off away from the daily reminders that keep re-triggering my trauma."
Kelly suggests Gonnell is vastly exaggerating (lying about) his physical injuries (emphasis ours);
New J6 video contradicts Gonell's claims that protesters inflicted head, shoulder, hand, and foot injuries so egregious that he required surgery and medical leave. (Not to mention "mental health" trauma.)

In a victim impact statement made in court in May, Gonell told the judge that he was "bleeding from both hands, [had] a maimed foot, hit on the head, sprayed with pepper and bear spray, beaten, punched, pushed, pulled, and assaulted by many other rioters as they try to gain entrance."

Here he is for several minutes near the body of Rosanne Boyland at around 4:50 on Jan 6, after the protest and violence ended. His hands show no sign of injury. Nor does his shoulder, as he takes off gear.

His feet seem fine--he is seen kicking items out of the area. And his head, which had been protected by a riot helmet, shows no sign of injury, either.

Not only did Gonell lie to Congress and federal judges in "victim impact" statements, he has repeatedly lied during media interviews and on social media about his experience.
Watch:
BREAKING VIDEO: For 2 1/2 years, Capitol Police officer Aquilino Gonell has lied about injuries he sustained on Jan 6.

He has testified under oath and in federal court proceedings that he suffered near-death injuries.

New J6 video contradicts Gonell's claims that protesters… pic.twitter.com/UvQvhES1h5

— Julie Kelly 🇺🇸 (@julie_kelly2) July 24, 2023
Kelly continues;
Part of Gonell's sworn testimony to J6 committee in July 2021. "This is how I'm going to die."

Gonell also lied about trying to save Rosanne Boyland.

There is no video of him attempting to resuscitate her at any point. Further, video of Rosanne's lifeless body at 4:27 does not… pic.twitter.com/qNOJKvqnPg

— Julie Kelly 🇺🇸 (@julie_kelly2) July 24, 2023
After Republicans won the House and threatened numerous investigations including into Jan 6, Ofc Gonell retired. He again lied about what happened: pic.twitter.com/zK4ETIwPzf

— Julie Kelly 🇺🇸 (@julie_kelly2) July 24, 2023
Sociopathic liar

— Julie Kelly 🇺🇸 (@julie_kelly2) July 24, 2023
Now we know why they treated the Boyland family so horrifically.

ICYMI

😠https://t.co/rSbw3TsKfx

— Golden Advice 🇺🇲🇺🇲🇺🇲 (@RichardStiller4) July 24, 2023
He's lucky that he's a Democrat otherwise he would be in prison for lying under oath

— 🤐The Silenced Majority 🤐 (@DsCorrupt) July 25, 2023
Loading...