---
New York Spending $20 Million Per Month To House Migrants On Randall's Island
The city of New York is spending $20 million per month to house approximately 3,000 asylum seekers - 50% more than expected, after expanding its controversial migrant complex on Randall's Island.
The site, which will consist of five dormitory-style tents, has already begun housing more than 350 migrants after its opening last week, Gothamist reports.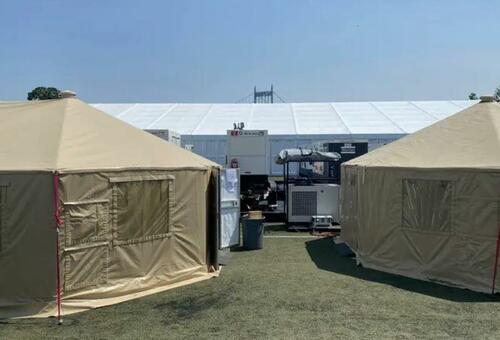 According to city officials, the high occupancy rate is alarming.
"I think New Yorkers are understanding that that's not sustainable," said Anne Williams-Isom, the deputy mayor for health and human services, at the city's weekly migrant briefing on Wednesday (per Gothamist). "Even with the good work that we're doing, I don't know that we're really going to be able to keep up."
Officials also report that the NYC shelter system is now caring for more than 110,900 people, which includes more than 59,300 migrants, and they're scrambling to find more space to house everyone.
The crisis is spurring officials to open more shelters to house the migrants. Gov. Kathy Hochul recently announced that after months of trying, she received federal approval from the White House to use Brooklyn's Floyd Bennett Field as a shelter.

While that's welcome news for city officials, they continued to paint a bleak picture of the situation on Wednesday. The migrant relief center on Randall's Island is expected to house up to 3,000 people, while Creedmoor can hold up to 1,000. -Gothamist
New arrivals at the Randall's Island shelter are being paired with case workers to assist them in various goals - such as reuniting them with US relatives, or helping other family members come to NYC, according to Dr. Ted Long, senior vice president at NYC Health + Hospitals.
I'm telling you: Start getting ready to take over Madison Square Garden.
-------------------------------------

The Randall's Island "Humanitarian Emergency Response and Relief Center" (HERRC) — the city's largest such facility to date, opened today.

The "tent city" erected on… pic.twitter.com/MWPv75XZ1j

— Crime in NYC (@CrimeInNYC) August 20, 2023
Officials are also grappling with school-aged migrant children who will need to be enrolled in taxpayer-funded classes.
This was sent to me by one of my sources. This is the inside of Randall's Island. pic.twitter.com/kzlybjIBNg

— Viral News NYC (@ViralNewsNYC) August 23, 2023
Locals are pissed
NIMBY New Yorkers in the ultra-blue state aren't happy, particularly because the migrants are taking up space on heavily-used athletic fields that 'help keep NYC kids off the streets.'
One of Mayor Eric Adams' own top commissioners, Vilda Vera Mayuga, head of the city's Department of Consumer and Worker Protection, has even circulated petitions to try to block the use of the youth soccer fields for the mega-shelter facility. -NY Post
"We're taking away from people who are real New Yorkers," said Odalisa Abiles, a 47-year-old legal assistant from Queens who was at a family barbecue on Randall's Island on Sunday (per the Post). "I was born here, on the Lower East Side, and you're telling me they come first? How is that?"
"I pay my tax money, federal, local, all that beautifulness, and my children don't get to enjoy New York."
Well Odalisa, did you vote for politicians who declared New York a sanctuary city?
Loading...