---
News Industry Behemoth Sued For Discrimination Against White Employees
The largest newspaper publisher in the United States, Gannett Co., is being sued for discriminating against white workers in their efforts to 'diversify' newsrooms.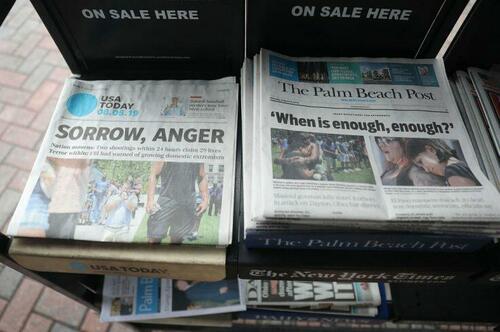 The proposed class action was filed in West Virginia federal court on Friday by five current and former Gannett employees who say they were either fired or passed over for promotions for 'less-qualified women and minorities.'
According to the Free Beacon, the root of the discrimination stems from a 2020 announcement under which the company aims to reshape its newsrooms to reflect the demographics of the communities they cover by 2025 - as well as tying executive bonuses and promotions to achieving that goal.
"Gannett executed their reverse race discrimination policy with a callous indifference towards civil rights laws or the welfare of the workers, and prospective workers, whose lives would be upended by it," according to the plaintiffs.
Gannet defended itself, with chief legal counsel Poly Grunfeld Sack saying in a statement: "We will vigorously defend our practice of ensuring equal opportunities for all our valued employees against this meritless lawsuit."
The lawsuit comes amid growing backlash to increasingly prevalent corporate diversity policies. Unlike other pending cases brought by conservative groups, the claims against Gannett were filed directly by the company's employees.

The Washington Free Beacon reported last month that discriminatory fellowships and programs, which companies often establish on the basis of elite law firms' "civil rights" advice, are now prime targets for legal scrutiny since the Supreme Court struck down affirmative action in college admissions in June.

These programs "are lawsuits waiting to happen," Noah Peters, the former solicitor of the Federal Labor Relations Authority, told the Free Beacon. -Free Beacon
Gannet joins a growing list of institutions and businesses facing lawsuits for reverse-discrimination, including law schools, Starbucks, Target, and Progressive Insurance company. More than a dozen complaints have been filed with a federal anti-bias agency by a group founded by former Trump administration officials.
Meanwhile, a group formed by conservative activist Edward Blum, who spearheaded the Supreme Court case that ended affirmative action, sued two major US law firms over fellowships offered only to non-whites and LGBT individuals.
In the Gannett case, plaintiff Steven Bradley says he was fired from a management job at the Democrat and Chronicle newspaper in Rochester, New York - and then subsequently passed over for a different position within Gannett due to the color of his skin. In April, Bradley filed a similar lawsuit in New York state court.
Another plaintiff, Logan Berry, says he was passed over for a promotion at the Progress-Index in Petersburg, VA. After Gannett acquired the paper in 2019, Berry says the news giant gave the job to a less qualified black woman in violation of a federal law prohibiting racial discrimination in contracts.
Loading...