---
Not Just Bud Light: Anheuser-Busch's Other Beers Are Also Suffering
Authored by Jack Phillips via The Epoch Times (emphasis ours),
As Bud Light and Budweiser continue to face a decline in sales amid a weeks-long boycott, data show that other Anheuser-Busch-owned beer brands are also taking a hit.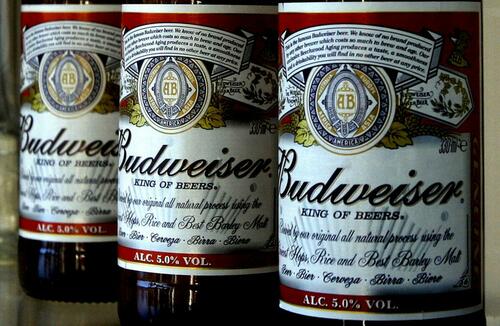 Sales of  Michelob Ultra fell by 4.3 percent in the week that ended on July 1, as compared with the previous year, and Busch Light took an 8.5 percent hit in sales, according to Bump Williams Consulting citing NielsenIQ data. Bud Light's sales dropped 28.5 percent for the week ending July 1, or slightly worse than the 27.5 percent decline during the previous week, while Budweiser's sales dropped 10.2 percent.
"Budweiser trends have been slipping for a very long time, but it's the Michelob Ultra negative numbers and now Busch Light negative trends that are most alarming to me," Bump Williams, of the eponymous firm, told the New York Post on Monday. "They were very healthy prior to April 1."
Mr. Williams was referring to the date on which a Bud Light can featuring transgender activist Dylan Mulvaney's face on it was posted by the TikTok influencer, drawing a significant backlash among conservatives. Executives with Anheuser-Busch have said that only one can with Mr. Mulvaney's face was produced in a bid to distance the brand from the influencer, although the company has been faulted for not directly addressing the controversy or its support of LGBT individuals and groups.
The data also showed that Modelo Especial, which is owned by Constellation Brands in the United States, is the No. 1-selling beer for the past two months. It saw sales jump 11.4 percent during the week ending July 1, the data show.
"The gap between Modelo Especial and Bud Light on a year-to-date basis is closing," Mr. Williams said.
Modelo Especial was the top-selling beer brand for the four weeks ending July 1, with an 8.7 percent share of overall beer sales through retail stores for the period, while Bud Light came in second with a 7 percent share, according to Bump Williams and NielsenIQ.
In a statement to Newsweek, Mr. Williams said it was "possible" but "unlikely" that Modelo Especial would steal the top spot as the No. 1 beer in the United States for the calendar year unless "growth trends for Modelo Especial continue and Bud Light declines continue." Bud Light also has a  "significant [dollar] advantage" over Modelo," he said.
But in mid-June, Mr. Williams told CBS News that Bud Light's "firm grip on the No. 1 rank by year-end loosens a bit more every week," adding that Bud Light would have to see a "serious course correction in terms of performance." That can only occur if consumers "[find] their way back to the brand family," he said.
"Companies invest a lot into being front and center and top of mind during this season as there is only so much floor space to allocate; consumer money to spend and beer occasions to fulfill," he said. "And if a brand misses those opportunities, then that is almost impossible to fully recover that lost potential over the balance of the calendar year."
And an Anheuser-Busch spokesperson told Newsweek that "for the year, Bud Light remains the number one brand in the U.S. nationally in volume and dollar sales." The Epoch Times has contacted the company for comment.
The backlash against the Mulvaney promotion was immediate and has been much longer lasting than other previous conservative-led boycotts. The boycott momentum also extended into other sectors, with conservative influencers calling for people not to shop at places like Target over the retailer's decision to sell "pride month" items for children.
"This boycott has now become something much more permanent than anyone anticipated," said Neil Reid, professor of geography at the University of Toledo, who researches the beer industry. "The Bud Light and Budweiser share losses would persist through the year and we believe that the consumers who have opted to move away from those two brands are ultimately lost to the company," said TD Cowen analyst Vivien Azer.
Ms. Azer added that consumers had quickly figured out Anheuser-Busch InBev's other beer brands like Michelob Ultra and Natural Light, which are also seeing a fall in sales. Before the backlash, Natural Light was gaining due to cost-conscious consumers opting for cheaper six-packs.
Read more here...
Loading...