---
NYC Mayor Calls On Biden Admin To Expedite Work Permits For Illegal Immigrants
Authored by Frank Fang via The Epoch Times,
Mayor Eric Adams once again implored the Biden administration to speed up work permits for illegal immigrants in New York City, arguing that the delays are "anti-American" amid the immigration crisis engulfing his city.
"It's unfair as the city continues to evolve at a national crisis and humanitarian crisis of a level that has never been experienced before is now dropped into the lap of this city with no support that we deserve," Mr. Adams said at a rally in support of asylum seekers outside of Brooklyn Borough Hall on Aug. 15.

"What is more anti-American than not allowing someone to work? What is more anti-American than that?" the mayor added. "So what is wrong with them having the right to work? There's no reason the national government is not staying true to the basic principle of the American experience to allow you the right to work. It is unacceptable."
According to federal law, illegal aliens must wait roughly six months after filing their asylum applications before applying for a work permit.
"This city needs workers," Mr. Adams said.

"We need workers. We need people contributing in our society. We need people making this the melting pot that it is. That is how our city has become the greatest city on the globe by opening our doors."
The mayor, a Democrat, also said the city is coping with over 100,000 illegal immigrants, and reiterated his previous comments that the cost of providing shelter and other services to them could top $12 billion over the next three years.
"This is not a New York City problem. This is a national problem," Mr. Adams said.

"This is the greatest challenge our city has faced in decades. We got to get it right."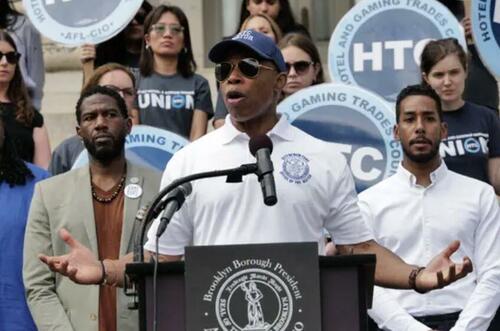 New York Mayor Eric Adams addresses the media at a rally in support of asylum seekers in New York City on Aug. 15, 2023. (Spencer Platt/Getty Images)
'Please Step Up'
The rally was joined by several elected officials, including Brooklyn Borough President Anthony Reynoso and New York City Public Advocate Jumaane Williams.
"President [Joe] Biden, please step up. Provide the resources that are needed so we can match this humanitarian crisis with a real humanitarian response. We're begging you, we're pleading to you, united as a voice," Mr. Williams said.

"I have asked, and I will ask again, that President Biden himself come and visit. Maybe if he saw with his own two eyes, what was going on, he will step up from the sidelines," Mr. Williams added.
Mr. Williams, a former New York City Council member, lost to Kathy Hochul in the Democratic primary for governor of New York in June last year.
Mr. Reynoso praised the mayor for his efforts to tackle the immigration crisis but criticized the Biden administration for being "completely absent."
"There are only so many things we could do legally at the state and city level. We can only pass so many laws that tinker at the margins of this problem. But the federal government could deal with the core problem. And they are not," Mr. Reynoso said.

"The mayor is doing the best he can under the circumstances to solve for [sic] this problem the best he can."
The Brooklyn borough president warned that the crisis could dampen Democrats' chances in upcoming elections.
"We need those seats," Mr. Reynoso said. "I want to be very clear that this can be used against the Democratic Party during these congressional races."
New York State Assembly Member Robert Carroll and New York City Council Member Alexa Avilés were also at the rally.
"It is time for the state and the federal government to provide direct resources for New York City so that we can do the right thing," Mr. Carroll said.

"We can do the humane thing because New York City is and has always been a city of immigrants."
"'I'm here again with my colleagues saying to the federal government, to the Biden administration, you must put forward a national strategy, fix this immigration system," Ms. Avilés said. "We need comprehensive immigration reform; you can advance work authorization and all the other tools that we have been demanding for months, if not years."
Loading...