---
NYC "Out Of Control" As Twitch Streamer Arrested For Inciting A Riot
All hell broke out on Friday afternoon when Twitch streamer "Kai Cenat" told his massive following to come out to Manhattan's Union Square Park, where he would be giving away PlayStation consoles and gift cards, among other items.
Cenat, a 21-year-old who has more than 20 million social media followers, at 12:30 Friday used his Instagram account to announce he'd be showing up at 4:30 to give away PlayStation5's, computers, microphones and other electronic accessories. 
Between 3 pm and 3:30 pm EST., things spiraled out of control:
What exactly turned the crowd unruly isn't quite clear, but by 3:30 pm people were seen chucking garbage at police and taking down barriers around the perimeter. Witnesses reported seeing others throwing chairs and bottles. One person had a bruise on his face and he said he was pushed to the ground. --NBC New York
Police estimate the crowd size climbed to a "couple thousand people." 
Equity… NYC pic.twitter.com/2wgGnwH9lD

— @amuse (@amuse) August 5, 2023
New York City is completely out of control. Kai Cenat, a popular Twitch streamer, held a giveaway that turned into a massive riot in Union Square. Police were outnumbered, and the mayor remains silent. pic.twitter.com/U4rp9nnSBr

— Ian Miles Cheong (@stillgray) August 4, 2023
NEW: Twitch Streamer Kai Cenat has been released and freed back onto streets of New York City just hours after 'inciting' huge Union Square riot

pic.twitter.com/dev8AkUkNz

— Insider Paper (@TheInsiderPaper) August 5, 2023
Kai Cenat's giveaway event in NYC's Union Square got completely out of control. pic.twitter.com/djPzakdHha

— Ian Miles Cheong (@stillgray) August 4, 2023
The chaos that erupted prompted the highest level of police mobilization by the New York City Police Department. A spokesperson told NBC New York that 1,000 officers were called to Union Park. 
"Soon the park and the surrounding streets were overrun with people. They were disrupting both vehicular and pedestrian traffic. The NYPD responded by calling a mobilization in response to the large crowd. As the crowd grew, so did our mobilization. The crowd was swarmed when the influencer finally arrived at the park. Individuals in the park began to commit acts of violence towards the police and the public," NYPD Chief of Department Jeffrey Maddrey said. 
Maddrey said the crowd stormed a construction: 
"You had people walking around with shovels, axes, and other tools from the construction trade. In addition, individuals were also lighting fireworks and flash bombs. They were throwing them towards police, and they were throwing them at each other," Maddrey said. 
Here's more chaos of what happened:
They arrested "Kai Cenat," the social media influencer who caused a mob to descend on police in Midtown, NYC.

Now throw away the key.pic.twitter.com/W36bMPbOy8

— Citizen Free Press (@CitizenFreePres) August 4, 2023
This shit that Kai Cenat and his crew started in NYC union square is just sad. What parents are raising there kids to do this shit to the public smh pic.twitter.com/YfggT5V9PD

— ִֶָ (@EdgarCuzz) August 4, 2023
Police reported 65 were arrested, and thirty of them were juveniles. 
The streamer, Kai Cenat, was arrested at Union Square and police say he'll be charged with inciting a riot, unlawful assembly and other crimes.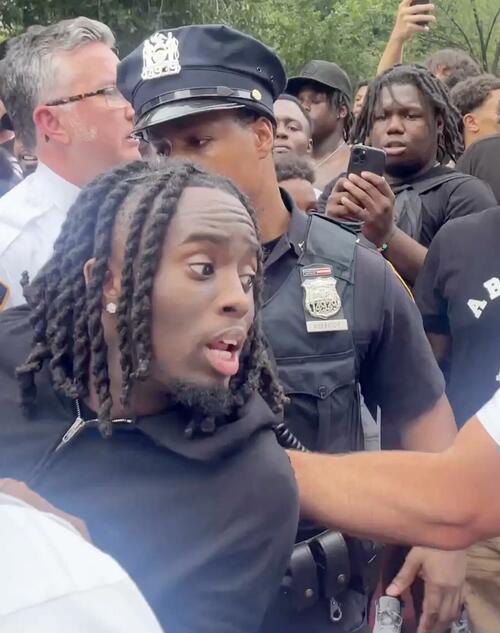 The unrest is another negative reflection on Mayor Eric Adams, who appears to be struggling to enforce law and order in the crime-ridden metro area. 
Loading...