---
Oakland NAACP Begs For More Cops Amid 'Heyday For Criminals'
The Oakland branch of the NAACP says that thanks to the city's "failed" leadership and the movement to defund the police, crime is rampant and "everyone's in danger." In a blistering op-ed, the NAACP slams the city - including DA Pamela Price, for public safety spiraling out of control, Golden Gate Media reports.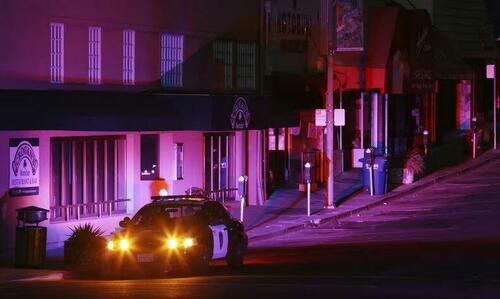 "Oakland residents are sick and tired of our intolerable public safety crisis that overwhelmingly impacts minority communities. Murders, shootings, violent armed robberies, home invasions, car break-ins, sideshows, and highway shootouts have become a pervasive fixture of life in Oakland. We call on all elected leaders to unite and declare a state of emergency and bring together massive resources to address our public safety crisis," reads the letter.
The @NAACPOAKLAND just release a statement regarding Oakland's escalating violence.
Please read and share far and wide. pic.twitter.com/sxaIEpl13c

— Seneca Scott (@SenecaSpeaks21) July 28, 2023
"Failed leadership, including the movement to defund the police, our District Attorney's unwillingness to charge and prosecute people who murder and commit life threatening serious crimes, and the proliferation of anti-police rhetoric have created a heyday for Oakland criminals," reads the op-ed by Cynthia Adams, President of the Oakland Branch of the NAACP, and Bishop Bob Jackson of the Acts Full Gospel Church. 
"We urge African Americans to speak out and demand improved public safety," it continues. "We also encourage Oakland's White, Asian, and Latino communities to speak out against crime and stop allowing themselves to be shamed into silence. There is nothing compassionate or progressive about allowing criminal behavior to fester and rob Oakland residents of their basic rights to public safety. It is not racist or unkind to want to be safe from crime. No one should live in fear in our city."
In March of 2021, The Guardian noted that Oakland saw a horrific spike in crime after the city pushed forward with defunding their police department.
Following the reduction in police presence, the city experienced a 314% increase in homicides vs. the same time in 2020, and a 113% increase in firearms assaults.
In Oakland, Defund OPD, a five-year-old campaign housed within the Anti-Police Terror Project (APTP), is a leading voice in the city's efforts to reduce police spending and invest in areas such as housing, unarmed mental health responses and violence prevention programs.

The campaign began in 2015, a year that the APTP co-founder Cat Brooks refers to as a "bloody" one. The city's police department killed 11 people and the following year was embroiled in scandal after officers sexually exploited and trafficked a teenager. Since their defunding effort launched, APTP has kept sustained pressure on city officials to cut the department's budget by at least half. -The Guardian
And now, residents are starring in their own version of Escape from Oakland.
Loading...