---
Oregon Allows Self-Serve Gas: New Jersey Now Alone In Nanny-State Prohibition
Under a law that took effect immediately upon its signing by Governor Tina Kotek, drivers in Oregon are finally free to pump gas into their own vehicles, rather than being forced to wait for a gas station attendant to handle it for them. That leaves New Jersey as the last state where where pumping your own gas is a crime -- punishable by a fine of up to $500.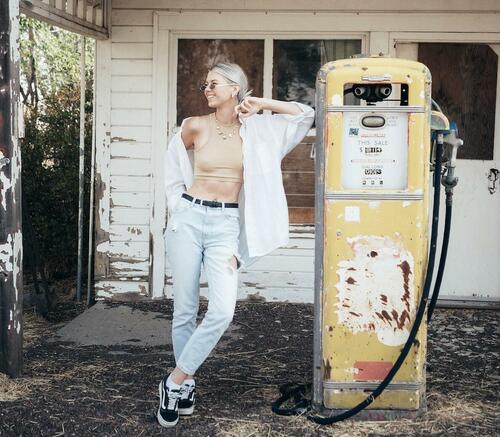 Self-serve was outlawed in Oregon in 1951. Lawmakers said the practice was too dangerous, citing the fact that "cashiers are often unable to maintain a clear view of and give undivided attention to the dispensing of [gas] by customers."
Leaving one's car also supposedly exposed drivers to "the increased risk of personal injury resulting from slipping on slick surfaces" and an "increased risk of crime." What's more, wrote the law's authors, "the dangers of crime and slick surfaces...are enhanced because Oregon's weather is uniquely adverse, causing wet pavement and reduced visibility."  
Most of that makes us chuckle, but then again...
Asians think they can safely pump gas in a blue state... 🤦‍♂️pic.twitter.com/7Sbrnhu8r9

— Unbiased Crime Report (@UnbiasedCrime) July 28, 2023
Oregon's self-serve prohibition started eroding a few years ago. First, the state started allowing self-serve at night in rural areas, and then allowed it 24 hours a day in eastern Oregon. The first steps toward a degree of sanity were influenced by the Covid-era labor shortages created by federal programs that paid people not to work. 
"We live in a small town in a large county and can't find employees to pump fuel," Steve Rogers, who lives near the Cascade Mountains, told legislators. "We are paying top dollar and also offering insurance, paid time off and retirement benefits, and still cannot fully staff."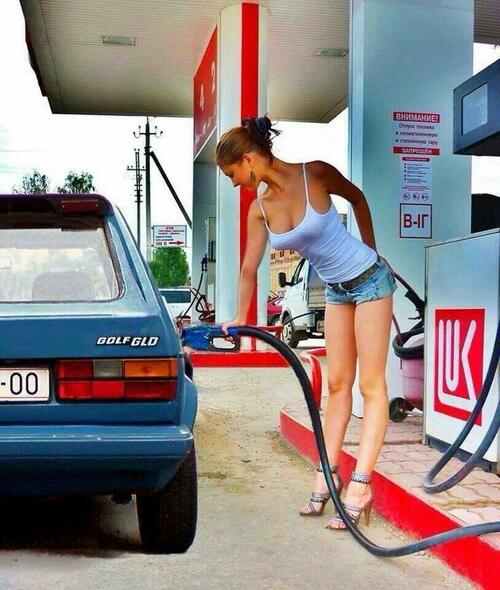 As with most regulations, the ones barring self-service weren't created to protect the public, but rather to serve certain politically-influential constituencies. As Patrick Murray, the director of the Monmouth Polling Institute, explained to NBC:
"It goes back to the middle of the 20th century. There were forces involved who wanted to protect their interests in terms of the smaller gas owners against mega gas stations that were starting to be built at the time that would require self-service to be profitable."
We wish we could report that Oregon's simply withdrew the prohibition, leaving market forces to guide pumping decisions from here. Of course, that isn't the case. Under the new law:
At least half the pumps must still be reserved for full-service gas-pumping. Rightly, stations don't have to offer self-serve. 
Though full-service obviously costs more to deliver, stations have to charge the same price for both options.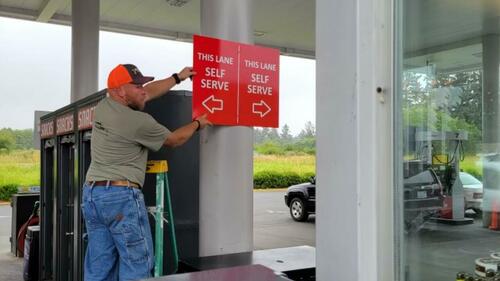 Union leaders howled at the prospect of Oregonians pumping their own gas, without the need for a paid attendant. Sandy Humphrey, secretary-treasurer of UFCW Local 555, told Associated Press that the move represents a "blatant cash grab for large corporations...With over 2,000 gas stations in Oregon, laying off just one employee per location represents millions of dollars a year that giant corporations are not paying in wages, benefits and public payroll taxes."
New Jersey now stands alone in mandating universal full-service gas-pumping, with a ban that was enacted in 1949. Though calls for repeal periodically surge along with rising gas prices, there's nothing to suggest that any change is coming in the near future. 
Loading...