---
Oregon Sheriffs Association Says FBI Position Makes It Impossible To Legally Buy Guns
Authored by Scottie Barnes via The Epoch Times (emphasis ours),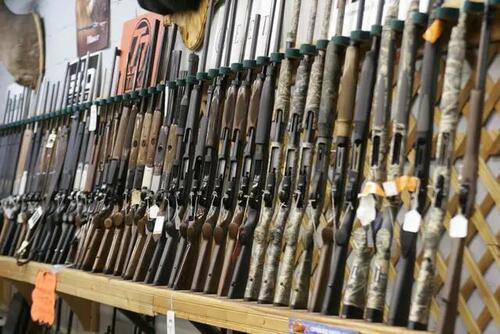 Legal gun sales will end in Oregon should Ballot Measure 114 survive ongoing court challenges, according to guidance provided to all county sheriffs by the Oregon State Sheriffs Association (OSAA).
Because the FBI has stated that it will not conduct background checks for the new law, no enforcement officer will be able to issue a permit to purchase a weapon as required by the measure.
Doing so would be a crime, the legal guidance states.
In addition, OSAA advised sheriffs that virtually all firearm magazines would be banned after the law takes effect.
Anyone possessing them would be committing a crime and could be arrested.
That includes off-duty police officers.
Tougher Rules
Voters approved Measure 114 last year with 50.7 percent of Oregonians saying "yes."
To qualify for a permit under the measure, an applicant would need to complete an approved, in-person firearm safety course, pay a fee, provide personal information, submit to fingerprinting and photographing, and pass an FBI criminal background check.
The permits would be processed by local police chiefs, county sheriffs or their designees, and Oregon State Police (OSP) with information then submitted to the FBI.
The measure also bans magazines that are capable of holding, or being modified to hold, more than 10 rounds.
Measure 114 has been in litigation since November 2022.
Plaintiffs in Oregon Firearm Federation v. the State of Oregon received the first hearing on Dec. 2, with oral arguments before Federal Judge Karin Immergut.
On Dec. 6, Judge Immergut denied plaintiffs a temporary restraining order (TRO) on the implementation of the measure but granted the state's request for a 30-day delay on the permit-to-purchase portion of the new rules.
In that hearing, the Oregon Attorney General's Office reassured the court that the permit-to-purchase system required by the new measure would be ready by Dec. 8 when the law was to take effect.
The court's public gallery erupted in laughter at the pledge, as many gun rights advocates were skeptical that the state police or local sheriffs could have such a system in place in such a short period of time.
In fact, according to OSSA's legal guidance, it is still not ready.
Also on Dec. 6, Harney County Circuit Court Judge Robert Raschio issued a TRO for the entire measure on the grounds that it violates the state constitution.
After a federal trial in June, Judge Immergut ruled the entire measure is constitutional.
Plaintiffs in that case filed an appeal in the Ninth Circuit Court of Appeals. This could move the decision to the U.S. Supreme Court.
The trial in Harney County began on Sept. 18 and should conclude early next week.
FBI Rules on Permit to Purchase
According to OSSA's legal guidance to sheriffs, Oregonians will be unable to obtain the "permit to purchase" required by the measure because the FBI has "explicitly stated" that it will not provide the requisite federal background check.
In an FBI memo obtained by The Epoch Times, the bureau states that it "will not perform fingerprint-based background checks for permit applicants based on their determination that Ballot Measure 114 does not meet the requirements of Pub. L 92-544."
That law passed in 1972, empowers the FBI to make determinations regarding background checks for non-criminal matters.
Those standards also include that the authorization must exist as the result of legislative enactment.
As a voter-approved ballot measure, the FBI stated that Measure 114 does not meet that standard.
OSSA subsequently provided legal guidance to all 36 county sheriff's offices in the state.
"The Oregon State Police (OSP) have informed OSSA and the Oregon Chiefs of Police that the Federal Bureau of Investigation (FBI) has flatly refused to provide a criminal background check for a permit to purchase as required by the measure," wrote OSSA General Counsel Elmer Dickens in his Aug. 29 legal guidance.
The state police further said that they will provide a report back to the permit agent (local law enforcement) that they have "completed seven of the eight required steps," as they are not able to complete the required FBI check, the guidance explained.
"Our guidance on this issue is clear, unambiguous, and simple—no permit agent should issue a permit to purchase a firearm unless the Oregon State Police reports that the person is fully qualified to obtain a permit, including that they have successfully passed the required FBI background check,"
Any agent who issues a permit to purchase without the FBI background check would be breaking the law, it continued.
Creating Criminals
The OSSA guidance also points out to sheriffs that virtually all firearm magazines, not just those identified as large capacity magazines (LCMs), will be outlawed by the measure.
"For all magazines that have a detachable base-plate, the reality is that the magazine appears to fit the definition of an LCM because they are readily capable of being adapted to hold more than 10 rounds," Mr. Dickens wrote.
"It would appear that even drilling and riveting a base-plate to the magazine in order to more permanently attach it would not take it out of the definition of LCM, since a rivet can easily be removed and thus the magazine could again be capable in the future of holding more than 10 rounds."
Anyone who currently owns an LCM would be committing a crime and could be arrested if the measure is upheld, the guidance continued.
This includes off-duty law enforcement officers, who frequently keep their service weapon with them at all times.
Those who are arrested can attempt to prove their innocence with "affirmative defense."
This puts the burden of proof on the defendant to introduce evidence which, if found credible, will negate criminal liability, Mr. Dickens explained.
But that language is so convoluted that even he could not give clear guidance.
"The language of the affirmative defense raises many questions about enforcement of the measure," he wrote. "Some of these questions do not have a clear answer and we will need further guidance from the judicial branch."
Among Mr Dickens' concerns is the phrase "registered owner."
"Oregon has never required a person to register a firearm, and there are literally millions of unregistered firearms in the state," he wrote.
"Likewise, there is no process to register ownership of an LCM."
Loading...