---
Oscars' New Diversity Rules Rob Winners Of Authentic Achievement, Say Critics
Authored by Carly Mayberry via The Epoch Times (emphasis ours),
Since condemning the recent inclusivity changes made to the Oscars by the Academy of Motion Picture Arts and Sciences (AMPAS), veteran actor Richard Dreyfuss hasn't back-peddled on his comments nor has there been notable pressure for him to do so.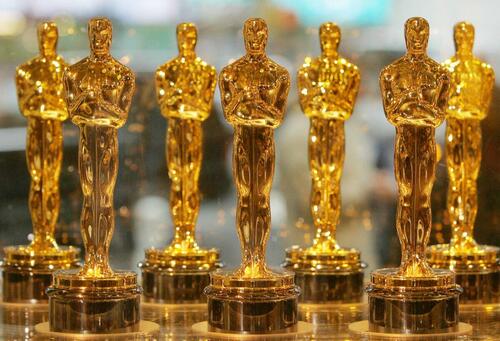 That's while other entertainment industry experts are also critical, if not skeptical, of the changes when looking to the future and the legacy of filmmaking.
"They were put in a situation where they had to do something to quiet the activists," Sasha Stone, founder and editor of the film/awards discussion website Awards Daily, told The Epoch Times about the changes first laid down in 2020 by AMPAS. "The Academy gave productions ample time to prepare. In that time, however, as everyone knows, Hollywood went through the 'Great Awokening,' and suddenly inclusivity and diversity was everywhere."
It was earlier this month that media outlets reported the Oscars organization was clamping down on its new regulations after controversies during this year's leadup to the awards ceremony. Those involved outreach surrounding Best Actress nominee Andrea Riseborough, Best Actress winner Michelle Yeoh's controversial social media activity, and what appeared to be an endorsement of Yeoh through a tweet by Academy President Janet Yang.
But it was The Academy's new diversity and inclusion standards first announced three years ago and to be enacted for the 2024 Academy Awards that raised the ire of Dreyfuss.
Inclusivity Requirements
Centered on best picture nominees and representation requirements, films must meet at least two of four new standards that require both onscreen and behind-the-scenes roles to be filled by those from underrepresented groups. They include either having at least one lead character or a significant supporting character from an underrepresented racial or ethnic group, having at least 30 percent of secondary roles from two underrepresented groups or having the main storyline, narrative, or theme centered on such a group. The Academy has deemed "underrepresented groups" to include women, people of color, those who identify as LGBT, and people with disabilities.
Dreyfuss during a May 5 interview on the PBS series Firing Line told host Margaret Hoover that such directives "make me vomit."
"It's an art. And no one should be telling me as an artist that I have to give into the latest, most current idea of what morality is," said Dreyfuss. Later during the interview he noted actor Laurence Oliver's work in 1965's Othello in which he played the role in blackface.
"He played a black man brilliantly. Am I being told that I will never have a chance to play a black man? Is someone else being told that if they're not Jewish, they shouldn't play The Merchant of Venice? Are we crazy? Do we not know that art is art?" he added.
The Epoch Times reached out to Dreyfuss, who until Adrien Brody won for The Pianist in 2002, was the youngest best actor winner at age 30 when he took the award for his role in 1977's The Goodbye Girl. The actor's other credits include 1975's Jaws, 1977's Close Encounters of the Third Kind and 1985's Mr. Holland's Opus.
"I think what he meant was that art should not be dogma—it shouldn't be propaganda for a specific political ideology, otherwise it loses its value," said Stone about Dreyfuss's comments, while noting the audience's need for authentic storytelling.
She described the actor as part of a rare breed in Hollywood who could be attacked and ultimately exiled for his statements.
However, Christian Toto, film critic and host of The Hollywood in Toto Podcast, said that Dreyfuss "nailed it" with his comments.
"Yes movies are an amalgam of art and commerce, but making Best Picture hopefuls adhere to any set of criteria smacks of interrupting the creative process," said Toto. "The subset of rules dictating what kinds of stories are being told is the very worst part of the new rules."
UCLA associate professor and author Gabriel Rossman said Dreyfuss's view about artistic freedom isn't new.
"For instance, the recent dispute over the best actress nominations was (at least facially) about an excessive role for social capital," Rossman told The Epoch Times, noting author James English's book Economy of Prestige. The book discusses prizes as often contests of different forms of capital and that many prize controversies are about disputing what type of capital should dominate.
"So Dreyfuss's comment that the award should prioritize artistic achievement over other considerations fits in a long tradition of prize disputes," said Rossman.
For their part, both film viewers and movie aficionados also chimed in when The Academy announced the changes.
"You ruined the Oscars. It's no longer about a cinema as a genre of art. Now it's totally about politics," read one comment on AMPAS' website while renowned film producer Axel Kuschevatzky felt differently.
"I fully support @TheAcademy's new representation and inclusion standards for Oscars eligibility," tweeted Kuschevatzky, noting their importance.
The Epoch Times reached out to representatives at both The Academy and the Screen Actors Guild–American Federation of Television and Radio Artists for comment.
In a statement announcing the new rules, Academy President David Rubin and Academy CEO Dawn Hudson said "the aperture must widen to reflect out diverse global population in both the creation of motion pictures and in the audiences who connect with them."
"We believe these inclusion standards will be a catalyst for long-lasting, essential change in our industry," they wrote.
That's while still others note past Oscar-winning films that would never have won under the new rules.
Those include films like 2013's Argo, which did not have enough female actors in the cast to meet the 30 percent mark or 2007's The Departed, which also had a predominantly male cast. That film finally earned director Martin Scorsese his first Oscar.
"We turn to storytelling to deepen our understanding of the human condition and to reflect back at lessons or characters we can be moved by," said Stone. "Any film in the pre-woke era will have the audience in mind more so than anything else. That is no longer true. They're serving the people at the top, the aristocracy, who value how they look in a culture of judgmental new puritans."
Toto said Hollywood could better commit to diversity by hiring the best and brightest talents, period.
"That will ensure people from all walks of life get a chance to take part in the grand movie-making process," said Toto. "If Hollywood wants to increase diversity measures by funding programs for young people from so-called under-represented groups, that's perfectly fine and a far better path forward."
Added Stone: "The best thing about right now is that there are more women and black filmmakers and all kinds of diverse and interesting voices making movies—more than ever before. In mandating their inclusion that robs them of a chance to achieve in their own right."
Loading...