---
Over 200 Cases Of Suicidal Thoughts After Taking Weight Loss Drugs: New Analysis
Authored by George Citroner via The Epoch Times (emphasis ours),
As Ozempic, Wegovy, and Mounjaro soar in popularity, the drugs are facing increasing scrutiny by regulators over reports of suicidal thoughts.
A recent Reuters analysis reveals that over half of the adverse event reports by the U.S. Food and Drug Administration describe suicidal thoughts arising soon after starting or ramping up doses of these injectable drugs.
About 40 percent found relief after quitting the meds or taking a smaller dose.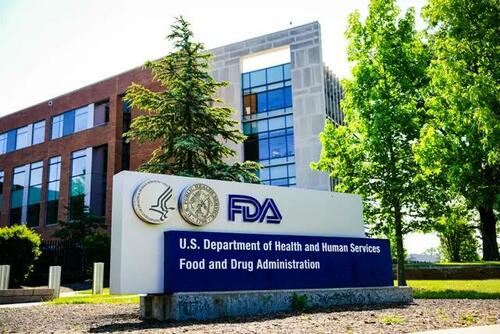 Popular Drugs Used for Weight Loss Have Been Under Fire Since July
Novo Nordisk's Ozempic is approved to treat type 2 diabetes, while the company's Wegovy is approved for long-term weight management in obese or overweight adults. Mounjaro, a medication from Eli Lilly, is approved for blood sugar control in adults who have diabetes.
All three medications are part of a class of drugs, called glucagon-like peptide-1 (GLP-1) receptor agonists, and have been on regulators' radar since at least this summer.
In July, the European Medicines Agency's (EMA) safety committee initiated a review of data on the risk of suicidal and self-harm thoughts linked to the use of popular brands, including Ozempic and Wegovy, both containing the active ingredient semaglutide, and Saxenda, another medication approved for weight loss, which contains liraglutide.
An analysis of around 150 cases linked self-injury and suicidal ideation to these drugs soon after patients started taking them. The EMA expects this review to conclude in November.
Back in the U.S., the FDA's Adverse Events Reporting System (FAERS) has logged 6,253 serious adverse reports, including 163 deaths, tied to Ozempic since 2018. Wegovy has been linked to over 460 serious cases, with 6 fatalities since 2021, while Saxenda is associated with nearly 2,000 serious reports and 49 deaths since 2015.
Suicidal Thoughts: A Recurring Theme with Weight Loss Medications
Wegovy's label explicitly warns of potentially serious mental health side effects such as depression and suicidal thoughts. Patients are advised to monitor any sudden mood changes, behaviors, and feelings.
Similarly, liraglutide has been linked to suicidal thoughts and worsened depression in some patients.
A case reported by The Epoch Times spotlights the mental health risks. After starting Ozempic in February for his diabetes, a man became uncharacteristically withdrawn. By May, severe fatigue and declining mood set in. On May 14, he took his own life.
Weight loss medications provoking suicidal thoughts is not unprecedented. Sanofi's weight loss drug rimonabant (Acomplia, Riobant, Slimona) was pulled from European markets in 2008 amidst concerns about suicidal ideation. Though unrelated to GLP-1 medicines, it reduced hunger through the endocannabinoid system, which serves as a connection between the body and the mind. Rimonabant was never approved in the U.S., due to psychiatric side effects.
Novo Nordisk Responds
In an emailed statement to The Epoch Times, Novo Nordisk said that patient safety is a top priority for the company and that they take all reports about adverse events from use of their medicines very seriously.
The drugmaker noted that GLP-1 receptor agonists like semaglutide and liraglutide have been on the market for over a decade, and have been used to treat type 2 diabetes for more than 15 years and obesity for over eight years.
In the U.S., the FDA requires medications for chronic weight management that work on the central nervous system, including Wegovy and Saxenda, to carry a warning about suicidal behavior and ideation, according to Novo Nordisk. "This event had been reported in clinical trials with other weight management products," the company noted.
"Novo Nordisk remains confident in the benefit risk profile of the products and remains committed to ensuring patient safety," the drugmaker added.
What is Suicidal Ideation?
Suicidal ideation, or thoughts related to wanting to kill oneself, are often associated with depression, "but some medications can certainly trigger a depressed mood and even suicidal thoughts," Dr. Anna K. Costakis, director of psychiatry residency training at Northwell Staten Island University Hospital in New York, told The Epoch Times.
A well-known example is the anti-smoking medication Chantix. It was found to trigger suicidal thoughts in patients with or without depressive symptoms, and was required to include a black box warning by the FDA (pdf) in 2007. (The agency dropped the warning in 2016.)
It's reasonable to associate "new or intense" thoughts of suicide with taking a new medication, Dr. Costakis said. "Immediately contacting your physician and discussing coming off the medication as quickly and safely as possible, is recommended," she added.
For anyone experiencing suicidal thoughts, first reach out to loved ones who can help keep you safe. If the thoughts are uncontrollable, call 911 or go to the ER, Dr. Costakis noted.
If immediate safety can be ensured, notify your doctor to develop a safety plan and address the problematic medication. Additional resources include the 988 crisis line—which can also be texted—for free support and referrals.
Loading...