---
"Past Its Breaking Point": NYC Limits Immigrant Family Shelter Stays To 60 Days
Authored by Katabella Roberts via The Epoch Times (emphasis ours),
Immigrant families with children currently residing in New York City's shelters will now only be allowed to stay for 60 days under a new measure announced by Mayor Eric Adams on Oct. 16.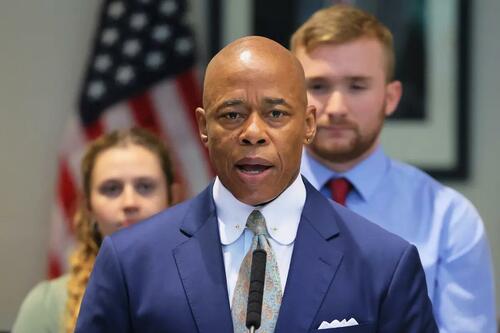 The new rule comes as New York has welcomed more than 126,000 illegal immigrants since last year—many of them without housing or employment—which has placed a significant burden on shelter systems across both the city and state.
More than 64,000 illegal immigrants are currently staying in city shelters, and approximately 600 are arriving daily, stretching the city to its limits, Mr. Adams said during Monday's press conference.
"New York City is full and past its breaking point—having responded to this humanitarian crisis without the level of support needed from other levels of government to manage this national crisis," the mayor, a Democrat, said when explaining the reason for the new rule.
While immigrant families with children in New York City were previously allowed to remain in shelters until they found long-term housing or other solutions, the new measure will only allow them to stay in city shelters for 60 days at a time before having to reapply for shelter, according to the mayor.
"As the city still seeks further and timely support from federal and state partners, it will begin providing 60 days' notice to families with children seeking asylum to find alternative housing along with intensified casework services to help them explore other housing options and take the next steps in their journeys," he said. "Each household given notice will have multiple touchpoints with case workers over their 60 days to discuss their options and plan their next steps."
The latest announcement builds on the city's previous decision to restrict shelter for adult immigrants without any children to 30 days.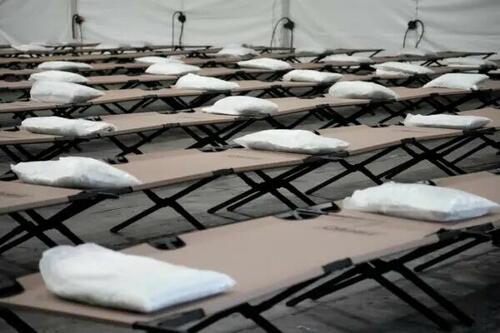 New York Pushed to Brink
As part of the latest change to sheltering availability, New York City will also open a new shelter site at Floyd Bennett Field in the coming weeks, Mr. Adams said.
That facility is designed to serve roughly 500 families with children who are seeking asylum in a "semi-congregate setting" and privacy dividers with locks will be installed, he said.
"For over a year, New York City has led the response to this national crisis, but significant additional resources, coordination, and support are needed from all levels of government. With over 64,100 asylum seekers still in the city's care, and thousands more migrants arriving every week, expanding this policy to all asylum seekers in our care is the only way to help migrants take the next steps on their journeys," Mr. Adams said, appearing to take aim at the Biden administration.
"This step builds on our work providing notices and intensified casework services to adults in the city's care to help them move to alternative housing. We appreciate the White House citing our 'best practices' as other cities also deal with this crisis, but with the current surge we're seeing, a comprehensive, coordinated effort from the federal government to decompress the pressure New York City is under is needed now," the Democrat added.
Mr. Adams did not state when the new rule would take effect, however, a spokesperson for his office told CNN it would begin next week and notices would be handed out to immigrant families on a "rolling basis."
Those families who have been in the system the longest would be the first to receive such notices, the spokesperson said.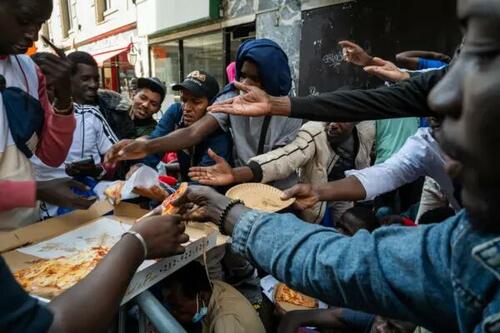 New Mandate Condemned
New York, a self-described sanctuary city, has been pushed to the brink amid an influx of illegal immigrants, and Mr. Adams estimates it will cost the city roughly $12 billion over the next three years to handle. While city and state officials including New York Gov. Kathy Hochul initially appeared to welcome immigrants with open arms, that rhetoric has changed in recent months amid a growing crisis.
Both Mr. Adams and Ms. Hochul are currently trying to end a legal agreement requiring the city to provide emergency housing to homeless people as officials struggle to handle the influx of immigrants and have warned the rule should not be seen as "an open invitation to 8 billion people who live on this planet."
Responding to Mr. Adams's announcement Monday, the Legal Aid Society and the Coalition for the Homeless said the new 60-day policy would have devastating consequences.
"Forcing families with children who have endured unthinkable suffering traveling to New York – trauma the Mayor reportedly saw with his own eyes when he visited the Darién Gap last week – to be denied safe shelter after 60 days is bankrupt of any humanity and is a stain our city's long-standing reputation as a welcoming home for all," the non-profits said in a joint statement.
"This plan will disrupt the lives of homeless students and create chaos for their schools, as parents are forced to choose between re-enrolling or spending the day traveling across the city to their current school. Make no mistake: this proposal, like many before it, is designed to have a chilling effect. No New Yorker wants to see families with children huddled on the streets of our city, especially as winter approaches," the groups continued.
Both groups noted they are assessing all options, including possible litigation, should Mr. Adams's administration move forward with its "callous and inhumane plan."
Loading...