---
Andy Ngo Denied Justice As Portland Jury Clears Alleged Antifas
Two alleged Portland Antifa activists were found not guilty on Aug. 8 in a lawsuit filed by investigative journalist Andy Ngo alleging attacks against him that began in 2019.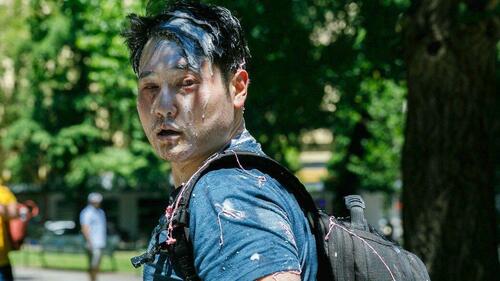 A jury of Ngo's 'peers' - six men and six women who were likely all Democrats - found that defendants John Hacker and Elizabeth Richter were not liable for assault, battery and intentional infliction of emotional distress. Ngo had claimed that they were Antifa ritoers who attacked him after he had been doxxed and was working undercover at a Portland protest in 2021.
Richter's attorney, Michelle Burrows, argued that while Ngo had every right to sue his attackers, the assailants were dressed in black and were never identified.
"He grabbed the faces that he saw that night and he sued them," the attorney said, according to The Oregonian.
Ngo, a senior editor at the Post Millennial, was brutally attacked on May 28, 2021, while filming at a rally marking the one-year anniversary of the death of George Floyd.
According to Ngo at the time, Antifa "tried to kill me again while I was reporting on the ongoing protests and riots in Portland" while preparing to write a book, "Unmasked: Inside Antifa's Radical Plan to Destroy Democracy."
Shortly before midnight, Antifa member John Hacker, who assaulted me in 2019, began asking me questions. I didn't answer and attempted to walk away, but a group of masked people in black followed and surrounded me. As they interrogated me, one managed to pull off my mask and... pic.twitter.com/bsL5lcIfDg

— Andy Ngô 🏳️‍🌈 (@MrAndyNgo) June 3, 2021
"I was chased, attacked, and beaten by a masked mob, baying for my blood," he tweeted. "Had I not been able to shelter wounded and bleeding inside a hotel while they beat the doors and windows like animals, there is no doubt in my mind I would not be here today."
Ngo, a longtime anti-Antifa activist, said he believes the group wanted him "dead" because "I document what they want to stay hidden," according to the Epoch Times (continued below):
Attacks Were 'Retribution'
"The attacks against me and threats on my life are retribution for my work as a journalist, recording the tactics and true ideology of an extremist clandestine movement that relies on deception and regards," he wrote.
According to Mr. Ngo, during the May 28 incident, Mr. Hacker approached him clad in black and began interrogating him before punching him in the head and face.
He was later taken to a nearby hospital after suffering multiple head and body injuries following the assault.
The journalist later filed a civil lawsuit (pdf) against Antifa activists alleging they were members of Rose City Antifa.
The lawsuit sought compensatory damages exceeding $300,000 from the activists for assault, battery; and intentional infliction of emotional distress.
In his lawsuit, Mr. Ngo alleged members of Antifa and their supporters had "physically accosted and viciously assaulted" him on multiple occasions in prior years, including in May 2019 while he was covering demonstrations that commemorated the pro-labor holiday "May Day" in Portland.
"While video-recording the events, Ngo was set upon by mask-clad Rose City Antifa members and others," his lawsuit states. During the incident, one of the alleged Antifa members punched Mr. Ngo in the abdomen with his fist, causing him "significant pain and severe emotional distress," the lawsuit stated.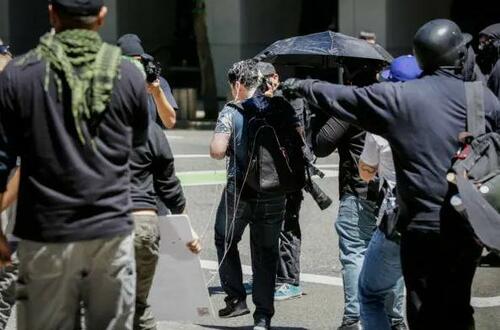 'Mobbed and Bloodied'
Mr. Ngo was also sprayed with mace during the incident, according to the lawsuit, which left him temporarily blind and caused him to "fear for his safety and that he might be further threatened or attacked."
"The incident caused Ngo severe pain, humiliation, and emotional distress," the lawsuit said.
In another incident in May 2019, Mr. Ngo alleges he was attacked by Mr. Hacker who threw an "unknown liquid" onto his head while he was at his local gym.
"On information and belief, Hacker intended to frighten and intimidate Ngo in retaliation for his journalistic coverage of Rose City Antifa and other counter-protesters," the lawsuit stated. "When Ngo began to record Hacker with his phone, Hacker forcibly took the phone from Ngo, without Ngo's consent. Hacker refused to return the phone to Ngo, causing gym staff to intervene and return the phone to Ngo."
In a June 2019 incident, while Mr. Ngo was recording more protests involving alleged Rose City Antifa in Portland, he alleges he was attacked on two separate occasions in one day—first by alleged Antifa members who threw a container of liquid containing quick-drying cement mixed into milkshakes at him and then again when the alleged attackers "suddenly mobbed and bloodied" him, throwing eggs and milkshake at him before punching and kicking him.
"Members also hit him in the head with plywood hard-edged sign placards, and carbon-hardened tactical gloves," the lawsuit stated.
In another incident in October 2019, Mr. Ngo alleges at least six masked Antifa members approached his family's home and stood outside the door before banging on the windows and trying to gain entry into the property.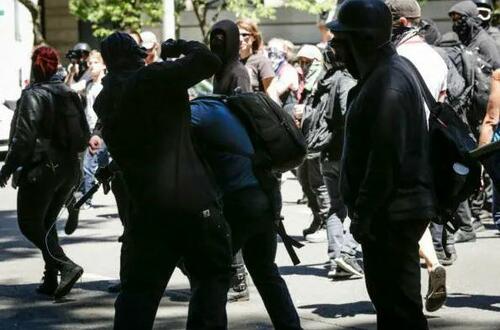 'Uphill Battle' for Justice
"Defendants have sought to suppress independent journalist Ngo's activities through a coordinated pattern of violent, harassing, and stalking behavior," the lawsuit read. "Ngo, with his persistent reporting, has brought to light many misdeeds of this terrorist organization and is perhaps more responsible than any other American journalist for increasing public awareness of the threat Antifa and its followers pose to public safety."
"In retaliation for Ngo's unfavorable coverage, and in an effort to intimidate Ngo from further exposing Antifa's illegal acts, Defendants have targeted Ngo, including by assaulting and threatening Ngo to the point of causing lasting and significant physical injuries; publicizing private and personal information about the whereabouts of Ngo and his family; and even attempting to break into his family's home, among a multitude of other threats and acts of violence," his lawyers wrote.
In a statement following the Aug. 8 ruling, Mr. Ngo said he was aware the lawsuit would always be an "uphill battle to win justice for the years of torment and violence I have endured."
"This case has been frustrating in its complexity, with several defendants settling or being defaulted before they could be made to answer for their repeated assaults against me," he wrote. "The court dismissed Rose City Antifa on July 14 on the grounds that a nonlegal entity cannot be sued under Oregon law. This sends a dangerous message that violent extremist groups can continue to organize criminal activities in Portland."
"We saw this message play out throughout the trial, with court proceedings being delayed or halted due to threats of violence and the need to seal the jurors' identities following serious concerns over outside efforts to identify them," he continued.
Mr. Ngo said he still believes the defendants in the case are affiliated with Antifa and remains committed to seeking justice.
"Though I am deeply disappointed in today's verdict, I am considering my legal options," he added.
Loading...