---
Trump Indicted (Again) For 'Efforts To Overturn 2020 Election'; DeSantis Defends
Update (1834ET): As reactions to Trump's latest indictment roll in, one notable defender is Florida Governor Ron DeSantis, who tweeted that he would, as president, "end the weaponization of government, replace the FBI Director, and ensure a single standard of justice for all Americans."
DeSantis added that DC is a "swamp," and that it's "unfair to have to stand trial before a jury that is reflective of the swamp mentality."
As President, I will end the weaponization of government, replace the FBI Director, and ensure a single standard of justice for all Americans.

While I've seen reports, I have not read the indictment. I do, though, believe we need to enact reforms so that Americans have the right…

— Ron DeSantis (@RonDeSantis) August 1, 2023
More reactions:
It's official. Unelected reckless prosecutors and unelected Democrat DC grand jurors are trying to decide the presidential election. Democrat DAs and the earlier indictment, same thing. Talk about attempting to deny voters the right to choose the next president -- that IS what…

— Mark R. Levin (@marklevinshow) August 1, 2023
Free speech has been indicted. Read this section of the indictment.

It acknowledges that Trump has the right to say, even falsely, the results were fraudulent and claim he won the election. That's protected by the First Amendment.

But the indictment says he can't lie about… pic.twitter.com/tKDBP93j3Z

— Will Cain (@willcain) August 1, 2023
The sanctimony is putrid. Talk about a nothing burger. Out of control DOJ.

— Miranda Devine (@mirandadevine) August 1, 2023
Jack Smith cites CISA -- which interfered in the 2020 election by censoring, directly and by proxy, millions of Americans and their speech about the election -- as an authority to indict Trump. Can't make it up pic.twitter.com/Rx7f7OkX4B

— Benjamin Weingarten (@bhweingarten) August 1, 2023
Senate Majority Leader Chuck Schumer and House Minority Leader Hakeem Jeffries call the Jan. 6 indictment "the most serious and most consequential thus far." pic.twitter.com/ZQLq6Bjsjr

— Manu Raju (@mkraju) August 1, 2023
BREAKING: Attorney General Merrick Garland makes a statement about the indictment of former President Donald Trump. pic.twitter.com/cxzCRS8cmT

— NEWSMAX (@NEWSMAX) August 1, 2023
...The press conference held by Smith only deepened the unease for some of us. Smith railed against the January 6th riot and made it sound like he was indicting Trump on incitement. He didn't. The disconnect was glaring and concerning.

— Jonathan Turley (@JonathanTurley) August 1, 2023
*  *  *
Another day, another indictment aimed at keeping former President Trump out of the Oval Office.
"I hear that Deranged Jack Smith, in order to interfere with the Presidential Election of 2024, will be putting out yet another Fake Indictment of your favorite President, me, at 5:00 P.M," Trump wrote Tuesday on Truth Social. "Why didn't they do this 2.5 years ago? Why did they wait so long? Because they wanted to put it right in the middle of my campaign. Prosecutorial Misconduct!" he continued.

And on Tuesday, Jack Smith did just that - indicting Trump yet again for his efforts to overturn the results of the 2020 presidential election.
The indictment focuses on schemes by Trump and his allies to subvert the transfer of power and keep him in office despite his loss to Joe Biden.
Trump has been indicted on four counts: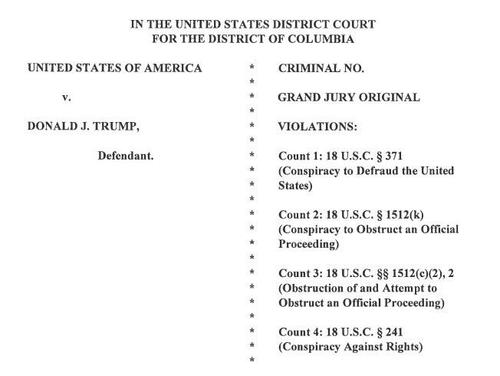 The Conspiracy
From on or about November 14,2020, through on or about January 20,2021, in the District of Columbia and elsewhere, the Defendant, DONALD J. TRUMP, did knowingly combine, conspire, confederate, and agree with co-conspirators, known and unknown to the Grand Jury, to defraud the United States by using dishonesty, fraud, and deceit to impair, obstruct, and defeat the lawful federal government function by which the results of the presidential election are collected, counted, and certified by the federal government.

The purpose of the conspiracy was to overturn the legitimate results of the 2020 presidential election by using knowingly false claims of election fraud to obstruct the federal government function by which those results are collected, counted, and certified.

Special Counsel Jack Smith gave a lame speech following his latest 'win' (that surely won't actually help Trump, right?)

Watch:

...

The Defendant, his co-conspirators, and their agents made knowingly false claims that there had been outcome-determinative fraud in the 2020 presidential election.

These prolific lies about election fraud included dozens of specific claims that there had been substantial fraud in certain states, such as that large numbers of dead, non-resident, non-citizen, or otherwise ineligible voters had cast ballots, or that voting machines had changed votes for the Defendant to votes for Biden.

These claims were false, and the Defendant knew that they were false.

In fact, the Defendant was notified repeatedly that his claims were untrue—often by the people on whom he relied for candid advice on important matters, and who were best positioned to know the facts -  and he deliberately disregarded the truth.
Read the full docket below:
It's the third criminal case brought against the former president as he seeks to reclaim the White House.
*  *  *
As we detailed earlier, on Monday, Trump called the indictments "election interference" and "prosecutorial misconduct," adding that they're being used to distract from investigations into the Biden family's own dealings with foreign nationals.
"The Radical Left Democrat Thugs shouldn't be allowed to investigate me during, and in the middle of, my campaign for President. Why didn't they file these ridiculous charges 2.5 years ago?" Trump wrote, adding "They waited because they wanted to illegally and negatively influence the 2024 Presidential Election, arguably the most important Election in the history of the USA. We are going to take our now Third World Nation (Airports, Elections, Roads/Highways, Borders, etc.) and, MAKE AMERICA GREAT AGAIN. BE STRONG!"
Trump's defenders jump into action
"Yesterday was an awful day for the @JoeBiden crime family," tweeted former Arizona Gubernatorial candidate Kari Lake (R), referring to bombshell allegations against the Biden family over international corruption. "The regime desperately needs a distraction for their Pravda Press to spread."
"Watch as they indict @realDonaldTrump again to change the narrative."
Yesterday was an awful day for the @JoeBiden crime family.

Their corrupt house of cards is crashing down.

The regime desperately needs a distraction for their Pravda Press to spread.

Watch as they indict @realDonaldTrump again to change the narrative.

It's like clockwork.

— Kari Lake (@KariLake) August 1, 2023
Meanwhile, Bloomberg reports that Trump is "burning through money on legal fees so fast that it risks leaving him short of cash just when he will need it most — in a potential general election rematch against President Joe Biden next fall."
The former president raised $54 million from donors in the first six months of the year - more than any other Republican candidate, but that his legal bills are emptying his coffers nearly as fast as he fills them.
Nearly half of Trump's January-to-June haul went to lawyers, $25.5 million, draining cash reserves left from the midterm cycle, according to Federal Election Commission filings. A person familiar with the finances of Trump's committees said legal expenses were actually closer to $40 million.

...

Two entities, Save America and Make America Great Again PAC — which is separate from MAGA Inc. — are footing his legal fees. They ended June with only $4.2 million cash on hand, about enough to cover another month's worth of costs. The expenditures forced Save America, which donated $60 million in 2022 to Trump's super PAC, to ask for a refund. It got $12.3 million back.

To keep the entities paying his legal fees funded, Trump will have to divert about half the money he raises through a joint fundraising committee. From January to June, the joint fundraising committee transferred $29.2 million to Trump's campaign and $2.2 million to his leadership PAC and ended June with $5.7 million cash on hand. The remainder was spent on fundraising expenses. -Bloomberg
"The weaponized Department of Justice has continued to go after innocent Americans because they worked for President Trump," said campaign spokesman Steven Cheung. "To protect these innocent people from financial ruin and prevent their lives from being completely destroyed, the leadership PAC contributed to their legal fees."
Trump, meanwhile, can continue to tap his allied super PAC, Make America Great Again, Inc, which had $31 million at the end of June after depleting 44% of its cash in the first six months of 2023.
More via the Epoch Times;
Mr. Trump said on July 27 that his lawyers had met with the Justice Department and had a "productive meeting," and that "an indictment of me would only further destroy our country."
Jurors were seen entering a courthouse Thursday morning, and news reports had claimed an indictment could come as soon as that same day.
More than 1,000 people have already been charged with Jan. 6-related offenses.
Multiple Cases
Mr. Trump is facing another investigation in Georgia, where Fulton County Superior Court Judge Robert McBurney on Monday rejected Mr. Trump's bid to disqualify Fulton County District Attorney Fani Willis from prosecuting the case.
The criminal investigation centers around a phone call Mr. Trump made to Republican Georgia Secretary of State Brad Raffensperger in 2020, asking about the number of votes for him in the state.
"I just want to find 11,780 votes, which is one more than we have," then-President Trump said to Mr. Raffensperger.
Ms. Willis maintains that Mr. Trump tried to illegally overturn the results of the presidential election in the state of Georgia. Mr. Trump says the investigation is "strictly a political witch hunt."
Mr. Trump's legal team argued that she had a partisan interest in the case, which should disqualify her. Judge McBurney wrote that the team failed to show Ms. Willis was biased in her actions.
The case will be heard on Aug. 10.
Meanwhile, Georgia Gov. Brian Kemp has been contacted by Mr. Smith's office, presumably about the Jan. 6 case.
Mr. Smith is also in charge of the Mar-a-Lago case concerning classified documents, in which he last week announced three new charges.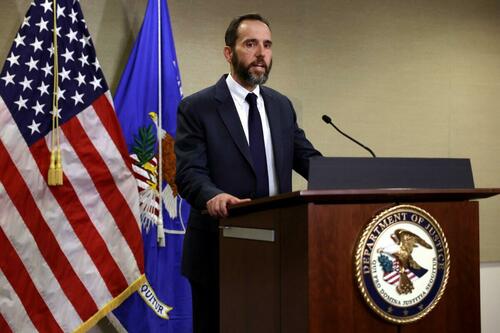 Last week, the special counsel charged Mr. Trump with willful retention of national defense information and two charges in connection to the claims that he told a Mar-a-Lago worker to delete security tapes to prevent a grand jury from seeing them. In that filing, the Department of Justice (DOJ) named Mar-a-Lago staffer Carlos De Oliveira as a third defendant in the complaint.
On Sunday, Mr. Trump denied all three charges.
"Mar-a-Lago security tapes were not deleted," Mr. Trump wrote on Truth Social. "They were voluntarily handed over to the thugs, headed up by deranged Jack Smith. We did not even go to court to stop them from getting these tapes. I never told anybody to delete them. Prosecutorial fiction & misconduct! Election interference!"
"They knowingly accuse you of a fake crime, a crime that they actually make up, you fight these false charges hard, and they try and get you on 'obstruction,'" Mr. Trump wrote. "We are dealing with sick and evil people!"
Alina Habba, spokesperson and attorney for Mr. Trump, told Fox News in a July 30 interview that Mr. Trump never directed an employee to delete tapes.
"When he has his turn in court, and when we get to file our papers, you will see that every single video, every single surveillance tape that was requested, was turned over," Ms. Habba said. "If President Trump didn't want something turned over, I assure you, that is something that could have been done. But he never would act like that. He is the most ethical American I know.
"The new superseding indictment that came out, which they tried to get another headline for President Trump, was facts that said that President Trump did what? What was the obstruction of justice because no tapes were deleted. He turned them over; he cooperated as he always does. But they would like the American public to believe in these bogus indictments that there are some facts that say that President Trump was obstructing justice."
Mr. Trump has pleaded not guilty to all charges and maintains that as president, he had the right to take the documents as well as the right to declassify them. The case is set to go to trial in May 2024.
Loading...