---
Red State Pharmacists Use 'Religious' Loophole To Deny Patients Ivermectin: Doctor
Authored by Matthew Lysiak via The Epoch Times (emphasis ours),
Doctors claim a law created to protect pro-life workers from going against their religious beliefs is being employed by pharmacists to deny patients access to ivermectin.
"Right to refuse" laws initially enacted in many states to shield pro-life pharmacists from being forced to violate religious convictions are used by pharmacists as legal cover for denying patients COVID-19 treatments that they find objectionable, according to a medical expert.
In Texas, Dr. Mary Talley Bowden, a practitioner and founder of Coalition of Health Freedom, told The Epoch Times that the law, along with greater discretion granted to pharmacists during the pandemic, has become a roadblock in ensuring her patients receive the care needed, especially when it comes to prescribing ivermectin off-label to treat COVID-19.
"I can't imagine how anyone can claim a religious or moral belief in denying my patients access to ivermectin, but that appears to be exactly how they are able to legally do this," said Dr. Bowden. "It makes no sense and creates significant delays in getting patients access to the medications they need."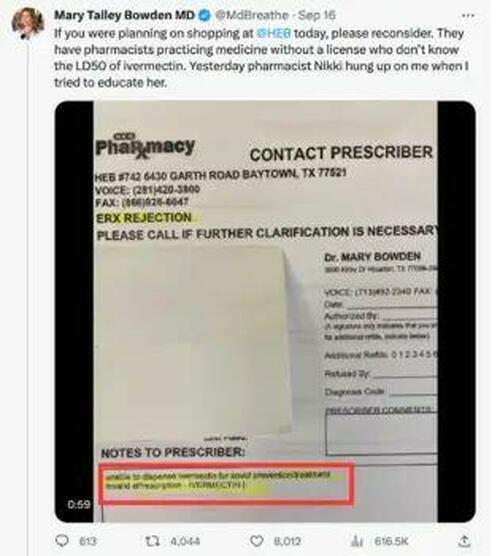 In Texas, pharmacists are allowed wide discretion under House Bill 2561, which Gov. Greg Abbott signed into law in September 2017. The law permits pharmacy workers the right to refuse to fill a patient's prescriptions for moral and religious reasons, with the text of the bill specifying "freedom of speech regarding a sincerely held religious belief."
Dr. Bowden said that in recent years, many pharmacists have anointed themselves as medication gatekeeper in deciding which drugs may or may not be prescribed. As a result, doctors are having to invest increasing amounts of time and resources toward finding ways to get prescriptions filled that would be better directed toward patient care, according to Dr. Bowden.
"I never had an issue before COVID. Now it's an everyday issue I have to deal with as a doctor, and it's just draining," said Dr. Bowden.
What have become known as "right to refuse" laws vary by state. Six states—Arizona, Arkansas, Georgia, Idaho, Missouri, and South Dakota—have laws or regulations that specifically allow pharmacies or pharmacists to refuse to honor prescriptions for religious or moral reasons, according to the National Women's Law Center. Seven other states—Alabama, Delaware, New York, North Carolina, Oregon, Pennsylvania, and Texas—allow them to refuse a prescription but prohibit pharmacists from obstructing patient access to medication.
Further, most state practice codes allow pharmacists to refuse to fill a prescription if, in their judgment, the validity of the medicine is in question, abuse of a drug is suspected, or to protect the health and welfare of the patient. However, pharmacists expanded the scope of their discretion during the pandemic, according to Dr. Bowden.
'We Need an Intervention'
Ivermectin has been around for decades but became the center of controversy in 2020 after medical opinion became divided over its effectiveness as a treatment for COVID-19. In the aftermath, many pharmacists refused to fill prescriptions for the medication.
By 2023, the issue had made its way into a courtroom in a case brought by Dr. Bowden and other medical professionals when, on Aug. 8, a lawyer representing the FDA confirmed that doctors were free to prescribe ivermectin to treat COVID-19.
"FDA explicitly recognizes that doctors do have the authority to prescribe ivermectin to treat COVID," Ashley Cheung Honold, a Department of Justice lawyer representing the Food and Drug Administration (FDA), told the U.S. Court of Appeals for the 5th Circuit.
Despite statements from the FDA affirming that right to doctors, Dr. Bowden says many pharmacists nationwide are still refusing to fill prescriptions issued for ivermectin issued to patients for the treatment of COVID-19.
In most cases, according to Dr. Bowden, individual pharmacists aren't the ones to blame and are often only carrying out orders from corporate leadership. However, she claims to have also seen examples where pharmacists prevented her patients from getting their medication as a result of their own "personal agenda."
Dr. Bowden believes the only way absent of new legislation ensuring a patient's right to the fulfillment of the prescription written by their health care expert is for people to keep putting pressure on the pharmacies to leave the practicing of medicine to the doctors.
"Consumers can fight back, but there is going to be a price to pay in terms of time and money," said Dr. Bowden. "Whether that means boycotting pharmacies that refuse to fill your prescriptions, and having to travel further to a different pharmacy, or pushing for new legislation to protect patient rights, there is no easy solution.
"But it is clear that we need an intervention of some kind, and soon."
Loading...