---
Red States, Blue Cities: Who's To Blame For America's Homicide Crisis
 Authored by Ted Dabrowski, John Klingner and Grayson Garelick via Wirepoints.org,
Red states, blue cities: Who's to blame
There's a debate raging over who's responsible for the surge in homicides and violent crime across the country. California Gov. Gavin Newsom blames Republicans, saying that "8 of the top murder states are red." Left-leaning think tank Third Way claims it's "red" state-level leadership and policies that are responsible for the nation's homicide problem. And Politico's recent analysis on gun violence claims the problem is most acute in places "where Republicans have dominated state governments for decades."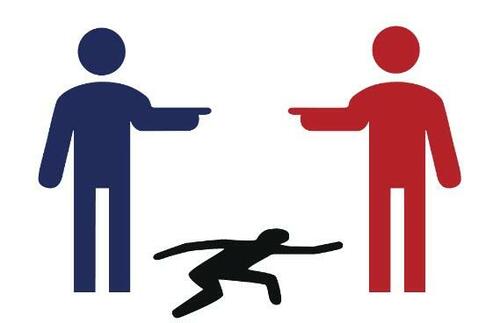 The problem with those arguments is that local governments, and not states, are overwhelmingly responsible for managing crime. Yes, state officials set criminal penalties and some broader parameters, but it's mayors who control police and policing, local prosecutors who decide what to prosecute, and district/county judges who determine who to sentence.
State-level gun laws are often cited as the key factor explaining murder rates, but gun-friendly Maine, Idaho, Utah, Iowa have some of the nation's lowest homicide rates, according to most-recent CDC data. Then there are states like Illinois, Maryland and Delaware that have strict gun laws and yet have relatively high homicide rates. Illinois often complains that the permissive gun laws of its neighboring states are to blame, but that doesn't explain why its neighbors have much lower homicide rates.
The answer is that it's not a red vs. blue state debate, but rather a red vs. blue city one. And when you look at America's homicide hotspots, the vast majority are run by blue leadership and they have been for decades. The evidence is overwhelming.
Wirepoints went back to its 2022 homicide survey of the nation's 75 biggest cities and used the political affiliation of each mayor as a proxy for a city's overall blue or red leadership. We found that 26 of the 30 cities with the highest murder rates were run by Democratic mayors last year. Just two were run by Republicans and two others were led by either an independent or a progressive mayor.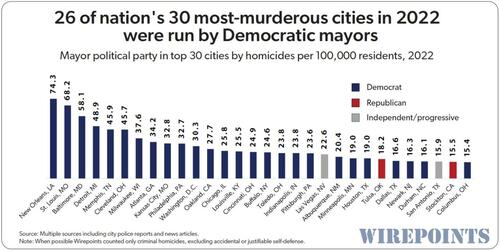 The long-term leadership data is even more telling. Nearly half of the 30 cities have been run continuously by Democrats since at least 1970. And in the last decade, Democrats have run nearly all the homicide hotspots.
It's their policies, then, that deserve the most scrutiny.
Local control matters
There's a big reason George Soros spent millions of dollars to get progressive prosecutors like Philadelphia's Larry Krasner, Chicago's Kim Foxx and St. Louis' Kim Gardner elected. Criminal justice, and its execution, is local. Who's in those positions matters because, as Politico reports, "the prosecutor exercises the greatest discretion and power in the system. It is so important."
Philadelphia's District Attorney Larry Krasner, for example, has focused on the rights of the accused and social programs instead of tough prosecutions and sentencing. Data from Krasner's office shows a sharp drop in the conviction rate for weapons offenses and a large jump in weapons cases withdrawn or dismissed by his prosecutors.
St. Louis' former prosecutor Kim Gardner made headlines with her progressive agenda. Her time in office was marked by a significant decline in filed cases, an increase in dismissals and a decrease in murder convictions. 
Local judges also have a major impact on criminal justice through their bail and sentencing policies. Cook County's Chief Judge Tim Evans, for example, has pushed decarcerationist policies for two decades now. He and his office are responsible for an increased use of electronic monitoring, greater use of diversion programs, a shift to little-to-no-cash bail and more. 
Over 15,000-plus pretrial defendants freed from late 2017 through mid-2022 due to Evan's bail changes are alleged to have committed additional crimes. 2,900 were classified as violent offenses such as battery, assault, or child neglect and another 1,600 crimes were weapons offenses.
Mayors, for their part, control both the policies and general environment of policing. Chicago's former Mayor Lori Lightfoot, for example, had a combative relationship with the city's police force which negatively impacted morale. And she enacted policies – including the outlawing of foot and car chases – that made it harder for officers to operate effectively. She was also responsible for a collapse of 1,500 beat cops – a near-20 percent drop – during her time in office.
More recently, New Orleans has gone all-in on a progressive approach to crime. The city's first progressive prosecutor Jason Williams took office in 2021 and has delivered on a promise to be "more selective" about prosecutions. The area's judges are embracing progressive ideas like low-cash bail. And the city's current Democrat mayor, LaToya Cantrell, has been a controversial figure since her election in 2018. Her public sympathy for criminal defendants, lack of a serious homicide-fighting plan and numerous ethical scandals haven't helped contain the city's runaway homicides. (You can check out Wirepoints' deep dive into New Orleans' criminal justice failures in our nationwide 2022 homicide survey.)
New Orleans' day-to-day criminal justice policies – from policing to prosecutions to sentencing – are under the purview of left-leaning politicians. The same holds true for major cities across the nation.
Decades of "blue" leadership
Wirepoints tracked the political affiliation of mayors back to 1970 for each of the 30 cities with the highest homicide rates in 2022. We found most of the country's homicide-hot spots are "blue" and have been for decades.
For example, New Orleans led the nation in per capita homicides in 2022, with 74.3 per 100,000 residents. The last time the city had a Republican as its mayor was 1872. 
And Chicago led the nation in total homicides and has done so for 11 years running. Its last Republican mayor left office in 1932. 
In all, 13 of the 30 cities have been run entirely by Democrats since at least 1970. That includes the four cities with the highest homicides rates – New Orleans, St. Louis, Baltimore and Detroit.
And 24 of the 30 most-murderous cities have had Democratic mayors for a majority of the last 50-plus years. Only six have not: Indianapolis, Las Vegas, Tulsa, Dallas, Stockton, and Columbus. (Note: Las Vegas' current mayor is independent but previously identified as a Democrat.) 
And only four cities have had a Republican mayor in office in the last decade.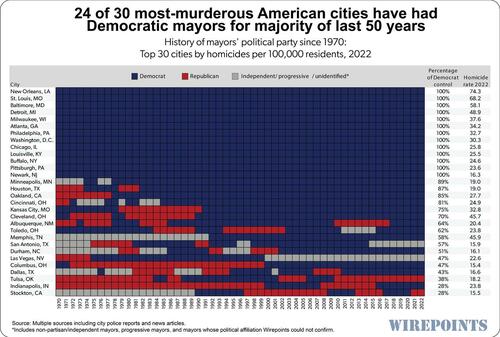 Blue Monopoly
Victims of city violence – most of them minorities – don't really care about the "red" or "blue" divide. What they do care about is whether police are policing, prosecutors are prosecuting and judges are sentencing.
Unfortunately, soft-on-crime blue politicians control the leadership of most major cities and they've managed to create a near-monopoly for themselves that's lasted, in many cases, for decades.
The nation's most-violent cities need a new class of leaders who are more interested in pursuing solutions than in blaming others for their own failed policies. Sadly, it's very unclear if or when that time will actually come. 
And until it does, the violence is unlikely to subside.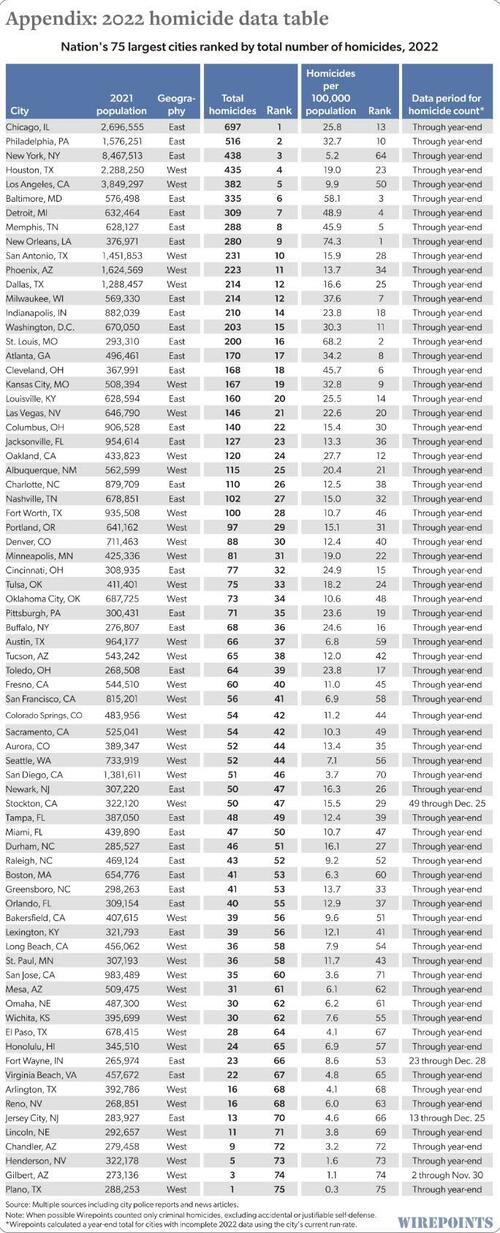 Loading...