---
"Renewed Upward Pressure On Inflation" - US Manufacturing Surveys Signal Stagflation
Despite disappointing macro data (and tightening financial conditions), US manufacturing survey data was expected to rise in final September data released this morning and S&P Global's PMI Manufacturing jumped from 47.9 in August to 49.8 in September (and up from 48.9 in the flash September print). That is the highest print for US manufacturing since April but remains in contraction (below 5). That is the 5th straight month in contraction and 10th month in the last 11 in contraction (sub 50).
The ISM Manufacturing print also rose (to 49.0), up from 47.6 and better than the 47.9 exp (but still below 50 for the 10th straight month).
Quite a decoupling from the 'hard' data's decline...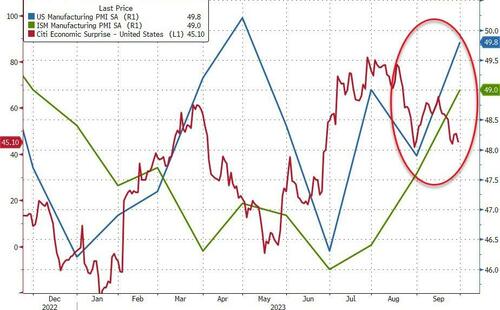 Source: Bloomberg
While the two surveys show the same headline (just sub-50 - contraction) headline prints, below the surface they could not be more different...
Chris Williamson, Chief Business Economist at S&P Global Market Intelligence, said:
"September saw a welcome near-stabilization of business conditions in manufacturing, but a further increase in price pressures is a concern on the inflation front.

"Output reversed some of the loss seen in August as higher employment and improved supply availability helped factories fulfil backlogs of orders.

"Although the pace of production growth remains disappointingly subdued thanks to a further decline in new orders received during the month, notably from weak export markets, there are signs that the situation will improve as we head through to the end of the year.

"Manufacturers' expectations of future output have jumped to their highest for nearly one and a half years, supply conditions continue to improve, and the rate of order book decline has moderated considerably in recent months, in part due to fewer producers and customers reporting deliberate cost-focused inventory reduction policies.

"Less encouraging was the news on the inflation outlook, as producers' costs rose at the fastest rate for five months, largely on the back of higher oil prices. These increased costs are already feeding through to higher prices to customers, which will inevitably result in some renewed upward pressure on inflation."
So, take your pick!
PMI - higher prices (fast inflation) and slower orders/production (growth slowing)

ISM - lower prices and faster orders
However as the chart shows, the ISM's faster orders remain below 50 (in contraction)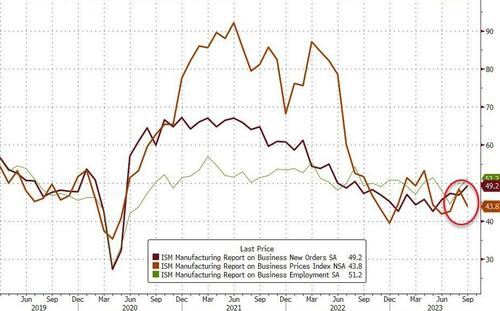 For context, 'hard' data has fallen to 5-month lows while survey-driven 'soft' data is at its strongest sine January 2022...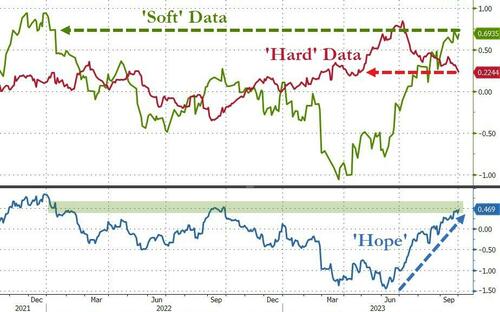 It would seem the tightening financial conditions may finally be having an effect...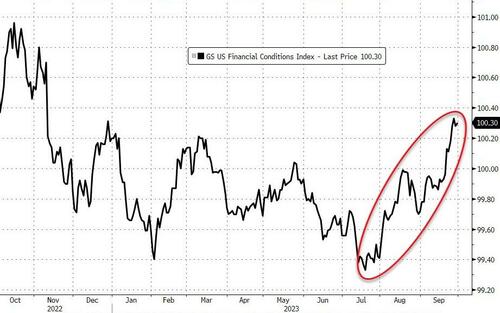 So, summing everything up, despite the headline improvement in the 'soft' survey data, the Manufacturing reports shows production continuing to slow while prices are re-accelerating higher... in other words 'Stagflation'.
Time to panic Mr.Powell?
Loading...