---
Rep. Gaetz Introduces Bill To Censure, Investigate Judge In Trump 2020 Election Case
Authored by Catherine Yang via The Epoch Times (emphasis ours),
Rep. Matt Gaetz (R-Fla.) is introducing a resolution to censure U.S. District Court Judge Tanya Chutkan and open an investigation into her "for showing open bias and partisanship in her official duties on the bench."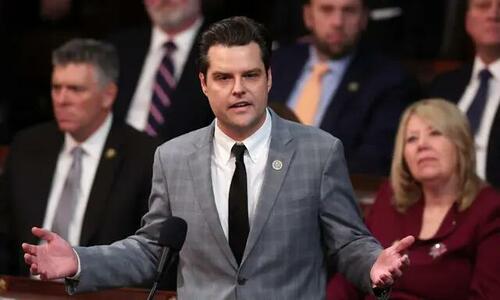 Judge Chutkan is overseeing a case against former President Donald Trump, brought by the Department of Justice (DOJ) for conspiracy in his challenge of the 2020 election results. She has already overseen many other cases related to the Jan. 6, 2021, Capitol protest, which is being investigated by special counsel Jack Smith. About 1,000 people have already been sentenced for crimes related to the day's events, and Judge Chutkan has been known to hand down harsh prison sentences.
"Judge Tanya Chutkan's extreme sentencing of January 6th defendants, while openly supporting the violent Black Lives Matter riots of 2020, showcases a complete disregard for her duty of impartiality and the rule of law," Mr. Gaetz said.
He appeared to be referring to remarks the judge made in one Jan. 6-related sentencing.
"People gathered all over the country last year to protest the violent murder by the police of an unarmed man," she said, referencing violent riots that erupted after the death of George Floyd. "To compare the actions of people protesting, mostly peacefully, for civil rights, to those of a violent mob seeking to overthrow the lawfully elected government is a false equivalency and ignores a very real danger that the January 6 riot posed to the foundation of our democracy."
Mr. Gaetz's resolution points to a few other cases of "open partisanship," including the fact that the Obama-appointed district judge had donated thousands of dollars to his presidential campaign, and that during another Jan. 6-related sentencing she "lamented" that President Trump "remains free to this day."
"Such partisan commentary by Judge Chutkan has been ongoing and calls into question her fitness as a judge and ... Chutkan's comments and activities on and off the bench violate all 5 canons of the Code of Conduct for United States Judges," the resolution reads (pdf).
The canons are that a judge should uphold the integrity and independence of the judiciary; avoid impropriety and the appearance of impropriety in all activities; perform the duties of the office fairly, impartially, and diligently; engage in extrajudicial activities that are consistent with the obligations of judicial office, and refrain from political activity.
"It is deeply concerning that a United States District Court judge would exhibit such blatant political bias from the bench," he said in a press release. "Justice may be blind, but the American people are not—we see Judge Chutkan for her actions, and we rebuke them in the greatest possible sense."
Mr. Gaetz is proposing Judge Chutkan be censured and condemned via the resolution, and to have the House Committee on the Judiciary, on which he sits, launch an investigation seeking evidence showing that she should be removed from office on impeachment or other misdemeanors.
The Epoch Times reached out to Judge Chutkan's office for comment.
Trump on Chutkan
President Trump has been critical of Judge Chutkan in multiple social media posts given her earlier remarks.
"She obviously wants me behind bars," he wrote, describing her as "highly partisan" and "very biased and unfair."
A day after President Trump pleaded not guilty to the felony charges filed by Mr. Smith, he made a social media post: "If you go after me, I'm coming after you!" He later posted a campaign ad that claimed election interference on the part of the Biden administration.
In response, Mr. Smith's office filed a motion pointing to the initial social media post as evidence a protective order was needed. He requested the judge issue an order barring President Trump from sharing information about the case.
"Such a restriction is particularly important in this case because the defendant has previously issued public statements on social media regarding witnesses, judges, attorneys, and others associated with legal matters pending against him," Mr. Smith wrote in a filing (pdf).
President Trump responded on social media yet again. "No, I shouldn't have a protective order placed on me because it would impinge upon my right to free speech," he wrote.
His legal team filed an opposing motion arguing public speech was not grounds for a gag order.
Judge Chutkan ended up issuing a limited protective order, which bars President Trump from releasing information the prosecutors label sensitive, not all information.
The prosecution has also requested a Jan. 2, 2024, trial date, with jury selection to begin as early as Dec. 11.
On Thursday, President Trump's legal team proposed a April 2026 trial date, arguing that the prosecution was rushing the case.
"The government's objective is clear: to deny President Trump and his counsel a fair ability to prepare for trial," the lawyers wrote. "The Court should deny the government's request."
They cited a number of reasons an extension was required, including the 11.5 million pages of discovery Mr. Smith's office has already provided.
"That is the entirety of Tolstoy's War and Peace, cover to cover, 78 times a day, every day, from now until jury selection."
Loading...