---
Republican Attorneys General Warn Target Over 'Obscene' Pride And Satanic Merchandise
Authored by Catherine Yang via The Epoch Times (emphasis ours),
Indiana Attorney General Todd Rokita sent a letter to Target on Wednesday warning the corporation that its recent "Pride" campaign merchandise and donation efforts ran the risk of violating state child-protection laws. It also cited concerns about parental rights and neglect of fiduciary duties.
"State child-protection laws penalize the 'sale or distribution … of obscene matter,'" the letter states (pdf), which includes items with sexual themes and material harmful to minors.

"Indiana, as well as other states, have passed laws to protect children from harmful content meant to sexualize them and prohibit gender transitions of children."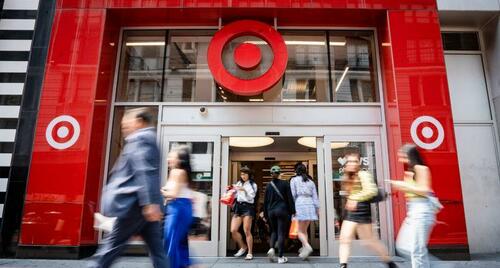 The Epoch Times has not received a response from Target.
Attorneys general from six other states also signed on: Tim Griffin, Arkansas; Daniel Cameron, Kentucky; Andrew Bailey, Missouri; Raul Labrador, Idaho; Lynn Fitch, Mississippi; and Alan Wilson, South Carolina.
These are states that have this year passed laws, some now in the courts, that prohibit cross-sex hormone and surgery procedures for minors, and the chief legal officers are now sending a signal to corporations that do business in their states to take notice.
The letter does not cite legal action.
Contentious Merchandise
The letter drew attention to some of the products Target stocked in its "Pride" month campaign: LGBT-themed infant clothing, items specifically sourced from a Satanic brand, and the "tuck friendly" swimsuits that sparked media coverage and backlash.
The attorneys also stated Target's support for Gay, Lesbian and Straight Education Network (GLSEN), which trains members to create LGBT-related associations in K-12 schools, runs the risk of violating parental-rights laws in these states. GLSEN training materials encourage members to make gender identity decisions with students without the knowledge of parents.
"The evidence suggests that Target's directors and officers may be negligent in undertaking the 'Pride' campaign, which negatively affected Target's stock price. Moreover, it may have improperly directed company resources for collateral political or social goals unrelated to the company's and its shareholders' best interests," the letter states.
Target's stock tumbled 17 percent in the week following backlash in the wake of its Pride campaign, leading to a three-year low and losses that exceeded $13 billion. Citi and JP Morgan Chase both downgraded Target's shares.
"Target's 'Pride' campaign was decidedly not an example of excellence in retail," the letter continued. "It is likely more profitable to sell the type of Pride that enshrines the love of the United States. Target's Pride Campaign alienates whereas Pride in our country unites."
Target Flip-Flops Under Activist Pressure
Target issued a statement after the backlash, highlighting the fact that it has stocked products "celebrating Pride" for more than 10 years. It cited the reason for removing some items as "threats impacting our team members' sense of safety and well-being while at work." The company reiterated its "commitment to the LGBTQIA+ community" moving forward.
In response, seven activist groups called on Target to return any removed items to its stores and online, and release a statement to "in the next 24 hours reaffirming their commitment to the LGBTQ+ community."
Read more here...
Loading...