---
RFK Jr. Says He May Have Been Denied Secret Service Protection After Criticising Open Border
Authored by Steve Watson via Summit News,
Presidential candidate Robert F. Kennedy Junior has charged that he may have been denied a Secret Service protection by Alejandro Mayorkas, the Head of the Department of Homeland Security, following public criticism of wide open borders.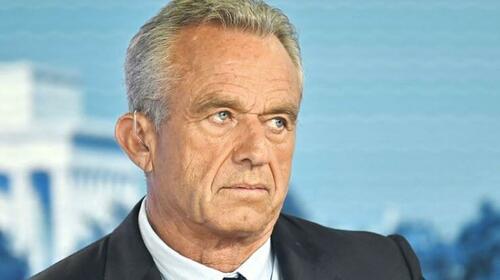 Kennedy made the assertion in an interview with Jimmy Dore, noting "It may explain why Mayorkas doesn't want to give me Secret Service, because I was very critical."
"It's political pettiness," Kennedy continued, asserting that it is "distressing that there are people in public office doing that. I was very outspoken criticizing Mr. Mayorkas for that decision and I don't know if that contributed to his decision not to give me Secret Service protection."
"I have no idea but it occurred to me," he clarified.
While Kennedy continues to make the assertion, others have pointed out that there may not be a precedent to appoint a protection to him this far out from the election.
Since the assassination of my father in 1968, candidates for president are provided Secret Service protection. But not me.

Typical turnaround time for pro forma protection requests from presidential candidates is 14-days. After 88-days of no response and after several…

— Robert F. Kennedy Jr (@RobertKennedyJr) July 28, 2023
During the interview, Kennedy further noted "The Border Patrol is utterly demoralized. We met with Border Patrol … and they said 'You know, we're not defending the border anymore, we're just processing people who are walking across and coming in.'"
He continued, "The cartels are now running everything at the border … you pay either $10,000 or $15,000 to the cartels. They fly from countries all over the world … Azerbaijan, Kazakhstan, Uzbekistan, Afghanistan, Pakistan, a lot of them from China, Nepal, Tibet, and a lot from countries in West Africa … it's people from everywhere."
Kennedy has vowed to drastically reduce illegal immigration, stressing that "no nation can survive unless it controls its borders."
Meanwhile, The Washington Post is reporting that illegal immigration jumped 30 percent in July, noting "U.S. agents made more than 130,000 arrests along the Mexico border last month, preliminary figures show, up from 99,545 in June."
Illegal crossings along the U.S. southern border jumped more than 30 percent in July, dealing a blow to President Biden's new immigration enforcement strategy at a time when his policies are facing multiple legal challenges. https://t.co/B8FttUQQzK

— The Washington Post (@washingtonpost) August 1, 2023
*  *  *
Brand new merch now available! Get it at https://www.pjwshop.com/
In the age of mass Silicon Valley censorship It is crucial that we stay in touch. We need you to sign up for our free newsletter here. Support our sponsor – Turbo Force – a supercharged boost of clean energy without the comedown.
Also, we urgently need your financial support here.
Loading...