---
Sam Bankman-Fried Found Guilty On All Counts, Faces Over 100 Years In Prison
After 15 days of testimony and about four and a half hours of deliberations, jurors found FTX founder Sam Bankman-Fried has been found guilty on all seven counts related to fraud and money laundering, in a lower Manhattan courtroom.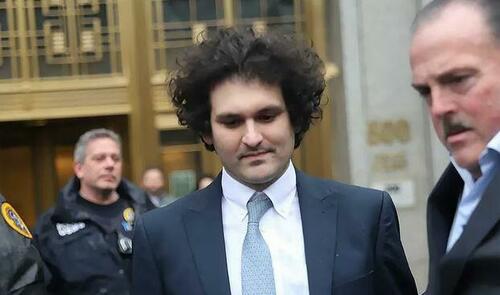 He is scheduled to be sentenced March 28, when he faces more than 100 years in prison if he receives the maximum on all counts.
As a reminder, now convicted criminal Sam Bankman-Fried is "one of the people most responsible for Biden being in office" and one of his "biggest donors" https://t.co/tFRtchjC6w

— zerohedge (@zerohedge) November 3, 2023
Bankman-Fried has indicated that he will appeal the verdict.
The case was handed to the jury at approximately 3:15 p.m. on Thursday after US District Judge Lewis Kaplan read the jury roughly 60 pages of instructions.
Bankman-Fried, also known as SBF, founded FTX in 2019, two years after forming sister hedge fund Alameda Research. He was charged with seven counts, including wire fraud, money laundering, and securities fraud in connection with FTX's spectacular implosion last year.
The trial, which progressed far more quickly than the anticipated run through Thanksgiving, has presented a stark transformation of the FTX founder from a "crypto genius" to an alleged criminal mastermind, as prosecutors and defense attorneys spar over the truth behind FTX's collapse.
The 31-year-old MIT graduate and son of two Stanford legal scholars had pleaded not guilty to all charges.
The SBF trial jury deliberating like pic.twitter.com/tGsiDOqO6W

— Cam Irons aka Dom Taffer (@GothGolfGirl) November 3, 2023
"Every movie needs a villain," proclaimed Mark Cohen, Bankman-Fried's defense attorney, in a narrative-bending final plea that painted the prosecution's portrayal of his client as grossly mischaracterized. Cohen argued fervently against the government's claims, insisting that the FTX saga, while marred by a lack of risk management, does not equate to criminal conduct.
The courtroom, under the guidance of Judge Kaplan, saw a relentless pace, with days stretching past the usual hours in a concerted effort to wrap up proceedings. Jurors, now faced with the weighty task of determining Bankman-Fried's fate, were reminded that the urgency from the bench wasn't an attempt to rush judgment but rather an efficient approach to justice.
The crux of the trial hinged on intent — did Bankman-Fried knowingly orchestrate a grand scheme to defraud? According to Assistant U.S. Attorney Nicolas Roos, the answer lies in a "pyramid of deceit," with $10 billion in customer funds vanishing into a black hole of personal indulgences and opaque financial maneuvers. "The defendant schemed and lied to get money, which he spent," Roos told the court, dismantling the image of an earnest entrepreneur caught in a misstep.
Cohen's defense strategy leaned heavily on the sworn testimony of Bankman-Fried himself, who took to the stand in what former prosecutor Renato Mariotti described as a deliberate attempt to downplay his involvement. "Meant to reduce his role," Mariotti said, noting the pointed references to a youthful lack of experience and the burdens of leadership.
The prosecution, meanwhile, painted a picture of a deliberate and cunning exploitation of trust, they left the jury with a resonating thought — Bankman-Fried "had the arrogance to think he could get away with it." The litany of expenses paid for with customer money, from a $30 million Bahamian penthouse to a lavish $16 million for his parents' home, stood as testament to a lifestyle funded by the alleged pyramid scheme.
Simple Sam going to the slammer https://t.co/WcCaB0y0KK

— zerohedge (@zerohedge) November 3, 2023
Loading...